'Chelsea too fragile'
Gianfranco Zola says the Blues lacked belief in Napoli and Jamie Redknapp questions team selection.
Last Updated: 22/02/12 10:40am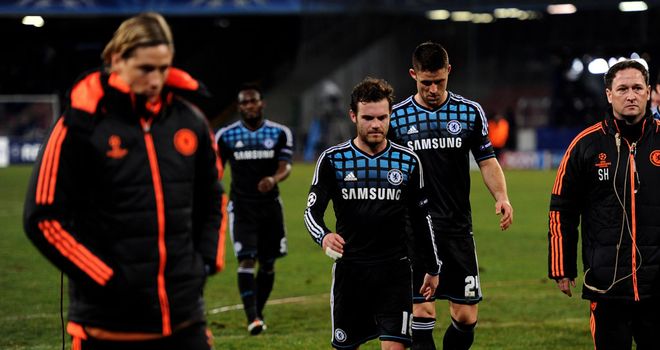 Chelsea must repair their fragile confidence if they are to progress to the Champions League quarter-finals, according to Blues legend Gianfranco Zola.
Andre Villas-Boas' side have to overcome a two-goal deficit to reach the last eight after losing the first leg of their last-16 clash against Napoli 3-1. Read our match report.
Zola - who played for the Italian side from 1989-1993 before enjoying seven years at the Bridge from 1996 - believes the Blues are capable of repairing the damage in the second leg in a fortnight even though they will be without injured skipper John Terry.
But he told Sky Sports that first the team must rediscover its mental strength.
"John Terry is such a big asset for them - confidence, personality is something you can't buy easily," reflected Zola. "But I think Chelsea has to be stronger than that. We are talking about a team that can really dominate - even in the Premier League.
"I think they will have to analyse what is going on and try to sort it out quickly especially as psychologically they are a little bit too fragile at the moment. You cannot afford that, especially at this stage of the season. You have to know what you are doing and you have to do it 100 per cent convincingly."
Open
Villas-Boas opted to leave midfielder Frank Lampard and defender Ashley Cole on the bench for the start of the match, along with Fernando Torres and Michael Essien.
Cole was called into action after 12 minutes for the injured Jose Bosingwa but Sky Sports expert Jamie Redknapp felt that Villas-Boas' picked the wrong starting XI.
"I think he's trying to take on a lot of senior players - that's what it strikes me as, to be honest," said Redknapp.
"Ashley Cole wasn't fit enough to start but he was fit enough to come on after 10 minutes. I think he should have started, in my opinion. He's a better left-back than Jose Bosingwa but I think there may be some fall out there.
"Personally, I think Frank Lampard's experience - 11 goals this season - [means] I would have started him in there.
"It was a day for cool heads, for people to understand the game and I felt at times when they didn't have the ball they were wide open. You need to be solid, particularly in midfield, but I felt at times today that they were too open.
"Raul Meireles doesn't think defensively, he's very good on the ball but he doesn't sense danger like a lot of midfield players do."
Tough
Napoli gained their first-leg advantage thanks to two goals from Ezequiel Lavezzi and another from Edinson Cavani, and Redknapp feels the Italian side will have at least one more goal in them at the Bridge.
"Chelsea have got a lot to do now. What's kept them in the tie is Ashley Cole's clearance at 3-1. There isn't anything I've seen tonight to suggest that Napoli can't get an away goal. They've scored five away goals in the group stages; Cavani, Lavezzi, Hamsik - you just feel that they will score.
"Of course Chelsea are still in this tie but they've got to produce a performance like they did against Valencia to get them through to this stage. But it is going to be tough because offensively Napoli are a very, very good side."
Zola agreed but said that Napoli's fragility at the back should give Chelsea some cause to hope.
"The good news is that defending Napoli are not the best team around but the bad news is they perform at their best when they play away from home because they use their weapons their best; they play on the counter-attack which is quite effective so it will make it difficult for Chelsea," he said.
"I don't think it is going to be a tactical thing, the game at the Bridge, but it is going to be a psychological thing. Napoli won because they were more confident. They went 1-0 down and they came back and scored three.
"Chelsea will have to do a lot of work to get back their confidence and security to create problems for Napoli. If they do that, they can still go through."