Let's be friends
Peter Fraser thinks Jose Mourinho would be crazy to return to Roman Abramovich's Chelsea.
By Peter Fraser - Follow me on twitter @SkySportsPeteF
Last Updated: 05/03/12 5:00pm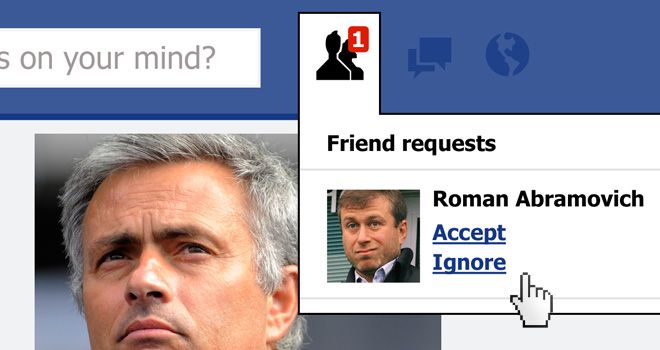 On Sunday morning, a friend's status update informed me via a social networking site that he had spotted Roman Abramovich in central London. Chelsea's billionaire owner apparently spent time on Saturday night taking a stroll, deep in thought, around Sloane Square. A few hours later, Andre Villas-Boas was sacked.
My mate's name-dropping was relevant and entirely more impressive than his previous 'celebrity' sighting - television's Ben Fogle. It is easy to picture the oligarch of Stamford Bridge - Abramovich, not Fogle - considering his options on an evening stroll on an unseasonably warm early March evening. For Villas-Boas, the conclusion was not good news.
With initial contact no doubt already made to candidates in previous weeks, Abramovich had decided he wanted to step up attempts to find an eighth manager in nine years for his club. The question is, who would be crazy enough to accept the Russian's friend request? It would be a story of social and power relations worth telling by David Fincher.
Villas-Boas' former assistant, Roberto Di Matteo, has been appointed as interim manager until the summer. But Jose Mourinho, the 'Special One', who between June 2004 and September 2007 became a Chelsea legend after winning two Premier League titles, one FA Cup, and two League Cups, is the bookmakers' favourite to return to Stamford Bridge at the end of the season. The Portuguese would be completely and utterly out of his mind to go back.
Villas-Boas has become the latest man whose reputation has been dented by Abramovich. He follows Claudio Ranieri, Mourinho - for whom Chelsea's most recent former manager worked as an opposition scout - Avram Grant, Luiz Felipe Scolari, Guus Hiddink and Carlo Ancelotti in leaving West London.
The 34-year-old Villas-Boas' reign lasted just a little more than eight months and, with the pay-off handed over to Porto last summer combined with the decision to sack Ancelotti on the final day of a trophyless 2010/11 campaign, cost Chelsea £28million in compensation. That is nothing to Abramovich, but is something he will need to consider ahead of the impending Financial Fair Play rules.
Blank canvas
For neutrals, Villas-Boas will be missed. The nerdy body-shapes thrown on the touchline, the Frank Spencer Mackintosh, and geeky terminology mixed with rare honesty used in post-match press conferences. He is also obviously a talented manager. There were flashes of his talent in the first Premier League defeat inflicted on Manchester City this season or the crucial win over Valencia last December. He also arrived in England with a formidable record after his Treble-winning campaign at Porto.
At Chelsea, he was the right man at the wrong club. He was tasked with overhauling a squad of which some members were only months younger than their manager. Players such as Didier Drogba, Frank Lampard, John Terry and Ashley Cole would also have been able to remember him as the man who played the DVDs in Mourinho's team talks. Hardly a position of strength.
Villas-Boas never stood a chance. He was undermined in every area at Chelsea, by players and by his bosses - Abramovich, chairman Bruce Buck and chief executive Ron Gourlay. He needed a fresh start and blank canvas when moving to the Premier League. It would have been interesting to see how he might have developed at Liverpool, who he was linked with before the return of Kenny Dalglish.
Chelsea is a club of player-power personified and the selfishness of members of the squad seemingly showed Villas-Boas a staggering lack of respect. Bust-ups with Lampard, Cole and Fernando Torres were widely reported. At least Villas-Boas went down swinging. He could not be accused of failing to stand up to Chelsea's senior players. He gave it a go.
Villas-Boas had his faults. Perhaps he should have tried to stamp his authority when he first arrived, rather than only kicking out Nicolas Anelka and Alex this January. He was also prickly under pressure when asked reasonable questions from journalists, and his tendency to blame referees was a naive tactic. He then effectively signed his own death certificate when starting to ask for public backing from Abramovich.
But Chelsea's problems are deep-rooted and, as has been said many times, remain for whoever is the next boss. Ageing club icons need to be phased out. The John Terry issue will begin again in July with his court trial for allegedly racially abusing Anton Ferdinand. The £70m invested in Torres and David Luiz in January 2011 will continue to provide a selection headache. Whoever does take charge in the summer could also be taking over a team who are not playing in the Champions League amid Arsenal's rejuvenation in the battle for fourth place. And, on top of that mess, Abramovich continues to operate in the short term.
Mourinho should not decide it is a job for him. He will have fond memories of his time at Chelsea, but things turned sour after a tussle for control with Abramovich which ultimately led to his departure. He would also need only to listen to his successors, Grant and Scolari, who have been doing the media rounds and essentially sticking the knife into Chelsea. It is Abramovich's way or the highway.
From the outside, Chelsea look like a rudderless autocratic business model. Why Mourinho would want to return is difficult to understand. He may feel he has the much-used 'unfinished business' in football at Stamford Bridge. However, he does not need the aggravation and potential wrestle with Abramovich, who would need to be willing to sacrifice pride and supremacy in an olive branch of an invite.
Rumours
It has also been suggested bringing back Mourinho would demonstrate another volte-face from Abramovich, who was thought to want exciting, attacking football. Mourinho has in the past built his reputation on defensive organisation. But a Cristiano Ronaldo-inspired Real Madrid have scored 85 goals in 25 league games this season.
Mourinho's house-buying expedition in London last Tuesday has added to the rumours he is to return to the Premier League. It would not be out of character to leave Real if the 10-point lead is maintained over the all-conquering Barcelona of Pep Guardiola, who has also been linked with Chelsea, and the Primera Liga title is won. Real are also in with a chance of winning the Champions League and, as he did at Inter Milan, it is easy to imagine him saying goodbye if the European Cup is lifted in May.
He appears to prefer projects which involve restoring clubs to their former greatness. Chelsea, though, would be an entirely different task this time around. It would involve rebuilding a squad, which is something he has not had to do having previously inherited largely talented line-ups full of potential. Why he would want to go back to Chelsea and give the likes of Lampard and Drogba, who he undoubtedly still thinks of with affection, the boot is difficult to comprehend.
Another struggle is said to be brooding behind the scenes at the Bernabeu and Mourinho is presently reported to be attempting to overhaul the club's training facilities and medical staff. But that is still nothing in comparison with what he would face at Chelsea. He has never been one to shirk a challenge. But in terms of a contest for autonomy and the rebuilding job, Abramovich's friendship request is one which should be ignored.