Champagne, caviar, chips
The shadowy world of the football agent is one that is cloaked in secrecy amid accusations of greed. Thankfully, we've got one of the good guys on board to lift the lid on what life really is like at the sharp end of a notoriously cut throat business.
By Secret Agent - Follow me on Twitter @SSSecretAgent
Last Updated: 02/04/12 3:26pm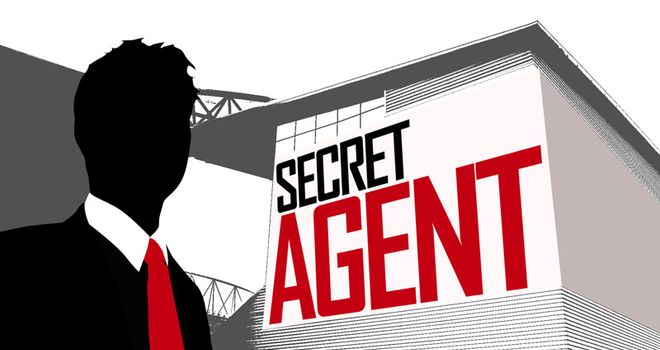 While I accept most footballers live a charmed life it's at this time of the year that everyone involved in the industry sees the flip side of the coin. Sir Alex Ferguson coined the phrase 'squeaky bum time' to describe the run-in between now and end of the season and that's a pretty apt summary of how youth team kids across the country are feeling at present.
It's about now that decisions are made by clubs with regards which of their youth team are going to be offered a first professional contract. At the same time, have the players in their first year in the professional ranks done enough to be offered a contract extension?
For a player of 17/18 the euphoria of last summer when they got their first professional contract will have long-since died out, having realised there is between nought and zero chance of making any inroads in the first team this season.
Their first season as a professional would have been a mix of playing in the reserves and going out on loan to gain experience playing 'men's football'. These lads soon find out that the game is not the 'nicey nicey' passing football played out in the youth teams in front of parents on a Saturday morning. It's a rude awakening for a lot of players, some of which fail to step up to 'proper football' altogether.
They soon realise that you get no time on the ball, it's a game of physical strength, hard tackles and gamesmanship as the seasoned professionals seek to put the young upstart six rows back in the stand. Let's not forget these lads are just kids, used to playing against opponents of similar physical attributes. Try some of the tricks routinely pulled off in academy games against a 33-year-old League Two centre-half reduced to the reserves and worrying about where the next pay cheque is coming from and you can expect to spend next week on the treatment table.
Getting first team chances in the top tier of the football pyramid, even at Championship level, is highly unlikely for an 18-year-old. Unless you have something special like Wayne Rooney or Joe Cole did at that age it's a case of getting your head down and being patient. If you were half the player of either the aforementioned you wouldn't be worrying about a long-term contract in any case.
In the first season as a professional, especially in the Championship and the Premier League, a place on the bench in the FA Cup - along with six others - knowing full well that you're not going to be called upon, is probably the best you can hope for. With a bit of luck you may get to train with the first team occasionally. Be happy with that.
It can be a different story in Leagues One and Two as often small squads and even smaller budgets necessitate the need to promote from within when injuries hit. Too often though, in my experience at least, clubs would rather scour the loan market than give youth its head. As a fan, I know I'd rather watch a raw kid give his all than employ a journeyman but then it's not my head on the block if results dip...
As an agent looking after a player, especially during his first year as a professional, it's my job to make sure I do everything I can off the field to help secure that next contract. I will regularly speak to his coach, usually the reserve team manager at that level, to see how he is progressing, passing on the feedback I get. If the coach says he needs to pull his finger out it's my job to put it in a way that he understands and which doesn't antagonise him. I often fall back into my social worker default setting and thumb through my 'street dictionary' so I can get a basic grasp of what the mumbling in front of me is trying to articulate.
I've been down this road numerous times before so I try and pass on my experience and highlight that there's a thin line between making your debut in a year's time and being shown the door. It can be hard to explain to a 17-year-old kid with their life ahead of them that football's a short career and often a cruel one. More often than not they've been one of the popular kids at school, they've got a few quid in the pocket and they spend their mornings playing footy and afternoons lounging on the couch with just an X-Box for company. It's a dream life but it can be snatched away just as soon as it's given. They look all earnest when I'm explaining it to them but I can tell they're thinking 'yeah, nice one Granddad but I've got a game of FIFA on pause'.
It will also be my job to find the player a club to go on loan to in order to garner experience. A lot of players think that because they are at a Premier League or a Championship side they will be good enough to go straight into a club in League One or Two. If you're really highly rated maybe that's the case but unfortunately it doesn't work like that for the majority. Those fresh from the youth team would be lucky to get a start even if they were sent to a Conference club.
Playing football is the key for a young player looking for his next contract. If that means dropping down the leagues to gain experience, even if it's at a couple of levels below the Conference, then that's better than getting ten minutes from the bench elsewhere. Once you've got a month's experience under your belt THEN you can start to look higher.
Another reason for sending a player to a club where he's going to play regularly is confidence. Confidence is a significant factor for any footballer but for a youngster it is absolutely key. A kid's confidence will take a huge blow if he has an absolute howler of a game, gets substituted and then spends the remainder of the loan period sat on the bench. Confidence will be shot and it won't look good when it comes to the end of the season and decisions are made over contracts. That you were unable to keep your place at club three divisions below your parent employers will not work in your favour.
At the same time, I think to release a youngster before he has been given a chance is harsh. At Championship and Premier League level results are the most important thing to a club, so opportunities for a young player are slim in the early days. To say thanks but no thanks to an 18 or 19-year-old isn't on. It's too early to show them the door as the majority are still maturing not just physically but mentally at this age.
So what happens next when a player is released?
My first job is to get on the phone to clubs to see if they will take a look at the lad on trial for a week. There's no point cold calling clubs at random. You've got to select the right ones and being realistic about the level they're at is also essential. Again, this can be a difficult conversation to have with a player whose confidence is already at rock bottom.
What I tell players in this situation is that it really is the case that sometimes you have to drop down the leagues to come back up. I emphasise that this isn't a cliché I trot out year on year for the sake of it. I don't just throw out that one liner with no substance as over the years I've seen several players of mine work their way back to the level that was deemed to be beyond them when they were released. Look at Grant Holt at Norwich (no, he's not my player!), a perfect example of what can be achieved with perseverance.
If a player has been told by a Championship or Premier League side his time is up, you speak to clubs in League One and Two. Don't forget he is actually looking for a new job, so it's essential that you produce a CV. Not just any CV but something that catches the eye with images of him playing and some stats. DVD footage can help, but you can't beat seeing the player in front of you.
I expect to get the phone call from at least one young player this week. I hope it's good news for him as it's getting tougher every year to get a club. If it's a thank you but goodbye I will swing into action immediately. It's not the most glamorous and exciting part of the job, but it's as important as the rest.
Tough work, but I love it.