Secret agent
The shadowy world of the football agent is one that is cloaked in secrecy amid accusations of greed. Thankfully, we've got one of the good guys on board to lift the lid on what life really is like at the sharp end of a notoriously cut throat business.
By Secret Agent - Follow me on Twitter @SSSecretAgent
Last Updated: 02/04/12 4:07pm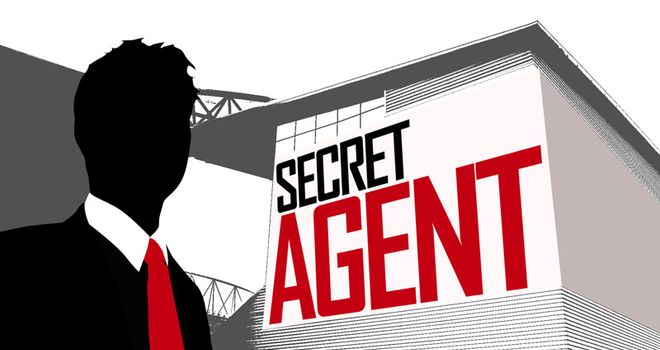 As an agent in an industry where it's advisable to sleep with two eyes open you are always trying to keep one step ahead of your competition. You'll often hear agents say 'there's no rush' when discussing a client's contractual situation but with rival sharks forever circling it's a relief to get your boy signed to a deal and happy. You can guarantee that if you've had the thought your player would be a good fit for club X, then there's another three or four agents who have done likewise.
You work tirelessly to negotiate contracts for your players and the hard economics are that when they're happy, playing well and being rewarded for doing so, your income increases. It's great when it all works out as you envisaged as there is no better feeling in terms of client satisfaction. Pay day isn't bad either. You can treat the wife in appreciation for all of the evenings and weekends you spend watching football at home and abroad, while staying out schmoozing until the early hours has become the norm no longer questioned. Even your bank manager, who never quite knows how much you're due to deposit from month to month, can afford a wry smile.
Unfortunately, the only thing guaranteed in this game it that a barren run is perpetually lurking around the corner.
So what happens in the lean times?
Don't forget transfers only occur during the summer and winter windows, with the latter of those fast becoming an almost non-event in terms of major money being paid out.
In addition, in austere times, if your player has a bad season and fails to be given a new deal there's a real chance they could struggle to find a new club altogether. Over the course of a year you might lose a couple of clients to the dole or perhaps the big transfer which you were relying on didn't quite materialise. It's an agent's worst nightmare come true and one that used to keep me awake at night.
How can you manage to keep afloat with no regular money coming in? You can't be an agent if you've no cash for petrol, that's if you can still afford your car. The mobile phone which burns a big hole in your pocket would have to become a pay-as-you-go model and that's not a good look when you're chatting with footballers sporting watches worth more than the average house price. As for the price of pasties these days, don't even get me started...
Well before you get to the point where you start to think about hiring your body out for medical research, think about diversifying to explore other avenues of income through the contacts you've made in the game. Here's the time when you find out if you've got genuine initiative or have been blagging it all along.
Getting a foot into the commercial side of the game is equally as hard these days, but if you can use the relationships that you have developed from previous dealings with clubs, other agents and players you can look at alternative revenue streams. It's all about surviving to the next transfer window and taking it from there.
One of the big businesses outside of football transfers are pre-season tours. Everyone is getting in on the act, especially in the Premier League. Tours to play the MLS All Stars in North America are becoming annual events, as are trips to partake in bizarrely named tournaments on the other side of the globe. Some clubs even try to fit in a trip mid-season.
The tours are, the clubs claim, part of their pre-season preparation but as we all know, they're PR exercises to bring in additional income in both the short and long term. Nothing wrong with that. A top four club can earn a one-off fee of £2/£3million, all expenses paid, for just one game. The Premier League brand is huge across the globe so a trip to Asia or Africa, despite logistical issues, can be difficult to resist.
On the proviso that you have the funding secured for the match fee and all travel expenses covered, then you have a fair chance of being able to pull off such a tour. To get a foot in the international tours business will bring a nice little side earner and if the venture is a success, it could provide regular income in the future.
Sponsorship and endorsements only appear to be for elite footballers these days, so signing a player who plies his trade in League Two to a boot deal isn't going to make you a fortune. Even at the higher end, the majority of players in the Premier League won't be anywhere close to the front of the queue when it comes to having their face on the cover of the new version of FIFA.
You have to look at alternative ways to increase the profile of your players, which in turn may bring in some much needed income for both parties. Becoming an ambassador for a charity seems to be in vogue but let's be realistic; a lot of players aren't patrons of charities simply because they're great guys. A couple of half-days promoting the charity in the media can only be a good thing in terms of feeling pleasant about yourself, but the main motivation (sorry to extinguish any feelgood factor) for many (not all) is for positive publicity for the player.
One other good way of earning a living away from agent activity is to become an unofficial scout. Acting as a scout for a club will, if you can prove you are capable, help to bring in extra income - possibly in two different ways.
As is standard you will get paid for scouting and writing reports about players you recommend to the club. While at the same time, when you spot a talent, it's an ideal opportunity to try to get involved in representing them. Even more so if you take said player to the club you scout for.
Yes, there is a slight conflict of interests here and it will be frowned upon in some quarters, but play it carefully and you can keep the pennies rolling in. As long as it's not illegal then you've got to chance your arm to a certain extent. It's either that or risk falling by the wayside. And that, heaven forbid, would mean getting a proper job.
Nobody wants that.