Bye-bye Balotelli?
Is Mario Balotelli really indulged any more by Roberto Mancini than Eric Cantona was by Sir Alex Ferguson? Alex Dunn considers whether the best solution really is for Mario and Manchester to go their separate ways...
By Alex Dunn - Follow me on Twitter @skysportsaldunn
Last Updated: 11/04/12 10:21am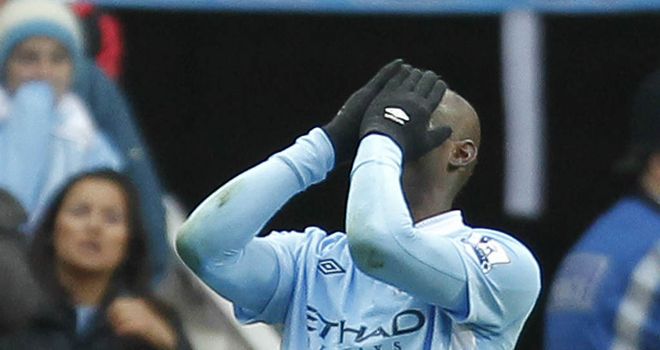 It is a measure of our obsession with the past that Instagram has just sold for a cool billion. A photo app that can make Bolton look like San Francisco circa-1969 has its uses but whether a start-up company with 12 staff is worth more than the New York Times is as complex an issue as whether Mario Balotelli is menace, maverick, madman or simply misunderstood.
Like Instagram, football memories often go through a filter and come out of the process not just bathed in the fuzzy sepia glow of yesteryear but diluted of a truth brought to the surface by digital interpretation. It is in full HD that Balotelli is judged but in time, like a yellowed photo found in a shoebox, we'll look back on the Italian's sojourn in England as fondly as we do that time a mad uncle turned up at a family wedding rat-arsed and unrepentant. Unseemly perhaps, but a hoot in retrospect.
Time and distance become important in the strange case of Mario Balotelli as without them, in an instant age where we all play judge, jury and executioner after every single fixture, maverick talent would be allowed to jack out of its box just the once before hammer and nail are called for. Charged with the task this morning of writing a piece about how managers in the past have dealt with similar characters to the Italian, I too was initially guilty of seeing what has passed before through the indulgent lens of retro vision.
Rare is it you have to travel far to find a decent comparison point when discussing Manchester City and it's a similar case when dissecting football's mad men. For five glorious years Old Trafford housed the Beautiful Game's enfant terrible du jour and it is oft cited that Sir Alex Ferguson's finest piece of man-management was curbing Eric Cantona's more volatile Gallic tendencies. The image in my mind is the cocked collar, a thrusting Napoleonic chest, that chip against Sunderland, that pass to Irwin against Tottenham, that goal in the FA Cup final. It's a collage of memories that piece together a footballer as magician, not mad man. But it's also an image cropped and manipulated to suit a need for the past to be tidier than the reality.
Prior to a match made in heaven in Manchester, Cantona had flirted with the idea of his genius but never came close to consummating the arrangement. At Auxerre team-mate Bruno Martin was punched in the mush, at Montpellier Jean-Claude Lemoult got a face full of boots, at Nimes a referee was the subject of his wrath in a ball throwing incident that led to a one-month ban. At the disciplinary hearing Cantona made a point of going up to each member of the committee to call them an idiot. The ban was extended to two months. In 1991 Eric Cantona announced his retirement, aged 25.
No sardines
It was only after the intervention of Michel Platini that he was persuaded to shelve plans to buy a sardine trawler and on the advice of his psychoanalyst (he's French, what do you expect?) he pitched up at Leeds United. After helping his new side over the line in the '91/92 season (on the topic of memories, can three goals in 15 appearances really be credited as single-handedly inspiring Leeds to silverware?), Howard Wilkinson decided he'd bought a nutter and syphoned him across the Pennines no questions asked for £900,000.That Cantona was the catalyst for the current Old Trafford Empire is of scant dispute, neither is the view that Balotelli to date has achieved the square root of nothing in comparison, but what is more contentious is the perception that Roberto Mancini has much to learn from how Sir Alex man-managed his own problem child.
Let's take another picture. It's Cantona gobbing on a Leeds fan on his return to Elland Road, it's a wild-eyed fist throwing Cantona in Galatasaray, it's successive red cards against Swindon and Arsenal. As for Kung-Fu Eric of Selhurst Park...
The perception mythologised by time and a record that reads four Premier League titles in five years (including the most important first in '92/93) is that Ferguson had Cantona under control. At Old Trafford there is famously only one boss and the Frenchman towed the line like the rest of the bit-part players in a play written, directed and often starring Sir Alex. That a mutual respect the pair shared brought out the best in two huge personalities is evident in the warmth they still hold for one another, but the reality is that Cantona was always a lit grenade, a gun without the safety. Ferguson's genius was not to wade in with a bucket of water or sand but instead, mine from the player as much as he possibly could before the self-destruct button, inevitably, was plunged.
Ferguson has stayed at the top because he manages his team as people not players and so, when Cantona pitched up in Manchester like Brando in A Streetcar Named Desire and with an attitude to match, he was indulged from the off. Howard Wilkinson can't be doing with ripped jeans and leather jackets.
Only this week Mark Hughes, no shrinking violet himself, spoke of how the only player who never received the hairdryer treatment was Cantona. The rest of United's players seemingly accepted this special treatment as Cantona, according to Hughes, 'never played badly'. This is where, to an extent, the argument breaks down with Balotelli but then Cantona's rap sheet was longer than Tupac's at 21 and he wasn't exactly ripping up trees on the field either.
The bond that binds Mancini and Balotelli, after Sunday's misdemeanour they both spoke of 'loving' one another in interesting rhetoric, is long established and while to the outside world it seems obvious a snipping of the umbilical cord is needed for Manchester City to push onto the next level is it ludicrous to suggest, as many have, that Balotelli has cost them the title.
The reality is that he's an immature 21-year-old kid.
The hyperbolic baloney written about how Balotelli is devastated, as he's likely got a man who he considers as some kind of second father the sack, is where City's fans have some credence to their claims the media is doing them no favours in reporting Carrington affairs with the salacious vigour of cobbled street fishwives. While in desperate need of a dose of reality in terms of understanding his on-field responsibilities, that he has scored 27 goals in 59 games overall and 13 in 22 Premier League appearances this season is hardly reason for Sheik Mansour to pull the plug on Mancini's tenure on the grounds of wasting £23million of his personal fortune. These days, that's a bargain.
To put it in the bluntest terms, Balotelli isn't good enough at present to influence the title decisively in either direction. At the moment he's nowhere near the level of Cantona; the point is he might be one day and that's where Mancini is showing the conviction of his beliefs in defending a player who is the proverbial pain in the derriere. Auxerre, Marseille, Nimes and Leeds all thought Cantona wasn't worth the hassle and cut their losses; one suspects there's a few regrets amongst that lot.
Man-management
Can you imagine screaming into the face of Cantona? Neither could Ferguson and I imagine it would elicit the same incredulous, shrugging response Mancini probably gets from Balotelli when imploring him not to play with fireworks in the bathroom or take a Manchester tramp on a road trip to Vegas. The point is that Mancini knows his players better than any of us hacks or fans will ever do and if he chooses to indulge some and be indifferent to others, the likelihood is that it's all part of some grander masterplan.
Projects like the one Mancini is charged with at Eastlands take time (as Ferguson would attest) to get right and to judge his work with Balotelli, or the job he's done as a whole in black and white terms, success or failure, is to take too simplistic an approach. Is it not possible that Mancini has done a decent job even if Manchester City finish second?
The club's lack of any real impetus and form at just the wrong time of the season has seen Mancini pilloried by some sections of the press hankering after Jose Mourinho's return to the Premier League but it seems bizarre that these are the same characters championing Harry Redknapp's England credentials. The cases of both Spurs and City point to the fact there are no quick fixes when it comes to building title-winning sides. The same can be said when it comes to getting one-off characters to conform to the conventions set out for the majority.
That's what sets individuals like Balotelli apart from the rest and as a neutral, as Mancini acknowledges, it'd be a duller place without them: "You should be happy if Mario stays here. He fills one, two, three pages of your newspaper."
Amen to that.