Roy faces the media
Roy Hodgson was unveiled as England's new manager in a press conference at Wembley on Tuesday afternoon. Sky Sports' Adam Bate looks at how the new man coped in front of the cameras.
By Adam Bate - Follow me: @GhostGoal
Last Updated: 02/05/12 8:33am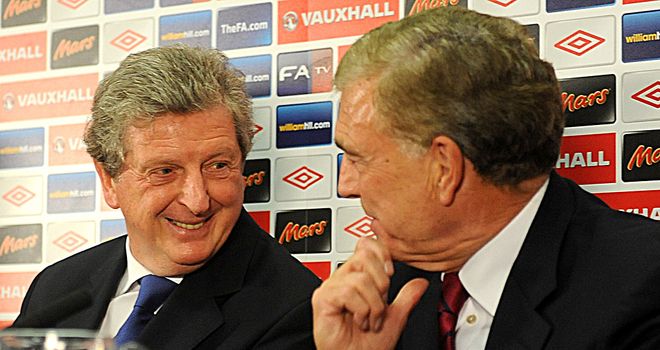 "I was young when I went there and it was just for sporting reasons. I didn't give the politics much thought. I think it's unfair to criticise me for that. All of us were against Apartheid but there wasn't much we could do about it."
These are the words of Roy Hodgson just minutes into his first press conference as the new manager of the England football team - having to force a smile and fend off questions about his decision to pursue a football career in Apartheid-era South Africa nearly 40 years ago.
Welcome to the England job.
There are some who have concerns about Hodgson's ability to deal with the increased scrutiny that comes with being England boss, and with this line of questioning they appeared determined to find some answers as soon as possible.
Those doubts have their roots in the 64-year-old's struggle to cope with the pressures of the Liverpool job, from which he was sacked in January of last year after little over six months in charge. At least that was a question Hodgson was better prepared for. "I took it at Liverpool and I'll take it here," he insisted.
"Inter, I would submit, wasn't exactly easy when it comes to scrutiny and the size of the job," he added, referring to his two stints with the Italian giants in the 1990s. In truth, his time there was far from an unqualified success, but it was a nice line as Hodgson chose to tread the balance between antagonism and steely resolve.
One of the key criticisms Hodgson endured in his time at Liverpool was his curious combination of prickliness and defeatism. Implying to Reds fans they were being disrespectful for expecting to beat bottom-club Wolves at home wasn't going to placate the masses for long.
Difficult
At Wembley on Tuesday, you sensed Hodgson was again keen to downplay ambitions, while throwing out the odd titbit to keep spirits up. Hence the nodding while Brooking spoke of what a tough job this was, before emphasising himself "it will be difficult", only to then insist he will be aiming to win Euro 2012.
It was a similar story when it came to team matters. Hodgson flat-batted away questions about the hellish wrangling over the England captaincy as well as evading the tangential issue of John Terry and Rio Ferdinand possibly lining up alongside each other in the summer. But he was willing to be emphatic in saying he would definitely select Wayne Rooney despite the forward being unavailable through suspension for England's first two games.
Above all, Hodgson appeared determined to stress his desire for the entire country to get behind the team. He uttered a variation on this phrase on four separate occasions during the press conference, only once exchanging it for the arguably more telling line of "get behind me".
And who could blame him. Before he had even been quizzed himself on all matters Harry Redknapp, Hodgson could only sit patiently as his new employers were asked to explain their decision to ignore the so-called people's champion.
Indeed, the spectre of Redknapp seemed to hang over the occasion before Hodgson finally had the opportunity to have his say. "I've got great respect for Harry," he said. "He's been very gracious. I hope we will remain friends. We've unwittingly become rivals but it won't affect our relationship. He's dealt with it well in all his interviews and I appreciate it." Safe hands personified.
Now that the initial incredulity has been overcome, the early indications are that Hodgson will be given a chance by the public. Various polls show the new man with an approval rating of more than 50 per cent which, while far from a ringing endorsement, suggests there isn't quite the Redknapp groundswell that was thought to exist.
That might lead the media to conclude they have temporarily misjudged the mood. But Hodgson will know the question about South Africa was just a taste of what is to come. And he won't have to wait long. His first game in charge is in Norway on 26th May and the 23-man squad for Euro 2012 must be named before the end of this month. Welcome to the scrutiny. Welcome to the England job.