Drog's Munich swansong
With Didier Drogba reportedly set to call time on his time with Chelsea after Saturday's UEFA Champions League final, Munich's magnificent Allianz Arena could be the perfect setting to end on a high. Here, we look at the Ivorian's career and his impact on this season's competition.
Last Updated: 17/05/12 4:26pm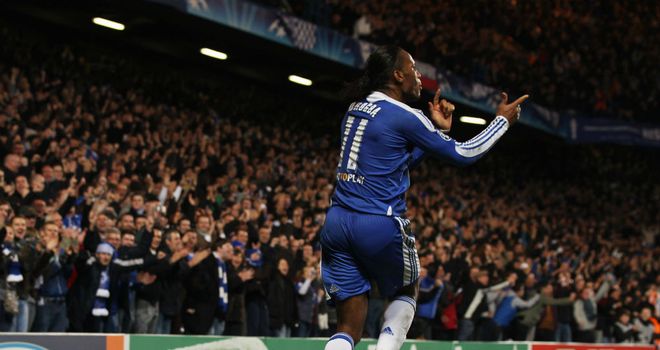 They say you don't know what you've got until it's gone, but try telling that to Didier Drogba. For the striker appears all too aware of what he would lose by quitting Chelsea at the end of the season.
And it is perhaps why Drogba has managed to defy his 34 years in such dramatic fashion and help haul the Blues all the way to the UEFA Champions League final. The May 19 clash against Bayern Munich has been dubbed the last chance at glory for several of the Blues' so-called old guard.
But while John Terry, Frank Lampard and Petr Cech have the contracts to give them hope of another hurrah, this month's Allianz Arena showpiece will almost certainly herald Drogba's farewell.
He has certainly been performing as if that were the case, with no-one doing more than the Ivory Coast star to rescue Chelsea from the brink of elimination - more than once - to within touching distance of their Holy Grail.
The Blues may not even have reached the knockout stage had Drogba not turned back the clock to beat Valencia almost single-handedly in their final group game back in December. He then inspired one of the great Champions League comebacks in the last 16 tie against Napoli.
And while he had little to do with the quarter-final win over Benfica, it was his relentless bulldozing approach to which caretaker manager Roberto Di Matteo turned ahead of the stunning semi-final triumph over Barcelona.
Drogba gave everything in both legs to ensure Chelsea reached their second ever final, even playing as an auxiliary centre-half and left-back to repel wave after wave of Barca attacks.
Controversy
Of course, he could not resist resorting to the kind of antics that have long made him a figure of ridicule among rival fans, throwing himself to the floor almost every time he was touched in what proved an effective way of wasting crucial seconds.
Such theatrics may demean both Drogba and Chelsea but they also sum up his determination to ensure he leaves Stamford Bridge having won the ultimate prize in club football.
The fact he is not already guaranteed to do so is partly his own fault, with his sending-off in the 2008 final defeat to Manchester United arguably proving very costly indeed.
His needless red card may have come late enough in extra-time to ensure Chelsea still secured a penalty shootout but his absence may have forced John Terry to take the doomed fifth spot-kick that would have secured the European Cup.
Drogba's part in that defeat has haunted him ever since.
Second chance
Speaking after last month's Barca triumph, he said: "I think everybody deserves a second chance. I don't know if it's mine, but I think I've paid what I had to during this time, not winning the final - after that having a lot of criticism. But that's football, and I understand that. It just helped me to grow up a little bit more."
In his eight years at Chelsea, Drogba has won all the major domestic honours around - multiple times. The striker has seen off every pretender to his crown of top dog at Stamford Bridge, often overwhelming them with the sheer force of his personality.
Yet, his exploits this season and before have still failed to convince Blues owner Roman Abramovich to bow to his contract demands and offer him more than a one-year extension to his current deal.
With lucrative offers from across the globe already on the table, Drogba has little incentive to back down himself.
Maybe it is Chelsea who don't know what they've got until it's gone.