Euro star
We reflect on a quiet but effective Christian Eriksen as Denmark surprised the Dutch.
By Rachel Griffiths - Follow me on Twitter @SkySportsRachG
Last Updated: 09/06/12 11:02pm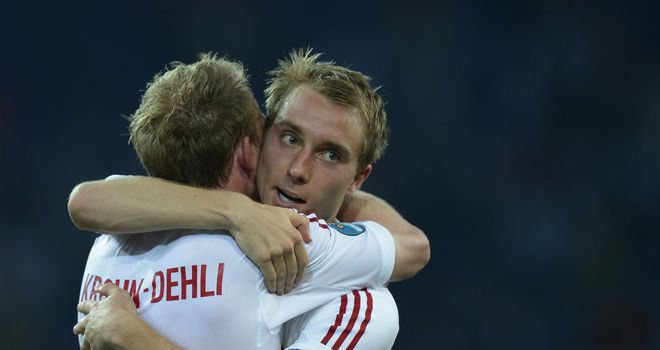 Back in February 2011, Christian Eriksen announced his presence in a friendly between Denmark and England in Copenhagen. The Danes lost 2-1 but it was Eriksen who stole the show with a memorable display that even had Frank Lampard and Rio Ferdinand singing his praises after the match.
Fast forward 16 months to Euro 2012 and big things are expected in Poland and Ukraine from the young playmaker who has continued to make waves both for his national side and with title winners Ajax in the Eredivisie.
The 20-year-old might not have come through his first test of the tournament with the dazzling creative style he displayed against the Three Lions, but even on a quiet evening against Holland he showed some of the qualities that have led to him being linked with the likes of Manchester United, Tottenham and, most recently, Barcelona.
Eriksen's direct opposite in the Oranje side was Wesley Sneijder and he was ultimately overshadowed by his experienced Dutch counterpart, who showed his class throughout by creating chance after chance for his side but to no avail as they slipped to a 1-0 defeat.
Sneijder's panache put the Ajax youngster in the shade, and on the Danish side of things it was Michael Krohn-Delhi catching the eye with a committed display up front which culminated in their 24th-minute winner.
But while Eriksen's performance was not one of his most pronounced, he still did a commendable job in midfield to play a key, if understated, role in his side's victory.
Subdued
He was subdued in the opening stages, with Nigel De Jong and Mark van Bommel managing to keep him shackled, but started to find space as the opening half progressed and the Danes grew in confidence. His movement was impressive, with the playmaker covering four miles in the first 45 minutes.
In a match largely dominated by Holland, attacks from Denmark were thin on the ground and Eriksen was limited to creating only two chances, but whenever the Danes did pick up possession he provided a calming influence in midfield.
The playmaker also provided some perceptive passes, producing a pass completion rate of 83 per cent. The presence of De Jong and Van Bommel limited his freedom and it was a shame to see him substituted in the 74th minute, three minutes later than De Jong, as he might have shown more in the absence of the holding midfielder.
Fans who were expecting Eriksen to announce himself at Euro 2012 with a fanfare display will have been left disappointed by his efforts against the Dutch, but the youngster showed glimpses of what he is capable of with a more subtle showing and is at the heart of a Danish team that have already shown in one match they are no means going to roll over as the underdogs in a supposed 'Group of Death'.