Euro paper talk
We look around the continent for newspaper reaction to Ireland's defeat by Croatia at Euro 2012.
Last Updated: 11/06/12 10:16am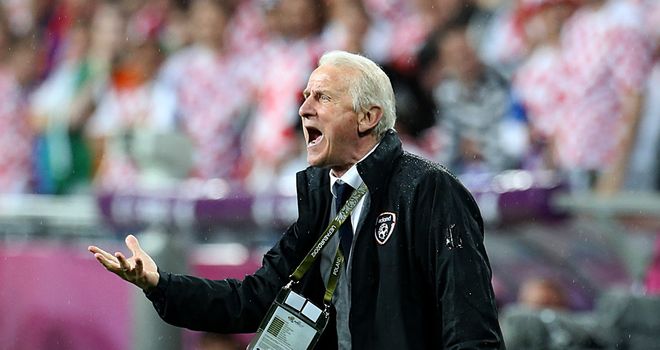 Republic of Ireland arrived at Euro 2012 having not lost in 14 games and having conceded just three goals in that time. But, in Poznan on Sunday night, they well beaten 3-1 by a Mario Mandzukic-inspired Croatia in their opening game of Group C. Ireland felt unfairly treated by Dutch referee Bjorn Kuipers. However, with boss Giovanni Trapattoni having managed in Germany and Italy among other countries in his distinguished career, newspapers around Europe have preferred to focus on the veteran manager's negative tactics.
Republic of Ireland
The Irish Times: 'Hopes crushed'
Resilience has been the keyword for Trapattoni since he accepted the challenge of trying to restore Ireland's fortunes. But while there was no shortage of willingness for the fight, Croatia simply had too much quality, and were ruthless enough to accept the slices of good fortune which came their way.
Irish Independent: 'Outclassed Ireland fall through Trap door'
Croatia collected the three points for two main reasons. Firstly, they were technically superior, and dominant in possession, which was hardly a surprise. Secondly, and more worryingly, they were tactically smarter, and also benefited from glaring errors that made a mockery of the flattering pre-match defensive statistics.
The Irish Sun: 'Shay it ain't so'
Ireland are on life support in the Group of Death. One game in and Ireland's first appearance at the European Championships in 24 years looks set to end at the group stages. Mario Mandzukic was Croatia's hero, officially credited with two goals, although his second should really go down as a Shay Given own goal.
Croatia
24sata: 'Rhapsody in blue'
If we exclude the moments of lapses in concentration at Irish set-pieces, naive violations from Vedran Corluka and the foul from Gordon Schildenfeld within the penalty area, which fortunately Bjorn Kuipers somehow did not see, Croatia played a perfect match.
Spain
Marca: 'Croatia are going to war'
Croatia are serious in this tournament. The selection of Slaven Bilic was imposed in earnest against Ireland and took all three points thanks to the double of Mario Mandzukic and offside goal of Nikica Jelavic. The Croats also took advantage of the tie between Spain and Italy to put them leaders of the Group C.
AS: 'Croatia expose Ireland'
At dusk, Poznan seemed Limerick - cold, incessant rain and a dyed green tier of the stadium. The green party lasted just 120 seconds. Croatia soon profited from the defensive frailty of the enthusiastic yet naive Ireland.
Italy
Corriere dello Sport: 'Ireland and Trap KO'
Croatia won with merit, no longer the mistress of the field, even if it was with a little luck on occasions. Ireland, through the heart of Trapattoni, have been overtaken by the technical point of view. However, they can complain about a couple of refereeing decisions that could have changed the game.
The Netherlands
De Telegraaf: 'Irish furious at Kuipers'
The second goal of Croatia against Ireland came just before the break and with a lot of anger from the men of coach Giovanni Trapattoni. According to the Irish, goalscorer Nikica Jelavic was in an offside position. However, the Dutch referee, Bjorn Kuipers, and his aides approved the goal.
Germany
Bild: 'Trap's brave Irishmen'
The Irish and their Italian coach are still in this Championship, perhaps only with the Olympic spirit. But that is everything. Nearly 30,000 fans made the match in Poznan a home game for the Irish. And they had hope.
France
L'Equipe: 'Croatia offer a chance'
With a game stereotyped because of long balls and their attackers, Ireland could not hope to improve their statistics. The reaction of pride late in the game was far too shy to expect anything better than a loss. Barring a miracle, the Irish Euros should end in the first round. The Croats have a chance to go beyond that.