A bold choice
Sky Sports assesses the performance of Alex Oxlade-Chamberlain after he was unleashed against France.
Last Updated: 12/06/12 8:28am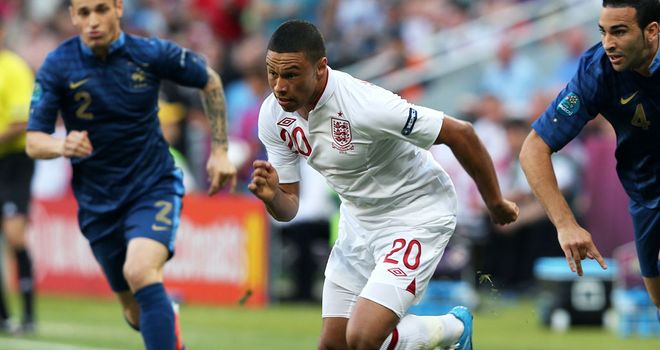 The most frustrating thing to many about Theo Walcott's call-up to the World Cup squad in 2006 was not that Sven Goran Eriksson had selected a youngster with such limited experience, but that he was not given his chance on the international stage.
Roy Hodgson insisted when he named his 23-man party for this summer that Alex Oxlade-Chamberlain was not coming along purely to make up the numbers, and he stayed true to his word in Donetsk by selecting the Arsenal man against France.
It had previously been thought that the left-wing role was reserved for Stewart Downing, a player who, despite his well-publicised lack of end product at Liverpool this season, had been around the England team for several years and would do a decent job.
Instead, Hodgson took the bold decision to unleash Oxlade-Chamberlain, making him the third-youngest England player after Michael Owen and Wayne Rooney to feature at a major tournament.
The 18-year-old was presented with a chance to run at the France defence within the first few minutes at the Donbass Arena but, after showing an initial burst of pace, he failed to make the most of the opening and squandered possession whilst attempting an ambitious pass.
If he could turn back the clock and have that moment again, Oxlade-Chamberlain would probably decide to take it on himself and have a go at beating his man or firing off a shot, as he admitted after the final whistle that his night's tale had been one of frustration.
England's style of play, he explained, required a narrowness in midfield that restricted his space and deprived him of the opportunity to run at full-back Mathieu Debuchy, who seemed far more interested in getting forward himself.
Potential
But despite not getting the chance to show off his lightning speed and torment defenders in the way he enjoys doing for Arsenal, Oxlade-Chamberlain should take the positives from his performance.
The most striking example of what he is capable of came in one movement midway through the first half, when he showed nimble footwork to dart between two Frenchmen and play the ball through to Ashley Young, only for the flag to go up for offside.
Oxlade-Chamberlain looked tidy in possession as he linked up well with his more senior colleagues, popping up on the right and in the centre as well as his designated position on the left as England tried to pose problems for Les Bleus.
The defensive part of his game is an area he will need to work on but he was always willing to help out for the greater good, before eventually making way for Jermain Defoe in the 77th minute.
And while he may not have set the world alight on his major tournament bow, Oxlade-Chamberlain's potential is clear for all to see and Hodgson should stick with him for the next game against Sweden.