Euro star
Cristiano Ronaldo endured another 90 minutes to forget in the colours of his country against Denmark, with his Portugal team-mates getting him off the hook as they ground out a 3-2 win. Chris Burton reflects on a forgettable display from a man considered to be one of the world's best.
Last Updated: 13/06/12 8:09pm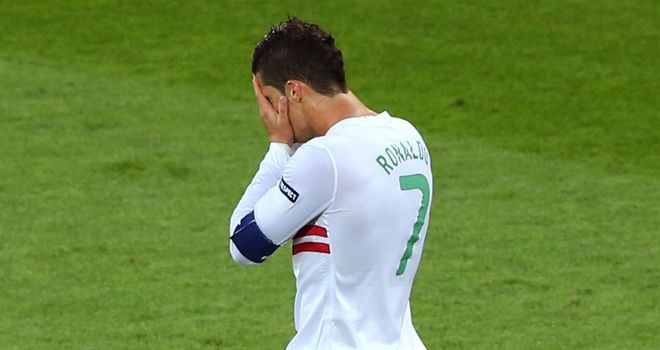 Cristiano Ronaldo scored 60 goals in 55 appearances for Real Madrid in 2011/12 - that statistic is difficult to believe having just witnessed his latest performance for Portugal.
Admittedly a man widely recognised as one of the best players on the planet is not surrounded by Real's galaxy of stars when he pulls on the colours of his country, but he is a shadow of his domestic self when he steps onto the international stage. His strike rate for Portugal is a fraction better than one in three - not bad, but nowhere near the return he produces on a consistent basis at club level.
Why does he struggle so much? It is difficult to say, as he is the kind of character that thrives when placed under the spotlight and would be expected to revel in the responsibility that accompanies being an on-field leader.
Ronaldo is a big game player, of that there is no doubt, but he is yet to grab an international tournament by the scruff of the neck and prove that he is deserving of a standing alongside the likes of Diego Maradona and Pele among the all-time greats.
His latest showing for Portugal was almost a comedy of errors, with it likely that he could have played all night without finding the back of the net.
There were glimpses during the first half of an entertaining contest in Lviv that he could be about to burst into life, but he drifted in and out of the game and only looked interested when the ball was fed into his feet.
Magic dust
Tracking back and putting in bone-crunching challenges is not what his game is about, accepted, but he will usually go looking for the ball, dropping deep if necessary to get involved and sprinkle his magic dust on proceedings.
Against Denmark he dragged an early effort wide of the target, before sending a free-kick from a tight angle sailing high into the stands. The trademark run up was there, the strut was still in his step, but the end product was sadly missing.
The second half proved to be no better - in fact, it got worse.
Five minutes after the re-start, Ronaldo was sprung into space and offered a clear sight of the target. He appeared to get the ball caught under his feet as he attempted to bend it around the onrushing Stephan Andersen but only succeeded in keeping his body closed and prodding straight at the Danish keeper.
With 78 minutes on the clock he had to get it right, surely. He was sent scampering clear again and this time was left one-on-one with Andersen. Ronaldo got his head up, picked his spot, and fired wide. He was left gazing at the skies in disbelief, and two minutes later he was looking to the heavens again as Nicklas Bendtner nodded home his second of the game to haul Denmark level.
Ronaldo should be the first to buy Silvestre Valera a drink tonight when the Portugal squad arrive back at their hotel, with his late effort after stepping off the bench seeing Paulo Bento's side to their first three-point haul of Euro 2012 while re-writing a few headlines which may not have been all that kind on his illustrious team-mate.