The Longsands
Ian Barnes, guitarist of indie-rockers The Longsands, talks all things Newcastle in his Football Firsts.
By Rachel Griffiths - Follow me on Twitter @SkySportsRachG
Last Updated: 04/07/12 3:03pm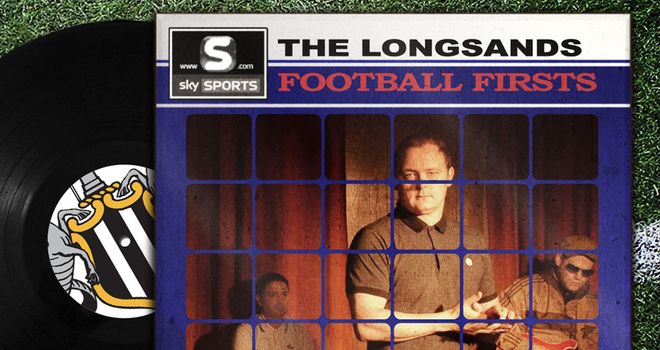 You might know Newcastle-based indie rockers The Longsands from their 'sporting challenges' exploits on YouTube, where they've taken on the likes of Mike Tyson, Ricky Hatton and Steve Harmison in bizarre contests such as conker fights and egg and spoon races. With new single 'Shut Your Mouth' out now, we caught up with guitarist and Toon fanatic Ian Barnes to talk playing at St James' Park, challenging Shay Given to a rock-paper-scissors battle and his earliest Magpies memories.
Newcastle
I'm from Cramlington, which is just outside of Newcastle in Northumberland and I guess (being a Newcastle fan) is the same for every kid growing up in the North East - whether that's a good thing or a bad thing! Sometimes it's punishment but either way we're all good supporters, we stick with the good times and the bad. I actually live in Manchester now but I'm still a big Newcastle fan and I'm hoping my little boy is going to be, even though he's growing up in enemy territory. He's two at the minute and I've already got a Newcastle shirt on him but I guess when he goes to school and everyone is either City or United, we'll see what happens. When I lived up there I had a season ticket for about 10 years, and now we've done a lot of work with the club with the band, so sometimes we get freebies, which is nice.
Working alongside your boyhood club must be a good feeling? We've done a charity single for the Sir Bobby Robson foundation, about a year-and-a-half ago. The club really got behind it, it was a time when the club and the fans were really at loggerheads, it wasn't long after Kevin Keegan had left. We played on the pitch the day Newcastle beat Sunderland 5-1 and launched it that day, which was a great day out for us. We played on the centre circle in front of 52,000 people and we spanked the Mackems 5-1! A few beers were had that day. I'd done an interview not long before then and they said when will you know when you've made it, and I said when I play St James' Park. Then it ended up happening. I kind of meant headlining with my band, but as a kid the thing you want to do is walk down that tunnel, and I'm pretty rubbish at football so I knew that wasn't going to happen. Luckily playing the guitar, I managed to get to do it. I got my five minutes of fame in that arena.
You've also been making a name for yourself with your sporting challenges? There was a charity event for the NSPCC and Shay was doing some photographs for that. It was when he was at Manchester City, and as I said I live in Manchester. My manager rang us and said do you want come down and meet Shay Given, we're going to get him to do one of these sporting challenges. Trevor had just done the Mike Tyson one a few weeks before. To be honest these challenges were never really a planned thing. We knew we going to do something with Tyson because he's a huge international name and we knew we could probably get some good PR out of it. Trev came up with the idea and Tyson went for it, and that was going to be the only thing. But it got so much good feedback on YouTube and Facebook and our fans just thought it was good craic and were like, you should do some more. Then we were like sh*t, well we'd better think who we can get involved. So we got on the phone to Ricky Hatton, Shay, Steve Harmison and a few others and it all kind of came together. It was good fun and it was a way to stand out.
Newcastle 0 Millwall 1, April 1992
It was the season that we were going to get relegated into the old Third Division, or it might have been the Second Division then. Basically we were in what would have been the Championship now and we were going to go down but Keegan came in. My dad and I had paid on the door and we were stood up in the Milburn Paddock, it was a very different place to what it is now. I can't remember that vividly but I can remember where we were stood, I was probably only about seven or eight.
Alan Shearer
He was one of my favourite players and you can't really argue with his record. I thought it was funny that Joey Barton was having a pop at him on Twitter the other day, quite laughable really. He's got a strange sense of humour that one. We've done a few shows where Shearer has been there. I don't know if he's a big fan of the band, but he certainly knows who we are and he's got an album! As a kid my favourite player was probably Peter Beardsley; he was a bit more midfield and took people on and stuff. But Shearer is a total legend and I think every Newcastle fan appreciates what he did, he stayed with them when he could've gone, through the bad managers and stuff, and he scored more goals than anybody else for the club.
Roy Keane
I didn't like Roy Keane. I think it's because we didn't like Manchester United then because we were challenging them for a bit. Keane and Shearer had a bit of a to-do once as well. Andy Cole went to Manchester United as well, but I don't really think that was his fault.
School team
I used to play at school and then I played a little bit at university, but not for the university team. I've never played to any high standard. I used to play centre midfield or right wing. I preferred the wing because you can hide on the wing a bit more. Centre midfield you've got to run miles. I still play, albeit not very well. I play five-a-side once a week now, if that, depending on what we're doing with the band. But it's just a knock about with some mates. Music is definitely more my talent than sport.
Newcastle, 1990
My first kit was probably before my first match even, because I had some sort of hand-me-down when I was about four. I can remember it had Greenall's on it, the brewery that was the sponsor then.
Nirvana - Nevermind
That one isn't a bad one but before that I bought some terrible singles. I definitely owned a 2 Unlimited CD at some point and I think there was some Bon Jovi kicking about as well. When you're really young you don't really know who you like, it takes you a while to find your feet. But with Nevermind I thought, I really like this, then I started picking up the guitar from there. The most influential album for me was Definitely Maybe by Oasis. After that one I knew I wanted to be in a band.
The Longsands new single 'Shut Your Mouth' is available for download now. Check in at the band's official website.