Euro stars
Andy Carroll and Danny Welbeck have ensured Wayne Rooney will have to fight for his place.
Last Updated: 15/06/12 11:38pm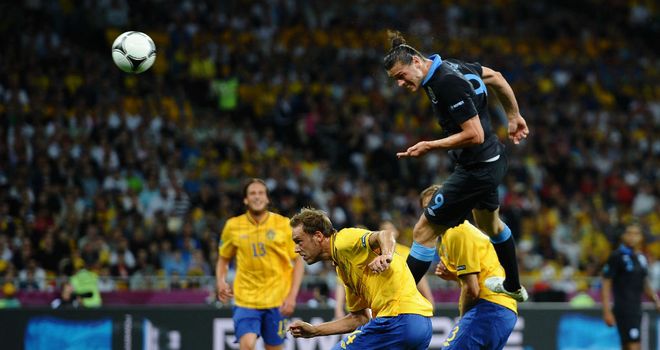 When Wayne Rooney suggested pre-tournament that he would not walk straight back into England's team after serving a two-match suspension, there were probably few who were able to stifle a smirk and a snigger.
Yet, after the 3-2 win over Sweden, the price he may have to pay for his mistake - a red card for a petulant kick at a Montenegrin defender - is another watching brief when England take on Euro 2012 co-hosts Ukraine on Tuesday knowing a draw will guarantee a quarter-final spot.
Roy Hodgson has already talked up the benefits of having a 'world-class' talent like Rooney available for the final Group D game, but the England coach is likely to spend more time wrestling with the dilemma over who should start against Ukraine than he would have anticipated.
Speaking after the win over Sweden, Hodgson said that 'all hell might break loose in the dressing room' if he left out Rooney, and it would take a brave man to do just that, but there is much for the England coaching staff to ponder over the next few days.
After an industrious display as a lone striker in the 1-1 draw against France, Danny Welbeck was given robust support against Sweden by Andy Carroll as Hodgson reverted to the sort of rigid 4-4-2 formation which proved to be England's undoing at the 2010 World Cup.
Sweden were never likely to possess the midfield vim and vigour of Germany, but when Carroll committed a couple of cheap fouls inside the opening 90 seconds and England's first promising free-kick position was launched directly at the Liverpool striker, there was a foreboding air.
That slowly started to evaporate as Carroll showed a willingness to join Welbeck in dragging Swedish defenders out of position rather than remaining a static focal point for long balls that could be easily neutered, and the two took turns in dropping deep to receive passes to feet.
Yes, England's opening goal came via a direct approach, but there was much to admire about the quality of Steven Gerrard's pass and the movement which allowed Carroll to power home a header.
Carroll showed many of Rooney's off-the-ball attributes, both positive and negative, as he worked hard to win the ball back before being guilty of committing a silly challenge which gifted Sweden the free-kick which led to their equaliser early in the second half.
In the final 10 minutes, after Welbeck had instinctively turned home Theo Walcott's cross to put England 3-2 ahead, Carroll also proved his value to the team in a defensive capacity with a couple of headed clearances.
Of course, the smart money, and maybe even many people's mortgage, is on Rooney being restored to the starting line-up against Ukraine, and a partnership with his club colleague Welbeck is the most obvious choice if Hodgson sticks with two up front.
But there are also perhaps two by-products of Friday night's win. Firstly, Hodgson knows he can be flexible with England's formation and personnel, even without Rooney, and still achieve positive results.
Secondly, the expectation on Rooney's shoulders as the only player capable of driving England on towards the latter stages of the tournament should have been eased by the performance, and goals, of Carroll and Welbeck.
Rooney has often struggled under the welter burden of carrying the national team's hopes, and this was patently obvious in South Africa two years ago.
He will surely relish the challenge of having to fight to regain his starting spot and then be able to play with the freedom he so often exhibits at club level, knowing all is not lost for England if he fails to deliver.