Euro star
Petr Jiracek proved he was up to the task when the big moment came in a game that was always going to be divided by the finest of margins. Tim Oscroft takes a look at the Wolfsburg man as he scored for the second game in a row.
Last Updated: 16/06/12 11:21pm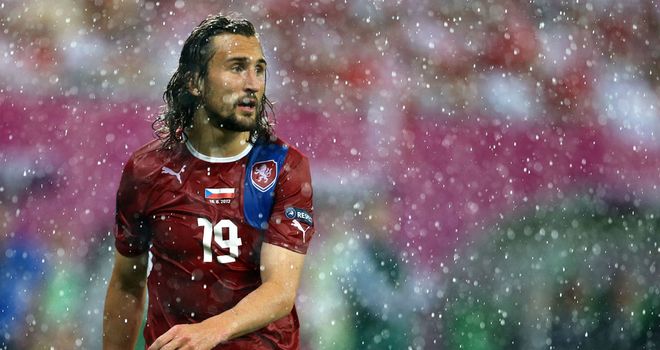 After looking content to let Poland go for broke, the Czech Republic had to change their game plan after the break and Petr Jiracek did not let them down when the crucial moment finally came.
It was all very different from the previous game against Greece, when the Wolfsburg man had got his side off to the perfect start when he opened the scoring after just three minutes. The Czechs built on that excellent start just three minutes later, but what Jiracek was thinking as Greece looked to be closing in on a comeback would have made interesting reading after he had done his part early on.
Like the rest of his team, Jiracek gradually got a foothold in Saturday's game as Poland got hit by a bad case of stage fright. He hassled the Polish defence on the right hand side, helping to peg the hosts back after their early pressure had come to nothing.
Everything changed for Jiracek and his team-mates as they left the field at the break. The Greece v Russia first half went on a touch longer, and in that time the 2004 European champions took the lead, meaning that the Czechs now had to go for the win.
As the Czechs gradually got the better of the Poles, Jiracek gradually got the better of Sebastian Boenisch and helped establish a stranglehold on the game.
It felt like a goal was only going to come from one side, and so it eventually proved. Milan Baros, who had played a lone hand as the Czechs played patience before the break, held the ball up just long enough to see Jiracek , who had raced out of his own half.
His run was timed to perfection, and one touch put the ball onto his right foot before he rolled home for what felt like would be the crucial moment of the game.
But his contribution was not over yet, and just a few minutes later Jiracek took one for the team in fine style. A Lukasz Piszczek shot hit the 26-year-old in the face, but after brief treatment he was back on, but only for a short while. Czech manager Michal Bilek brought Jiracek off to an ovation from his team-mates, and both he and his country can now look forward to a thoroughly deserved place in the knock-out stages.