Euro star
Mario Balotelli produced a display against Germany which can only be positive for Man City.
By Peter Fraser - Follow me on Twitter @SkySportsPeteF
Last Updated: 28/06/12 10:57pm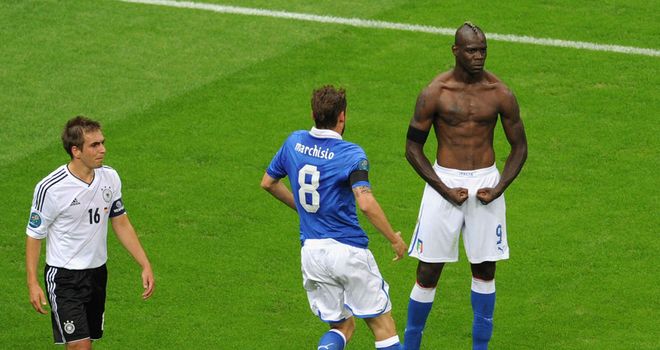 Why always me? Mario Balotelli on Thursday night demonstrated exactly why he is such a conundrum as he delivered a ruthless display of goalscoring to send Italy into the final of Euro 2012 at the expense of Germany.
The 21-year-old scored twice - the first a sharp, close-range header and the second a blisteringly powerful finish - in the first half in Warsaw to upset the form guide, book a final date with Spain and display his undoubted footballing ability.
Balotelli's performance was the sort which led his manager at club level, Manchester City boss Roberto Mancini, in October to say: "I put him [Mario] in the first five players in the world. The problem after is his age. He is young and maybe sometimes can do some mistakes. Like a player, he is incredible."
The statement is Balotelli in a nutshell. Stories and rumours of bathroom antics with fireworks, driving into a female prison to 'have a look around' and stopping at a sixth form college to use the toilet have often been combined with footballing brilliance.
But it is when the Italian has failed to deliver on the pitch - his red cards for City at Liverpool and Arsenal to name just two occasions - that he has been cast as the villain. The £24million August 2010 signing from Inter Milan's days at City appeared numbered after his dismissal at Emirates Stadium in April.
Predatory instincts
Balotelli has at Euro 2012 demonstrated flashes of his usual self - his attempted furious outburst towards the Italy dugout after scoring as a substitute in the win over Republic of Ireland, or the occasional snappy comment to an opportunist reporter. But there have also been signs of a focus and maturity on the field, especially at a tournament where there have been allegations of racism from the stands.
Against England in the quarter-finals, it was widely predicted all the ingredients were in place for him to lose his temper and make the headlines. He failed to score from 11 attempts against Roy Hodgson's men. But he kept his composure and kept playing for his team. He had the necessary concentration to be trusted for 120 minutes and to convert a trademark penalty in the shoot-out past club-mate Joe Hart.
Versus Germany in the semi-finals, it was another dedicated on-field performance from Balotelli. His movement, speed and predatory instincts were too much for Mats Hummels, whose reputation was given a severe kicking having previously been a star of the tournament.
Balotelli scored two goals from three attempts to shock Joachim Low's Mannschaft before his evening was brought to an end after 70 minutes due to cramp. He was booked for taking his shirt off when celebrating his second goal. But perhaps Italy boss Cesare Prandelli has found a way to motivate and control his main striker's emotions in a manner beyond the extended freedom offered in the past by Mancini?
Italy's No.9 now has three goals at Euro 2012. A goal in the final would most likely win him this summer's Golden Boot, providing Cesc Fabregas or Fernando Torres do not score more than two, and another Spain player does not produce something heroic.
Of course, one swallow does not make a summer. But the signs are positive for City. When offering an improved challenge in the 2012/13 UEFA Champions League and when defending their Premier League title, they could have a Balotelli with a new outlook on life.