History boys
Vicente del Bosque is the quiet force behind Spain's staggering success.
By Peter Fraser - Follow me on Twitter @SkySportsPeteF
Last Updated: 02/07/12 12:58pm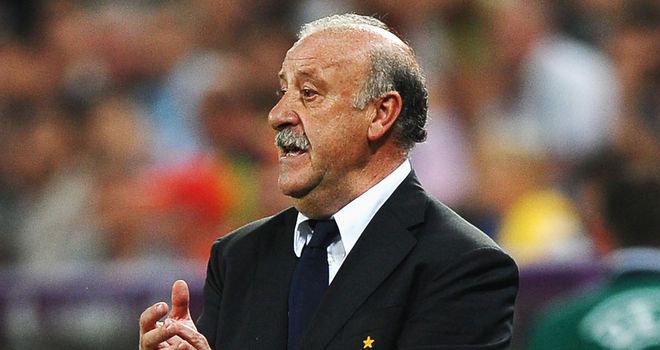 From once being considered unfashionable by Real Madrid's Galacticos, Vicente del Bosque is now the only man in history to have managed teams to titles in the World Cup, European Championship and UEFA Champions League.
Spain's glorious 4-0 victory over Italy in the final of Euro 2012 in Kiev on Sunday night would be the perfect opportunity for the 61-year-old to say, 'I told you so' to those back at the Bernabeu. But his nature means he will not.
The mild-mannered and unassuming Del Bosque is now guaranteed to go down in history as a managing great. But his personality and desire to stay away from the limelight mean he does not always get the credit he deserves for guiding a wonderful group of legendary players.
Euro 2012 has epitomised Del Bosque. He does not care what other people think. With his side criticised for being 'boring', he stuck to his 'false No.9' policy. He knows best. He kept faith in playing Xabi Alonso and Sergio Busquets, despite being accused of negativity. Spain went on to deliver the greatest performance in a final by any international side.
The man from Salamanca was sacked by Real president Florentino Perez in 2003 having won the Primera Liga title, because he was not considered to have the force of personality to inspire and earn respect from the likes of David Beckham, Luis Figo and Zinedine Zidane.
Spain's sublime success proves he is a man whose principles, not personality, are those which demand admiration. Admittedly, he has fine-tuned the side he inherited from Luis Aragones after Euro 2008. But Del Bosque has had to make tough decisions.
Pressure
When losing to Switzerland at the beginning of the 2010 World Cup, he maintained faith in the tiki-taka of his players. There was no panic. La Roja went on to win the competition and the rest is history in the most brilliant sense.
Expectation is the greatest pressure with which Del Bosque has had to wrestle. Spain have been transformed from underachievers in the 20th Century, to a side who have to deal with the burden of being favourites.
Del Bosque said himself with reference to winning Euro 2008 and the 2010 World Cup before Euro 2012 began: "We can be proud of what we have achieved, but it belongs to the past."
His expectations are such that he is always looking to the future. Under Del Bosque's guidance, Spain will still not be content with the beautiful and successful football with which they are conquering all those on the planet. They are improving.
Spain have now kept 10 consecutive clean sheets in major tournament knockout games. They averaged 66 per cent possession in Euro 2012, up from 57% in Euro 2008 and 65% in World Cup 2010. They conceded a total of just one goal as they won Euro 2012, fewer than any winner since 1980.
Del Bosque will continue to drive them forward and will develop new generations. To make matters all the more intimidating for their opponents, Spain's Under 19s and Under 21s - the stars of the future - are also the current European champions. Things can only get better.