What's the story?
Man United's purported interest in Lucas Moura continues our new feature 'What's the story?' that looks to dissect the morning's lead transfer story. Each morning we'll peruse the transfer titbits making the news and look to get to the bottom of the one that seems to have the most legs.
By Alex Dunn - @skysportsaldunn
Last Updated: 11/07/12 1:15pm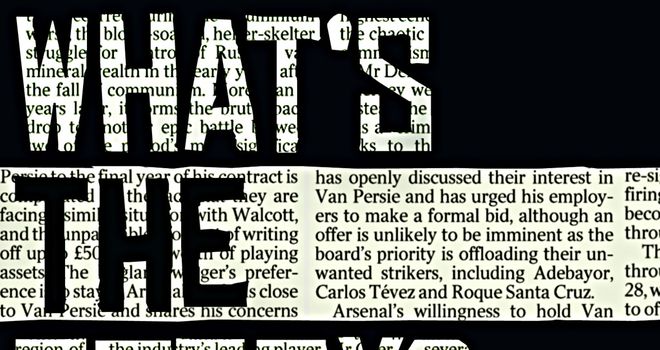 What's the story? Brazilian wonderkids are in vogue. Yesterday we ruminated on Chelsea's purported gazumping of Tottenham in the pursuit of Internacional playmaker Oscar, while today's biggest transfer story is Manchester United's pursuit of Lucas Moura. According to reports the dethroned champions are in advanced talks with Sao Paulo as they look to add a fresh je ne sais quoi to their attacking armoury.
Who's saying that? It's not a new story by any stretch of the imagination but the Daily Mirror have taken it on a notch this morning with the claim United have lodged an official '£20mllion-plus' bid for the teenage midfielder. According to their sources, Sir Alex Ferguson is keen to get the deal done as he fears an impressive showing at the Olympics could push his value up significantly. Aware that Inter Milan are also weighing up an improved bid, United have gone as far as to send out to South America a delegation led by chief scout Jim Lawlor.
Aren't Chelsea also big fans of Lucas? Interested enough to bid a gargantuan 40million euros in May, according to Sao Paulo president Juvenal Juvenico: "We did not accept the offer but of course Chelsea is the closest to signing Lucas. 40million euros. I cannot say right now (what price Sao Paulo would sell at) because they are assessments that are made taking into account many factors - you know the market." It would appear Sao Paulo's reticence to do a quick deal convinced Mr Abramovich to turn his focus elsewhere - with Eden Hazard now safely ensconced at Stamford Bridge and Lucas' compatriot Oscar seemingly having leap-frogged him on their transfer wish-list.
So that leaves Inter Milan as United's primary rivals for his signature? Not necessarily. Last season proved to be an unmitigated disaster for the Milanese giants as they finished sixth in Serie A. While they are ready to invest significantly to improve a squad in desperate need of a facelift, that they cannot offer the lure of UEFA Champions League football will count against them. Nerazzurri supremo Massimo Moratti insists he will 'keep hoping till the end' in his pursuit of Lucas, but will not have been encouraged by a stinging rebuke of his club's bid by Sao Paulo director of football Joao Paulo de Jesus Lopes: "There is no (formal) offer (from Inter) and, even if it were to appear, this amount is ridiculous. How can you pay €25m (£20m) for a player of Lucas's quality? Italian football is broke - the club (Inter) are broke. It seems they are creating this to satisfy the fans." Real Madrid continue to take note of developments from afar.
What of the player - what's his take on the situation? He's not agitating to leave but it'd be a surprise if he was still tormenting Brazilian full-backs next season. A switch to Europe seems very much on the cards, even if the starlet has a fine line of (empty) 'concentrating on football' platitudes in his locker: "You never know what can happen. I don't have a crazy desire to leave but, when the time comes, I will speak with my family and decide what is best for my future. Of course I think about it, but I can't let it go to my head. I'm very calm and down to earth about it. My job is to play football so that these clubs continue to be interested." Of Inter, he told Folha de Sao Paulo: "Inter are a great club. Everyone wants to play there one day and I'm no different."
At in excess of £25million he seems a bit of a gamble...whatever happened to plucking bargains from South America? Those days are long gone. The old saying used to be that Brazil exported their best footballers for the 'price of a banana'. However, Brazil's currency and economy is currently booming, with their clubs no longer having to sell to survive. The exchange rate as it stands does European clubs no favours either. If you want a top Brazilian these days - you're going to have to pay top dollar. Back in 2003, AC Milan paid Sao Paulo £5million for Kaka. You could probably buy Lucas' left calf for that today. Lucas isn't cheap and while the Glazers have been accused of being tight enough to peel an orange in their pocket, they're not afraid to spend big on players with potential huge sell-on values. Ferguson has spent more than £3million on a player aged 27 or over on only three occasions in the last 15 years and will stay loyal to his policy as he looks to leave a squad worth inheriting, if and when he finally calls time on his rein in Manchester.
Won't Ferguson be wary given previous forays to Brazil have yielded mixed results? It's funny you should mention Anderson. The Brazilian forever on the cusp of realising his potential without ever quite getting there has, according to murmurs coming out of Old Trafford, intimated a move back to his homeland holds real appeal. Previous club Porto and Benfica have been credited with an interest but should he be used as a makeweight in any deal for Lucas, it could be a satisfactory outcome for all parties. Think Park to QPR. Of the Brazilian flops few will forget Kleberson's negligible time in Manchester, while mixed results were gleaned from more high-profile South American imports Juan Sebastian Veron, Carlos Tevez and Diego Forlan. More recently Antonio Valencia has delivered unequivocally, while the presence of Brazilian Rafael and fellow Portuguese speaker Nani in Manchester could help Lucas acclimatise more quickly should the deal be done.
He better be good at the price being quoted - is he worthy of the hype? You could probably make Marco Boogers look like Marco van Basten going off the evidence of YouTube compilations, but it's difficult to watch clips of the boy and not think he'd be a welcome addition to the Premier League. Equipped with the explosive power afforded to those players who possess a low centre of gravity, Lucas is a sight to behold when he hits his stride. At his best when employed as a No.10 he has the rare gift of being able to beat players from the centre of the field. There's no doubting the flicks and tricks can take the breathe away too, but he can overdo it if he sees the whites of the post. It would be a major departure for Ferguson to use pace in the spine of his team rather than down the flanks but is thought he has accepted added thrust is needed to complement the more measured/pedestrian promptings of Scholes and Carrick. That's not to say Lucas could not be equally effective down the right wing in particular - with new boy Shinji Kagawa also thought to favour a more central role. Countryman Neymar, who to Lucas' irritation he is incessantly compared to back in Brazil, says his international team-mate is a 'superstar' in the making.
Looks like Brazil are going to have some side at London 2012? They are not amongst the favourites without good reason. Neymar will be the star attraction but with Chelsea and Tottenham target Oscar also on show, along with Lucas and the highly-rated Ganso, expect to see the Samba boys quickly adopted as the neutrals' favourite to take gold.