Free agent
The second free agent to fall under our microscope in his search for a new club is former West Ham and Burnley forward Zavon Hines. Over the next month we'll be speaking to a host of footballers at a crossroads in their careers as they look to get hooked up for next season.
Last Updated: 17/07/12 8:37am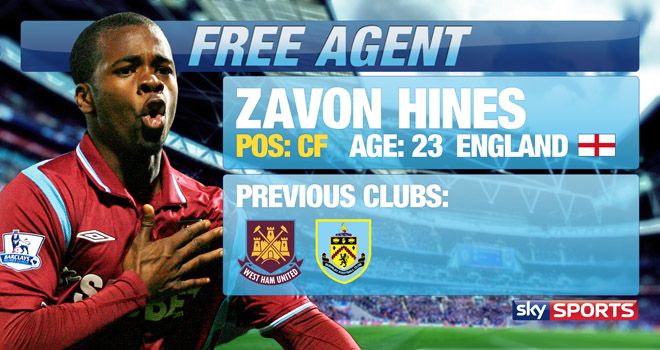 Zavon Hines knows he faces a big decision this summer as he weighs up his options as a free agent in a bid to get his career back on track.
The 23-year-old attacker is looking for a new club after leaving Burnley this summer following a frustrating stint at Turf Moor.
Hines came through the youth system at West Ham, making 31 appearances for the Hammers before moving to Burnley.
The move north failed to work out for Hines as he had a spell out on loan at Bournemouth last season and is now focused on finding the right club in a bid to recapture the form which marked him out as a star in the making during his time at Upton Park.
What's your situation at the moment?
I am looking for a new club after leaving Burnley over the summer and I am just waiting for the right opportunity to come along.
How worrying was it to find yourself become a free agent?
I am not worried about becoming a free agent, although it is just a little unsettling as I don't know what will happen. It is not an ideal situation, but it is something you have to deal with. I just want to be playing and playing for a manager who will help get the best out of me.
Has there been much interest shown in you?
I think there have been a few little things going on with clubs looking to sign me, but I will leave all that with my agent. I am set to have a meeting with my agent and go through things with him and see what are the best options out there for me.
What level would you like to play at? Are you hoping to stay in the Championship?
I see myself as playing in the Championship, but obviously I will go to League One to prove myself and show to people that I am back to my best. I am confident in my ability and I just need the chance to show people what I am worth.
Have you been keeping yourself fit over the summer?
I have got a personal trainer to keep me ticking over, so I can go back into pre-season once I get a club feeling ready. When it comes to match sharpness I have been doing keep ball sessions with other players that are also off for pre-season. I have been doing everything I can to be as fit as possible for when I do go into a new club.
Taking your family commitments into account, are you prepared to relocate?
I am prepared to go anywhere, but in an ideal situation I would like to be as close to London as possible. But ultimately my commitment is to football and wherever I am going to be playing football then that is where I have got to go.
Do you want your situation sorted quickly?
Yeah I would want my future sorted as soon as possible because I would prefer to be somewhere getting fit, playing games and showing everyone what I can do. My aim is to get sorted quickly and I would hope to be in somewhere within a month, or even less than that. That's what I would like but it's a waiting game at the minute.
How big a decision is this for your career?
No doubt this is a big decision for me as I have not had the chance to show what I can do for the past year-and-a-half at the clubs I have been at. Hopefully my next club is the place is where I will be able to show what I am about.
Do you think you have a point to prove?
Definitely, every time I step on the pitch I have got a point to prove. For someone who plays as a winger or a striker like me you have to produce or you will be classed as nothing and I am just waiting for that opportunity to do just that. Things didn't work out for me at Burnley and I don't know why really. It was unfortunate, but I guess that is football and you have to put it behind you and move on - to show those people what they are missing.
We would like to hear your thoughts on the best free transfers out there. Who should we be talking to? Who are this summer's bargains? Who should your club be targeting?
Maybe you are a player that would like to be featured, or an agent looking to get a client fixed up for next season. To offer your suggestions fill in the feedback form below or get in contact with either chris.burton@bskyb.com (@SkySportsChrisB) or alex.dunn@bskyb.com (@SkySportsAlDunn)