Secret agent
The shadowy world of the football agent is one that is cloaked in secrecy amid accusations of greed. Thankfully, we've got one of the good guys on board to lift the lid on what life really is like at the sharp end of a notoriously cut throat business.
Last Updated: 24/08/12 7:26am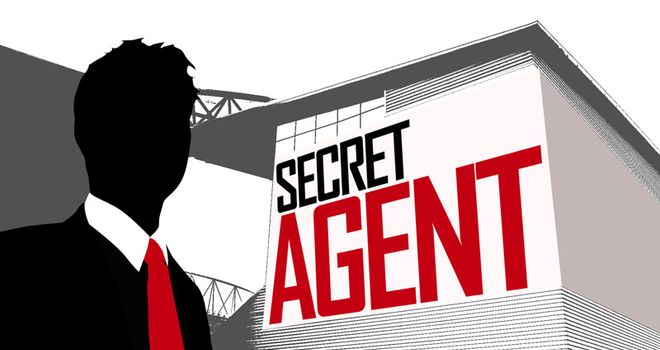 With less than two weeks of the window remaining time is fast running out for agents up and down the land. The summer is the time to make the money to keep the family fed during the lean months leading up to the January window, when, let's face it, not a lot happens.
You can almost compare the life of an agent to that of a farmer growing his crops for the year. In the spring we plant the seeds in the minds of the clubs, and as the sun and rain comes down we start to see shoots of interest surface ahead of the big harvest that is the transfer window. It's not always organic and I can confirm some agents use/sprout more manure than others!
To use another analogy, I'm currently spinning more plates than at a Greek wedding. I'm talking five or six at once. One minute they are all spinning without any problems, the next the sound of crockery is waking me up in my sleep. If I could just get one deal over the line it'd mean I'd be guaranteed to have something to eat my tea off. The missus is using paper ones at the minute.
The problem is that not only do you have to keep your plates spinning but you get people constantly throwing obstacles at you. It's like Britain's Got Talent minus the dancing dog. Clubs try and pull the rug from under your feet, while rival agents will do everything they can to take your eye off the prize. And then at the eleventh hour a player tells me he's doing a U-turn on a proposed switch to the Ukraine because apparently they don't have electricity and they eat squirrels over there. I kid thee not! For the love of God...
What I'm effectively saying is that as an agent brokering deals for players is more often than not out of your hands. You can have the player under contract, you can get the club on side and have the mandate locked up, but there are still many hurdles to overcome.
You can't help but be pessimistic as an agent. I tell people that until I see the player actually run onto the pitch then the deal isn't done. Cigars can stay in the box until I've seen a heartfelt kiss of the new badge.
This is now the nitty-gritty end of the transfer window. It's an up at dawn, pistols drawn, petrol guzzling, Red Bull supping, McDonalds eating, ego bashing and more pride swallowing than being on the receiving end of a Royal flush in a friendly game of poker. Gordon Gekko never had to put up with this.
With transfers taking place in different parts of the world you will often find yourself taking calls in to the early hours from America and staying up late to receive calls from the Far East. Social life is at a premium at this time of year, so having an understanding other half is a must. Either that or enjoy being single.
Of course I love my job, but it's not easy to take the regular slaps in the face. Don't forget I'm not one of the big hitters who have been moving a Van Persie or Hazard this summer. The agents looking after these players hold the cards and good luck to them too. They're the lucky bar stool dwellers...
If Hazard's name came up on my phone it'd be Micky looking for an after-dinner gig.
Anyway enough of my moans, I'm sure you don't care! Cue tumbleweed...
I still anticipate quite a few more big money deals going through before Jim White returns to our screens for this bi-annual moment in the sun at the end of next week. Chelsea need a striker or two, Liverpool a player or five, while Arsenal have their eye on a few players and that's not even mentioning Manchester City. QPR will try to reduce the average age of their squad from 63! That reminds me, I wonder if Hughes would be interested in Micky? He could probably still do a job sat in front of the back four.
I hope to complete all my work in time to put my feet up and watch the shenanigans played out on Sky Sports News next week. I wonder who will take over Harry Redknapp's mantel of sticking their head out of the car window telling us what transfers plans they have? I think Mancini would make a good replacement.
The time flies during the last couple of weeks of the transfer window despite the long days. If you don't put the hours and the effort in during this time then your chance to shine and make a commission goes down the pan quicker than Phillips Idowu in the Olympic triple jump!
Once the window shuts I hope to book a trip to Las Vegas and not Blackpool, which my accountant tends to recommend come this time of the year. I've always said try hard enough in this life and you will get your reward. That is unless the gods are against you, which reminds me...
On a personal note I've had my fair share of deals fall flat in the last week. A certain midfielder in Spain somehow got it in his head that AC Milan or Inter Milan were about to offer him a deal. When later in the week rumours emerged that one of the Premier League's big guns was also in the hunt that was it, the carpenter was called to increase the size of his doors.
Where these stories came from remains a mystery but what I do know is that some very excellent offers, from several good Serie A clubs, have since been withdrawn as a result of the player's misguided and stubborn insistence that his future was in Milan.
Three weeks later he's still sat on his sofa at home wondering why his phone no longer rings. Not that I'm laughing at him, but it's quite amusing that my phone rang this afternoon from his lawyer asking if there was anything we can do to help? You could hear a pin drop during the uncomfortable silence. Do I swear and tell him in no uncertain terms to do one, or do I charge him another five per cent commission?
Reputation is massive in this business and when the player rejected the offers I'd got his suitors to put on the table, it was me who had to grovel to get them back on side. Despite our protestations that the player was two cans short of a six-pack, they put a black mark next to our name - potentially meaning it won't be wise to make a call to them in the future.
So it's dilemma time, do we help the player in the knowledge we can secure a pay-day or do we say no thanks bud, you only get one chance to make me look stupid?
It's another plate to spin and I'll let you know how I got on next week.
Thanks for reading. If you've any questions get in touch via the feedback form below or on Twitter @sssecretagent.