What we concluded...
Following Liverpool's highly engaging 2-2 draw with Man City at Anfield, Sarah Winterburn is charged with the task of drawing a series of conclusions.
Last Updated: 27/08/12 7:22am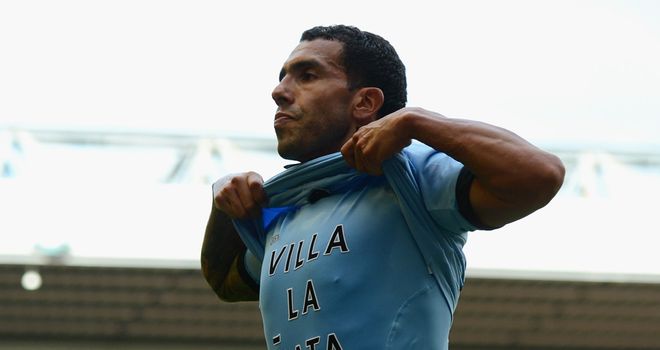 - There's a lot to like about this Liverpool side. Most of those positives were again on show at Anfield, with Joe Allen's wonderful range of passing chief amongst them. The Welshman literally did not misplace a pass in the first half and one disguised ball through to Luis Suarez showed that he's capable of more than sideways stylings.
- Now for the things that have been improved in eight days - Steven Gerrard gave Liverpool fans hope that he's not an old dog incapable of learning new tricks by putting himself at the heart of everything that was incisive about Liverpool. Seeing him geeing up Fabio Borini and trying to get the Italian to play at a higher tempo was like watching the Gerrard of five years ago. Can he grab a game by the scruff of the neck in 2012? Possibly not. Can he grab teammates by the scruff of the neck and force them to join him in the fight? Absolutely.
- The positives continue with the introduction of Raheem Sterling, who produced more thrilling moments in the first seven or eight minutes of his first Premier League start than Stewart Downing has managed in his Liverpool career so far. We have said time and time again that Liverpool need a pair of pacey wingers a la Scott Sinclair and Nathan Dyer in order to help Liverpool play 'the Swansea way'...well perhaps they only need one because if Sterling can reproduce that exuberance and endeavour another 30 times this season, that could be one problem solved. It should have made uncomfortable viewing for Downing. And also for Kenny Dalglish, who trusted him for only a handful of minutes last season even when they were desperate for anything unpredictable.
- Perhaps it's unjust to compare the pair but it's fair to say that Pablo Zabaleta must have glanced across at Kolo Toure and been mighty glad that he was tasked with stopping Fabio Borini rather than Sterling. It's way too soon to judge but it's difficult to see Borini as little more than a willing runner. An upgrade on Dirk Kuyt? Only in terms of age, perhaps.
- Talking of which - we would suggest that Borini actually produces something in a Liverpool shirt before he does the old 'come on' gesture at the Kop. You have to earn the right to gee up one of the loudest banks of fans in English football, fella.
- While we're on the negatives, we should discuss Luis Suarez. It seems a tad churlish to begin any sentence with the words 'the sumptuous free-kick aside...' but, the sumptuous free-kick aside, it was a game to forget for Suarez. Too often a move broke down when it reached the Uruguayan - either with a poor shot or a hopeful chip to nobody - while he must have been in a pretty exclusive club of people inside Anfield who had a beef with the referee at the end of the game. Do Liverpool still need a striker? On the evidence of Suarez' 13 shots in two games leading to just one set-piece goal, we would have to say yes. Mind you, Anfield's reaction to the introduction of Andy Carroll suggests that there are more than a few on Merseyside who think the answer is already on the bench.- There was a moment of dilly-dallying from Sebastián Coates in the first half that was reminiscent of the nervous mess that encompassed the Liverpool defence last week. It was a sign of things to come as first Martin Kelly and then Martin Skrtel made terrible errors to gift City goals. Can this series of mistakes from a previously solid defence be attributed to the new possession-based style of football or are they just individual errors than can happen to any defender at any time? I would argue that Skrtel's decision to play a blind backpass is simply gross negligence and cannot be blamed on instructions from Brendan Rodgers, who is surely preaching bravery and not stupidity. No serious questions need to be asked unless it happens again next week.
- Rodgers' task this week is to convince them that a point at home to the champions is a reason for confidence to soar rather than nosedive. Skrtel may take some convincing but the Northern Irishman has some psychological trickery to pull off this week - the improvement in Liverpool's play following both their goals at Anfield proved what we had strongly suspected, that this style of football will get more and more comfortable with confidence. It requires bravery and it requires its exponents to believe in it completely. Rodgers has the job of painting two discarded leads as a glorious point gained.
It helps when Rodgers' first reaction on Skrtel was this: "There is no blame on him. It's all part of our learning."
- You don't realise how rare it is for a Premier League team to score and then push again for another goal until you see it happen. Liverpool scented blood before their opening goal but they did not draw that blood and then retreat while City found a plaster...instead they advanced and attacked again and for 15 minutes either side of half-time, Liverpool entirely dominated. The flaw once again is that they struggled to score from open play and while Suarez and Borini are the players charged with turning possession into goals, you suspect that might remain the case. But a willingness - if not the ability - to kill off the game was encouraging.
- Roberto Mancini certainly helped Liverpool more than his own players with his choice of formation. Quite why a team that has just won the Premier League would change tack is curious. Quite why a manager with a dearth of centre-half quality would choose a formation that requires three centre-halves is even more curious. The inclusion of Kolo Toure rather than Joleon Lescott makes it all still curiouser and curiouser. If this was a 'look how much we need a centre-half' cry for help from Mancini to Brian Marwood, then it may well have worked a treat.
- Toure being left to deal with Sterling entirely negated any advantage the formation may offer in terms of utilising James Milner's willingless to run byline to byline. We could not see what Milner was screaming at Mancini when City were under siege late in the first half but we can imagine it might have been along the lines of 'what the hell do you expect me to do?' as he time and time again had to come back to help deal with Sterling. Nigel de Jong and Yaya Toure were pushed too deep by Liverpool's domination in the centre of the park and Samir Nasri looked lost in no-man's land between them and the utterly useless Mario Balotelli, whose lack of effort made you yearn for the business of Sergio Aguero.
- Could there have been a greater contrast between the half-hearted meanderings of Balotelli and the boundless energy of Carlos Tevez? When he cares, he is simply phenomenal. Something or someone has clearly convinced the Argentine that he has to play the long game, and ultimately getting himself out of City (if that is still want he wants) depends entirely on him being a) fit and b) successful. It might be a selfish act but for now, City are benefiting. He almost scored from an entirely impossible angle in the first half and was then the entirely wrong person - from Liverpool's point of view - to be lurking when Skrtel had a brain fade.
- Without the rested David Silva and hindered by a formation pushing Toure too deep, City lacked any real guile or thrust until Jack Rodwell's introduction after an hour. He helped to wrestle back some initiative in the centre of the park and more crucially, provide a fulcrum alongside De Jong to allow Toure to push further up the pitch. The results were immediate - just three minutes after the change, the equaliser came. It owed rather a lot to Kelly's bumbling, but we would forgive anybody being nervous in close proximity to the giant Toure.
- It was a sumptuous free-kick from Suarez but it should have never been a free-kick in the first place. Rodwell pulled off an effective block and being punished for a ricochet from his knee to his arm is ridiculous. That is all.
- It took Mancini 76 minutes to change from a three-man defence that had ceased to work after the first ten minutes. Sheer stubbornness? Or does he truly believe that 3-5-2 is the best formation for a squad that's just won the title with variations on a 4-2-3-1? It was almost like he was making a point about the paucity of his squad as all the 'fringe' players (Kolo Toure, Alex Kolarov, James Milner, Mario Balotelli, Nigel de Jong) struggled against Liverpool.
This article first appeared on Football365