Secret agent
The shadowy world of the football agent is one that is cloaked in secrecy amid accusations of greed. Thankfully, we've got one of the good guys on board to lift the lid on what life really is like at the sharp end of a notoriously cut throat business.
Last Updated: 28/08/12 12:53pm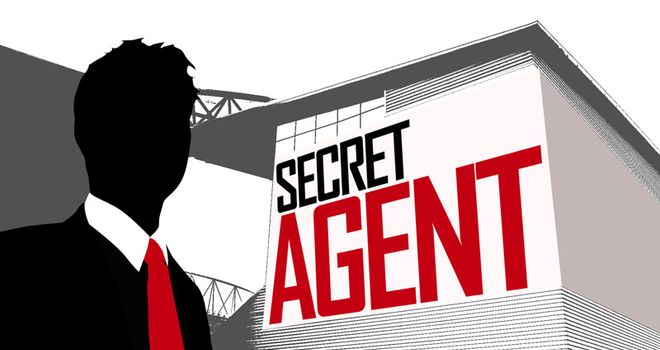 Deep breath. Here we go. Deadline Day. The phone never stops ringing and the missus complains I'm engaged more often than Elizabeth Taylor. I'm going through petrol like Martin Allen goes through clubs, it's the most intense and stressful time of the year and the Editor has asked me to put together a blog...get me a broom and I'll give the office the once over while I'm at it!
You have to be prepared for every eventuality during these last few days of the window. It's not quite a la the expectant father with an overnight bag already packed but the best suit is pressed, crisp shirt on hand and I'm ready to look sharp on Florentino Pérez's yacht whenever the call comes in.
Oscar Wilde once mused 'to expect the unexpected shows a thoroughly modern intellect' and it's a mantra I like to live by in this game. Anyone who's had a player do a runner on them from a Belgian hotel in the middle of a night appreciates that the old adage about counting your chickens before they hatch usually leaves egg on your face.
All the advances in technology have made the life of an agent a lot easier. When I started it out it was mobile phone, PC with a printer and the fax machine. These days you can do everything from your smart phone; write paperwork, conduct internet research, email documents etc. The cherry on the cake is that you can sign all manner of things electronically now. And you can even text and phone free through applications like WhatsApp and Viber (ED -is this Stuff magazine?). I've heard a whisper that with the new iPhone 5 you'll even be able to make calls.
It's great that I can essentially house my office in my back pocket but if anything happened to my phone I'd be about as much use as a non-OAP to Mark Hughes. Believe me, being without your phone is no laughing matter. I don't like to exaggerate but the time my phone decided to have a 'software malfunction' couldn't have been more stressful. As sure as Arsenal need a new striker, you'll miss the call of your career if your phone is off the hook. Put it like this, unlike the postman the big boys never ring twice.
So there's lesson number one - don't take risks with your soul mate.
With days to go if you're not already halfway down the line in terms of negotiating a transfer, or at least have planted the seeds, then you may as well be sat on the sofa. Popcorn and Jim White.
Clubs will have a list of targets to work off which they will have identified, hopefully with your input, during the summer or after the first game or two. There's a (very) slim chance that you can throw a name at a club and get their attention but I wouldn't put it in the business plan you show to your bank manager. Of course clubs panic buy on occasion but unless you can find a Modric for Spurs at £15million I wouldn't bother expecting a ring back from Daniel Levy (or is that me bluffing as I've found him a player and I don't want anyone getting in the way?).
Transfers come out of the blue, that's what makes Deadline Day such gripping viewing, but they're usually deals that people behind the scenes will have been working on prior to Friday's curtain call. The exception is when a mega-transfer, such as Fernando Torres' switch to Chelsea, creates a domino effect for all the clubs involved. More often than not it's the clubs at the bottom of the trail, in that particularly case Newcastle, who are the (short-term) losers on the day as they haven't time to get in a replacement.
So you've got your phone and you've got your deals ready to go as soon as you get the nod, what else? Cash in your wallet is essential. You've still got to eat and drink and when wining and dining a club official you can't look cheap and not tip the waiter.
A valid passport needs to be easy to locate just in case you have to take a last minute flight to Florence or even better, Baku! To be fair, you can avoid a lot of flying these days by the wonders of technology I mentioned earlier. This is a good thing, for while you're in the air you could miss out on completing other deals. You don't want to be in Istanbul when Manchester United come calling for one of your players.
Save the flying for when you are going to watch one of your players play at their new club. You'll be able to enjoy the trip more, a busman's holiday I think they call it. All negotiations can be done on the phone and by email. As long as the player turns up on the day for his medical and signs on the dotted line, the unveiling photo won't be ruined by your absence.
Don't forget deals often collapse at the last minute. A ten-hour round trip to Europe which turns into a wasted journey can become a double nightmare as when you're getting snapped by the paps in Milan with a client, a call from Mallorca is missed and another deal dies.
Talking of deals collapsing at the last minute, I heard on good authority a story this weekend involving a player who had messed me around during the current window. This fine fella, who had been in the Premier League on loan recently, has a reputation for being a bit of a bad boy.
Anyhow, he was in the boardroom of what he thought was going to be his new club. The paperwork was ready for his signature and he'd been greeted at the airport by a smatter of his future fans. I even heard Wikipedia had listed his name in the said club's squad list. Luvvly jubbly - pay day for one and all. Cue the club's president walking into the room in front of player and agent and whispering into the ear of the Director of Football. Deal off. I'm not laughing but I've been playing my Boy George EPs all week.
Phone's going, so that's about it for me this week. Wish me luck and hopefully when you settle down to watch Mr White on Friday night I'll have influenced a few of the deals that flash across the screen on the trusty yellow ticker. I may even get my ugly mug on the box (I'll be the lanky chap with a fake nose, tache and glasses). Deadline Day needs a new face now Harry Redknapp is out of the game after all...
Although, on that score, I say get him in the studio SSN. Deadline day without Harry hanging out of his car window just doesn't seem right...