Crossing the line
Gary Neville says Everton have good reason to feel aggrieved after their draw with Newcastle.
Last Updated: 18/09/12 12:41pm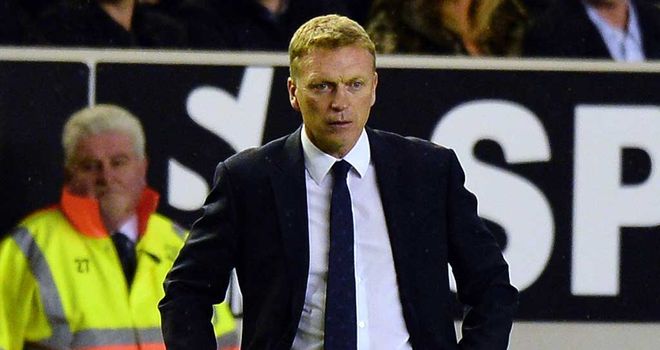 Sky Sports pundit Gary Neville says Everton have good reason to feel aggrieved after the officials failed to award two legitimate goals against Newcastle on Monday.
Two second-half strikes from substitute Demba Ba - the second of which came in the 90th minute - saw Newcastle fight back to claim a 2-2 draw at Goodison Park. Moyes frustrated by draw.
If letting their opponents twice come from behind was not infuriating enough for Everton, the officials incorrectly ruled out a Marouane Fellaini goal for offside and failed to spot that substitute Victor Anichebe's header had crossed the line.
"The goal-line technology is coming in and it has to now, there are too many big decisions," Neville told Monday Night Football. "Everton will feel hard done by. The two goals that should have been, have gone against them."
Neville sympathised with the linesman who disallowed Fellaini's strike after initially calling it offside himself in commentary but he was less forgiving after the officials failed to award Anichebe's header.
"These are massive calls and it will start off the war again around goal-line technology," he said. "It looked in. Sometimes your gut instincts are right. It think the referee, Mike Jones, thinks something has gone wrong because he pulls it back when Newcastle break away and are in on goal to score.
"I have less sympathy with the linesman for this one than the offside. I think gut instinct is that it is in. That was my gut instinct watching it at full speed. He is watching it full speed, in line, and I think he should be getting that one right. It is so tight and you have to be sure but he could not have been in a better position to watch it."
Of Fellaini's disallowed goal, Neville said: "I think it was a tough one. It was a fantastic goal from Everton, the pass from Pienaar was magnificent. I said offside straight away. The centre half runs up and Fellaini is running the other way, I have massive, massive sympathy for the linesman in that incident.
"How a linesman can see that or make a call, it is almost a guess, it is experience. I can understand total why he would get that one wrong. It looked offside to me. It wasn't but we (Sky) have lines we can draw on it, we have slow-mo cameras, we have all the technology in the world."
Turning point
However, the former Manchester United and England full-back insists Newcastle and Alan Pardew, in particular, deserve much credit for their second-half comeback. The introduction of Ba to Newcastle's attack was clearly a turning point, but Neville insists it was not just his goals that transformed the game.
"It changed the flow of the game in more ways than one," he said. "Obviously everybody will point towards his goals but in the first half the number of passes Jagielka and Distin had out of the back was huge, which enabled Everton's full-backs to move forward, particular down that left hand side.
"In the second half it stopped that in an instant. Jagielka and Distin had a real game in the second half and they were up against two players all the time. And it was a big, big problem for them.
"It was a chance worth taking for Alan Pardew. He needed to change the flow of the game at half time. It was a brilliant decision. It was a risk because he knew it could leave them more open but it stopped the flow of Everton's play. Credit to Pardew and Ba. They changed the game."