Arsenal 'were lucky'
Tony Adams remains unconvinced by Arsenal's defence after 'riding their luck' to beat Montpellier.
Last Updated: 19/09/12 9:46am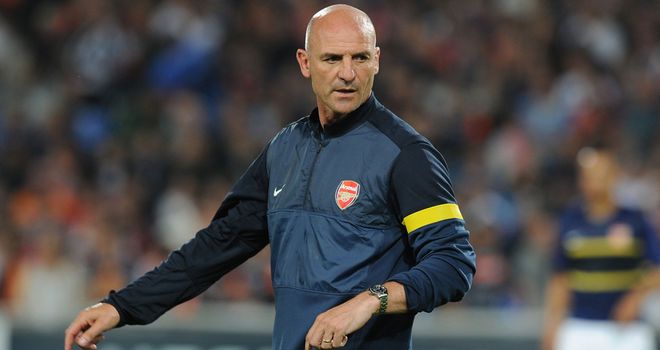 Former Arsenal defender Tony Adams remains "unconvinced" by claims of a new-found solidity at the centre of the Gunners' defence after watching them grab a "lucky" win at Montpellier.
Arsenal survived a second-half onslaught from the French side to secure a 2-1 win in their opening Champions League clash, following goals from Lukas Podolski and Gervinho. Match report.
Younes Belhanda's first-half penalty was only the second goal the Gunners have conceded in their first five matches this season, with many highlighting the impact of newly-appointed assistant boss - Adams' former defensive partner - Steve Bould on the Gunners' defensive improvements.
But Adams insists the side remains vulnerable at the back, despite them surviving sustained periods of pressure in the second half.
"I think Montpellier deserved a draw really," he told Sky Sports. "I am not convinced at the moment with Arsenal. I think you have to give it more time to see if they have made significant change defensively.
"There were some good elements but there were also some pretty poor defending. They rode their luck a bit, and certainly in the second half.
"But they have come away with the win and they have got the job done. Lucky Arsenal. But there were question marks over a penalty appeal late on as well. I'm unconvinced."
Movement
Fellow pundits Ray Wilkins and Glen Hoddle agreed that Montpellier were unfortunate not to get a draw, or even the victory, as Abu Diaby could have been sent off and the hosts came close to levelling through Renu Cabella and Belhanda.
"I thought in the first half Arsenal were very good but in the second half Montpellier had a really go," Wilkins said. "If you are going to lose a game, you lose it by having a real go. Perhaps with a little bit more quality up front they may have snatched a draw.
"Diaby made a rash challenge late on that could have been a yellow card and I think there should have been a penalty also."
He added: "When Arsenal play and go forward with the ball there is no two ways about it, they are exceptional. The two goals they scored were very good indeed with good movement."
Confidence
Former England boss Hoddle picked out the performance of goal-scorer Gervinho as a real positive for the Gunners and he believes that Arsenal fans may now start to see the best from the forward, who has struggled to live up to expectations since joining the club from Lille.
Hoddle said: "Montpellier must have had an old-fashioned rollicking at half-time because they came out as a different team and really put Arsenal on the back foot and deserved a draw at least.
"Gervinho looked like he had a bit of confidence. He has scored a couple of goals, a couple of tap-ins and that gives a player confidence. He has not had the best of times at Arsenal. We have not seen the best of him yet.
"Arsene will have seen something in him but we haven't seen what Arsene has seen in him, let's be frank. These goals will give him a real confidence."