Secret agent
The shadowy world of the football agent is one that is cloaked in secrecy amid accusations of greed. Thankfully, we've got one of the good guys on board to lift the lid on what life really is like at the sharp end of a notoriously cut throat business.
By Secret Agent - Follow me on Twitter @SSSecretAgent
Last Updated: 19/09/12 11:50am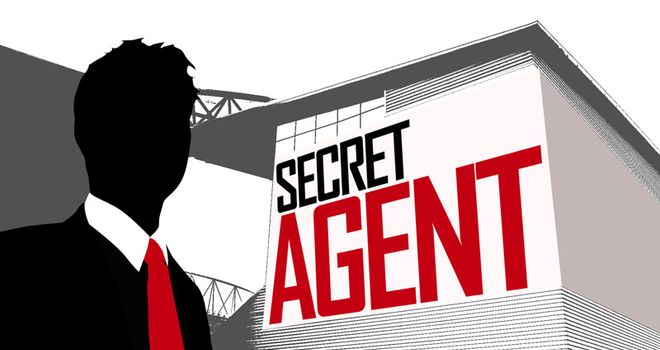 With two weeks having now elapsed since the close of the transfer window I've had some time to take stock. When the dust settles it's important, as an agent, to assess how the market is looking and draw conclusions as to who were the respective winners and losers. As sure as Liverpool need a striker January will be here before we know it and when Jim White is wheeled out I want to be the first on the scene, cap in hand, with a raft of players ready to fulfil the needs of Premier League bosses across the country.
Outside of the game everybody thinks that once Mr White closes the transfer window with more pomp and ceremony than that which brought an end to London 2012, it's holiday time for the agent fraternity. The image of portly agents sipping pina coladas on the Costa del Sol, like some god-awful Danny Dyer flick, comes to mind. If your clients stretch to a Rooney or an Aguero that may be the case but, for the most of us, there's plenty still to do in good old Blighty.
Don't forget some transfer windows stay open for a week or two longer than they do here. Deals are still being done. Any decent free agent still commands considerable time and attention for clubs who missed out on their primary targets. Think Michael Owen to Stoke. And let's not forget there are literally hundreds of professional footballers who are desperate to get fixed up with new employers. Many of them are struggling to keep the wolves from the door. Not too many tears are shed for those that are paid to kick a ball around but it's a hard business and many are feeling the pinch.
Hopefully by this time next month I can put the mobile on silent for a week (I won't) and take, what I think, is a well-earned break. Those of you who have been following my blogs in the last couple of months will know that I've been working on a few tasty deals lately in the pursuit of the big pay-day that all agents crave. I've put the graft and hours in so I wouldn't begrudge myself the rub of the green for once.
Agent life is the proverbial rollercoaster. There's nothing you can do but sit back and enjoy the ride for only the truly naive (and we've all learnt the hard way) aren't aware that for every deal you do, ten or more others will go by the wayside. Each new negotiation sees you experience the full gauntlet of emotions and like at Alton Towers, you queue up patiently for your turn before handing control over to other parties. Thorpe Park is not the only place where you get off a ride feeling green and short changed. I've lost count of the times I've spent £100k in my head only to be pickpocketed at the last minute.
If you don't have a thick skin then this business isn't for you. I'm looking more and more like a rhino every day. You develop impunity to disappointment through experience and often learn the hard way by the mistakes you make. The only way to get back on the ride is to re-join the queue.
There were a couple of times this summer when I thought, 'what is the point of this?'. You do all this hard work setting up deals, making calls, sending paperwork, emails, getting all parties to agree transfer fees and wages only for somebody at one of the clubs or a player and his agent to cock it up. More often than not greed is to blame. Sometimes you ask yourself why you bother will all the hassle, but then you catch the right wave, the adrenalin kicks in and it all makes sense.
That's the way it goes and after a good few years in the business my philosophy when everybody else around me is saying 'it's a done deal' is to inject a little realism into the room. I'm not ordering the new Merc until I can hear Rusty Lee belting one out.
The upshot of the window just passed is that I didn't get that big deal to allow me to start doing my Harry Enfield 'Loadsamoney' impression. I made enough to keep me going and interested and I still have the love and energy to plough on.
What else would I do? When the beautiful game gets in your blood there's no alternative. It's like Ricky Hatton and the boxing...
Aside from my own deals, I found a number of transfers to be ill advised and badly thought through. I'm very suspect about the money Southampton have spent on their return to the big time. In Jay Rodriguez and Gaston Ramirez they've spent huge amounts on a pair of forwards with zero Premier League experience between them. It can be frustrating for fans when you see the same old faces recycled between those clubs that swap places between the first and second tiers and it's good to see a club be imaginative with their market moves, but surely a first season back in the top flight is about consolidation.
To be fair it's brave on the part of Nigel Adkins but for me the best signing he's made is Steven Davis. Don't forget this club nearly went out of existence two or three years back and the last thing you want is an astronomical wage bill in the Championship, should this term not pan out as the club would have hoped.
Liverpool did a very smart job of getting rid of players who the new manager felt didn't complement his style of play. Brendan Rodgers and his board were brave with who they shipped out and no doubt they reduced the wage bill to accommodate some fresh faces, but to miss out on the players they did by penny pinching would worry me if I was an Anfield regular.
It seems incredibly misguided not to deal in August and allow any new boys to bed in at their own pace. Those bought in January, and surely there will be signings in the New Year, will have to hit the ground running. It's also worth remembering that prices in January are invariably inflated. What they saved by not splashing the £6milion on Dempsey or the £20million on Llorente will be a drop in the ocean come January, especially if they fail to qualify for the Champions League again.
Rodgers concedes he needs to address a chronic lack of firepower and every agent in the land will have all strikers on their books taking lessons in Scouse.
Arsenal did some good business and Newcastle did well by not losing any of their highly sought after players. Fulham and Aston Villa bagged themselves a pair of excellent additions in Dimitar Berbatov and Christian Benteke. I'd back both clubs to have solid if unspectacular campaigns.
Manchester City tinkered rather than made any eye-catching signings and I'd be surprised if they have enough for a concerted tilt at Champions League glory this time around. Their time will come but, for me, it won't be this term.
In the next few weeks I'll be looking to get a few players to clubs who are desperate for a free agent or two. Sacking season is just around the corner and it's amazing how managers become more receptive to your calls around the ten-game mark. As I trawl through the list of freebies I find Darius Vassell and Salif Diao are still without a club. Worth a shout maybe? I've got contacts at a few clubs in Italy and I've heard strikers are in short supply out there. I'm sure Darius could pick up a few Italian words with the right encouragement.
Ciao for now...