Sky Sports views
See what our experts have to say about who should succeed Olazabal, the Japanese GP and more...
Last Updated: 02/10/12 4:46pm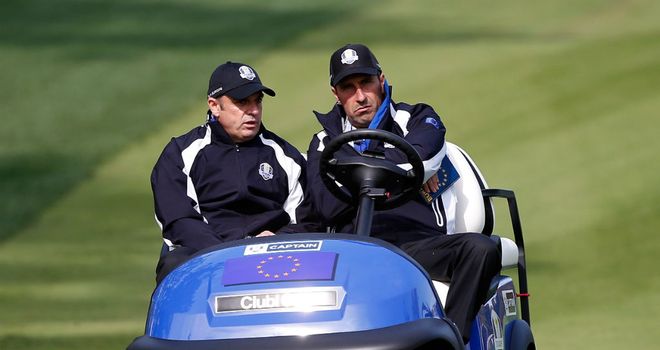 Ross McFarlane on who should captain Europe at the Ryder Cup in 2014
"I would like to see Jose Maria Olazabal as captain again. But there are so many very good candidates with their hat in the ring. You would say Paul McGinley would be favourite. Darren Clarke said he would like to be involved but Paul McGinley has been vice-captain a couple of times; he has captained the Great Britain and Ireland side in the Seve trophy to two victories and apparently he is quite inspirational in the back room. A lot of people have said how wonderful he is, how he works and how diligent he is in gathering the right people around him as well. So he seems to be, not a shoe-in, but the bookies favourite."
Tony Jardine on who will set the pace at Suzuka this weekend
"I think it is going to be Sebastian Vettel. I think it is a Red Bull circuit. I think Fernando Alonso is going to be up there through stealth. He has not got the fastest car. I was going to say Jenson Button would have been on the podium but it is going to be a bit more difficult for him (following his grid penalty) and I think it is going to be a tough race for Hamilton. But certainly all eyes on Vettel and the championship battle with Fernando Alsonso at the front."
Rob Key on England's World Twenty20 exit
"In a big tournament you have got Jonny Bairstow and Jos Buttler in the middle order who will be very good players, but you're asking too much of them to get you home time and time again against mystery spin, Lasith Malinga and some of the best bowlers in the world. We could have offset them with a few experienced players, people who have been in that pressure cooker of the subcontinent and the big crowds."
Andy Goram on Steven Fletcher's return to Craig Levein's Scotland squad
"I think Fletcher and Levein both deserve a bit of credit for swallowing a bit of pride. They have obviously had a chat about it and getting Fletcher back in the squad can only be good for Scotland now. He is a great player; he scores goals every week in a team that, no disrespect, is not in the top five. So to do that in the Premier League is a great achievement. Scotland then have Jordan Rhodes on the sidelines ready to come in, that's £20million worth of strikers that just score for fun. I just hope it is not too late, though, as Scotland could have done this at the start of the campaign and I think they would have had six points (in World Cup qualification)."
Allan Lamb on England's unsuccessful batting at the World T20
"It was a pretty dismal performance by the England players on the Sri Lankan pitches. Sri Lanka pick up the ones and twos and then hit the bad balls for four, but the problem for England is that they try to hit everything. It's about keeping wickets in hand because if you do that and then have 10 overs to go any score is possible."