Sky Sports views
See what the experts had to say about Wales' win over Scotland and the Republic's heavy defeat...
Last Updated: 15/10/12 9:21am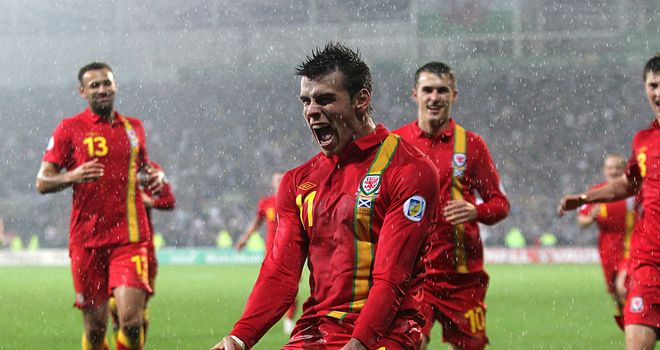 Gary McAllister on Steven Fletcher's disallowed goal for Scotland against Wales
"It is fine lines and fine little margins. You need that little bit of lady luck and we just did not have it tonight. Because if that goal is give and we are 2-0 up I think it is over for Wales. There is no offside, definitely, it is a great cross and for me it is a perfect goal. We are mystified. We thought, 'has he blown up for offside in the middle?' Obviously not they were well behind the Welsh defensive line.
"Does the ball go out of play? The flag goes up when the linesman is three yards short of the corner flag so he is guessing if he has given the decision that the ball was out of play. There is no way he can see if that ball is out of play. We look at the table and see Scotland second bottom with three points and Craig Levein is going to come in for almighty criticism in the morning and it is down to that. It was a soft penalty as well and that decision is a shocking one."
Mark Bowen on Gareth Bale and Wales
"He is absolutely unplayable at times. I don't care what defender he is up against, the ammunition he has got on the football field you just cannot cope with him. It is a soft penalty but if he has felt contact from behind he is full entitled to go down. It is as simple as that. My guess was that he would blast the penalty down the middle because of the pressure but he had a plan in his mind and it is fantastic. For the second goal I would argue that Charlie Adam stood off him too much but the strike was terrific.
"The team came into the game arguably low on confidence, they had not won for so long and lost so many games they were entitled to feel a bit sorry for themselves going in one down. But they kept going forward and driving on and full credit to Chris and his coaching staff for creating that atmosphere in the dressing room."
Shay Given on the Republic of Ireland's 6-1 defeat to Germany
"It is an absolutely must win game on Tuesday night now. Managers are all judged on results of course and this is one of the worst results they have had for a number of years. But it is unfair to put all the blame on the manager. He had key players missing tonight through injury and they came up against a German team who were world class tonight. They were so clinical in their passing and their finishing. A lot of teams around the world would have struggled to play Germany tonight.
"So it would be unfair to be asking for his head. If anything at the end fo the tournament if we have not qualified and have not done well, that is the time to may be change. Not in the middle of the qualifying."