Art of defending
Adam Bate looks at two of the key performers from Sunday's Premier League games. Phil Jagielka and Fabricio Coloccini both won match of the match awards but their styles were very different.
By Adam Bate - Follow me @GhostGoal
Last Updated: 23/10/12 9:53am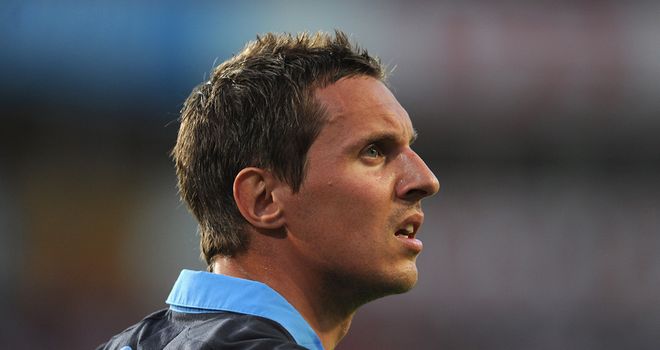 In many ways the situations were similar. Both Sunday's Premier League matches finished 1-1 with the visitors reduced to 10 men. The away sides were praised for their defensive resilience under pressure. But there was a nuanced difference in the tone of the plaudits for the key figures involved - Everton's Phil Jagielka and Newcastle United's Fabricio Coloccini.
David Moyes was in no doubt who to credit for his team's point. "Phil Jagielka played like a true England centre-half today," said the Everton boss. "All the boys played well, but I single him out because he got a couple of really good blocks in." One of those blocks was a remarkable effort as Jagielka lunged towards Park Ji-sung on the edge of the six-yard box in the hope of getting something - anything - between the ball and the goal.
Shortly afterwards and the 30-year-old centre-back was at it again - desperately clearing the ball from inside the area after Samba Diakite's long-range shot looked likely to fall perfectly for a host of onrushing QPR forwards. As Moyes suggests, this was a performance that symbolised everything that supporters have come to hope for from an England defender.
In a recent column in The Times, Rory Smith described the English notion of the hero. "This is a Roy of the Rovers nation," wrote Smith. "One in which passing was widely regarded as suspicious in football's early years because it was not as manly as charging directly at your opposite number. This is a country where heroes put their bodies on the line, where they hurl themselves at the feet of their foe, where games are there to be taken by the scruff of the neck."
Everton captain Phil Neville spoke in 'battle' terms immediately after the game. Neville told Sky Sports: "I think with Steven Pienaar getting sent off it was backs-to-the-wall - we knew QPR were going to be fighting for their lives today, they needed the points. I think we can play better but I think today we showed other qualities. Today was always going to be a game where our centre-backs were so important, and the two centre backs and two full-backs were rocks today. They have got big centre forwards and we've had to defend well."
So it was perhaps ironic that while Terry Butcher's bloodied face is the image of the gritty England defender, the country's World Cup winning captain Bobby Moore is seen to exude a less combative and more composed style of defending. And it was the memory of Moore that Newcastle boss Alan Pardew chose to evoke following his side's spirited derby draw at Sunderland.
Pardew had anticipated the qualities that returning skipper Coloccini would bring ahead of the game. "He often brings a calmness to our team - at half-time too. I am absolutely delighted he's fit and ready," Pardew told the Newcastle Evening Chronicle. After it he was on a roll and in no mood to temper his praise, only bemoaning the fact that Coloccini could not stay on the pitch for the full 90 minutes - allowing the Black Cats to find a late equaliser.
"Maybe if Coloccini had stayed on, he would have seen that out," he said. "He was absolutely phenomenal today. If you want an example of a centre-half playing where you have got to head it, kick it, cover people, get in the right position and then have the calmness to play, that was your example. I come from a famous football club, West Ham, and that was like watching Bobby Moore today. He was terrific."
Of course, the clearances, tackles and blocks are still required. In fact, rarely more so than when Martin O'Neill's men are peppering the area with lofted balls as they anxiously search for a goal. And the Magpies have their very own English centre-back willing to do the ugly stuff.
Mike Williamson currently averages over 16 clearances per game. Not only is that more than double the number that Coloccini manages, no other footballer in the top four leagues in Europe averages more than 12. Williamson also has the stats on his side in terms of tackles and blocks.
But it's noticeable that the key defensive statistic in which Coloccini outperforms Williamson is in terms of interceptions. The Argentina international produced more of those than any other player in the Wear-Tyne derby on Sunday - two of them vital ones inside the penalty box. And crucially, after an interception - as opposed to many of Williamson's clearances - both he and his team are able to retain possession. Coloccini has a 91 per cent pass success rate compared to his centre-back partner's tally of 76 per cent.
That's not to denigrate Williamson's contribution. Or indeed that of Jagielka or Coloccini. It's not that either method of defending is right or wrong. A complementary partnership is probably key. But it's fascinating to note the contrast between the performance of the two centre-backs who received the Sky Sports man of the match champagne on Sunday. Defending. There's more to it than you might think.

Player
Fabricio Coloccini
Michael Williamson
Team
Newcastle United
Newcastle United
Appearances
3
5
Starts
3
5
Minutes On Pitch
260
450
Passing
 
 
Touches per game
47.3
51.2
Pass Completion %
92%
76%
Pass Completion in final third %
60%
34%
Duels
 
 
Duels
32
81
Duels won %
50%
70%
Defending
 
 
Tackles Made
6
11
Tackles Won %
67%
73%
Blocks
2
6
Clearances
22
82
Interceptions
6
3
Discipline
 
 
Fouls
1
4
Fouls won
3
10
Yellow Cards
1
2
Red Cards
0
0