Liverpool captain Steven Gerrard has dismissed Everton as a long-ball team
Liverpool captain Steven Gerrard has dismissed Everton as a long-ball team "similar to Stoke" after their derby clash.
Last Updated: 30/10/12 3:50pm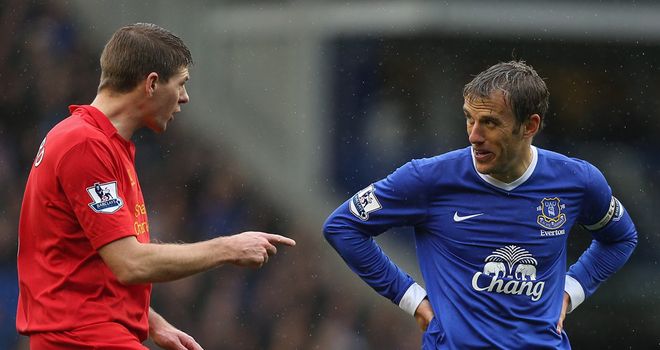 After a controversial 2-2 draw in the Merseyside derby at Goodison Park on Sunday, Gerrard is in confident mood despite the fact that the Reds are well below the Toffees in the Premier League table.
"I thought we were fantastic and stood up to a team that are very similar to Stoke," said the England skipper.
"Every single time they get the ball to the goalkeeper it comes in long.
"Everton are effective because they have some big, physical lads in the team.
"We had a young, small team out there who were men and stuck together.
"There was only one team who came to play football and that was us.
"Everton are not better than us."
Sterling work
Gerrard was also full of praise for the manner in which 17-year-old winger Raheem Sterling dealt with the derby occasion.
"Sterling was fantastic. He has been a revelation for us," added the 32-year-old.
"Seventeen years of age away in a derby against a big, physical long-ball team I thought he was outstanding.
"The way he stands up, wants the ball and doesn't hide is a credit to him and he's got some bottle.
"That's what you look for in young lads. You wonder whether they have the bottle to play away from home against tough teams and difficult situations and he handled it superbly.
"I don't think the Everton players would have known much about Raheem before yesterday but they are going to be seeing an awful lot more of him in future.
"He's going to be playing in many, many Merseyside derbies and he's going to have a major impact in them."