'Everyone's a winner'
Ahead of Manchester United's Saturday lunchtime showdown with old rivals Arsenal, Ashley Young speaks exclusively to Sky Sports about the title race, his club's winning mentality and the privilege of playing under Sir Alex Ferguson
Last Updated: 02/11/12 10:55am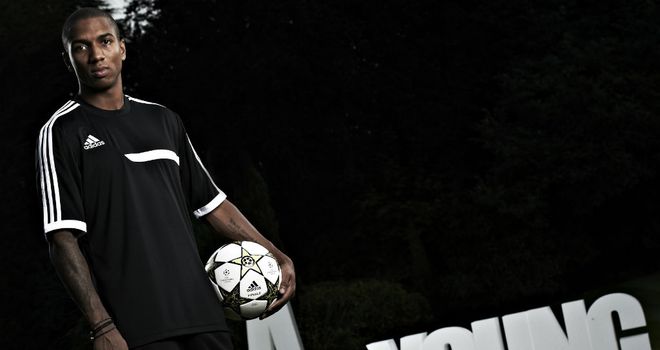 For at least a few hours, Manchester United could move to the top of the Premier League, if they defeat Arsenal in their blockbuster Saturday lunchtime meeting at Old Trafford. That status would see Sir Alex Ferguson's team overtake Chelsea and would reflect their positive start to the season as they try to forget the memory of sensationally losing the last title race to Manchester City. But it is still early in the current campaign and the fight for silverware looks like it could develop into a widely-contested battle. Ahead of the weekend, United star Ashley Young speaks to Sky Sports about recovering from the disappointment of last season, his club's rivals for silverware, the winning mentality of Ferguson and the threat of Everton.
The final day of last season was breathtaking. Do you feel the Manchester clubs are a step ahead of the competition in the Premier League?
I think it was exciting for the neutrals. But, as a player, obviously it was disappointing. But you have to dust yourself down and come back strongly like we have this season. I think when you look at last season, obviously it was the two Manchester teams who were ahead of pretty much everyone else in the league. But I am not too sure you can say the two Manchester teams are a step ahead of anyone right now. You have got Chelsea, Arsenal and Tottenham Hotspur. All teams are trying to do well this season so I do not think it is a step ahead. I also think Everton have done very well this season and you have to be aware of them as well.
How did you get over the disappointment of losing out on the title at the last minute?
You still think about it now and again. But we had Euro 2012 to concentrate on literally straight after the season and I think it was good for me to go on holiday afterwards and take a break in order to look forward to getting back in to pre-season and getting the season started.
Manchester United have strengthened, particularly in midfield, over the summer. How has the added competition for places affected the squad?
I think it is healthy for any squad when you strengthen throughout and it keeps everybody on their toes. It means everyone has to perform day in, day out in training and games, as you always know someone could come in and take your position. You always give 100 per cent and when you are not in the team you are trying to get yourself back in there. So it is definitely healthy to have competition in any side.
Sir Alex Ferguson will go down in history as one of the best managers of all time. What is it like to play under such an icon of the game?
I think it is fantastic. You cannot ask for anything more than playing under one of the best managers in the world. You just look back at the career he has had to date and the honours he has won. Every player would want the opportunity to play under him. To get that opportunity is fantastic and he is a winner. He wants to win things and he wants to be successful and he puts that into the players. As soon as I joined, he was about winning. You get that winning mentality. It is not just out in the games and competitions you play, it is in training as well and you will always see disappointed faces on the losing team after the boys play five-a-sides. That is just how the place is. Everyone is a winner.
Which club have impressed you so far this season?
I think Everton have been the standout side so far. There are obviously a few teams who have impressed. But the way they have gone about their job and the way they have started off this season has been fantastic. In recent seasons, they have been slow starters. But the way they are playing, with so much confidence, yes, I think they are definitely one of the teams, if they can maintain what they have started.
What is the key to maintaining form in both the domestic and European competitions simultaneously?
I think that is a question for the manager, to be honest. But the way the manager rotates the squad definitely comes into it. We have got so many players who can play throughout any competition. Obviously it is vitally important everyone is ready. There are going to be times when the manager has to change the team and everyone has to be on their toes, ready and waiting. I am sure as long as we do that, then we can have success domestically and in Europe as well.
Who would you pick out as the favourite for the UEFA Champions League this season?
I think you look at the likes of us, Barcelona, Real Madrid, Manchester City, Chelsea won it last year, and Bayern Munich also got to the final... There are different teams you could say are in with a chance. But I do not think there is one team you could pick out. We just have to concentrate on our own game in order to win the competition.
Who is the toughest player you have ever competed against?
There have been many memorable players. But I would not just pick one. In the league or in the Champions League, there are always tough opponents. But I just play my own game as an attacker and hope to beat my marker on the day.
England have had a mixed few years in international competitions. Should they make the 2014 World Cup in Brazil, how far do you feel England can go?
I think as long as we qualify out of the group, and we have started off in the group stages well so far, we have the ability to do very well in 2014. If we qualify, there is no reason for us to think we cannot go far in the competition, as we have the players to do so and if everyone has that shared mindset, then I am sure it will be a great tournament.
Ashley Young has designed a customised pair of adidas boots using the newly launched miadidas online configurator and will debut them this weekend. To create your own custom-designed adidas boots visit miadidas.com