Time for patience
In an echo of Gerard Houllier's reign at Anfield, Brendan Rodgers can get things right with Liverpool if he is offered football's most precious commodity, argues Peter Fraser
By Peter Fraser - Follow me on Twitter @SkySportsPeteF
Last Updated: 05/11/12 1:39pm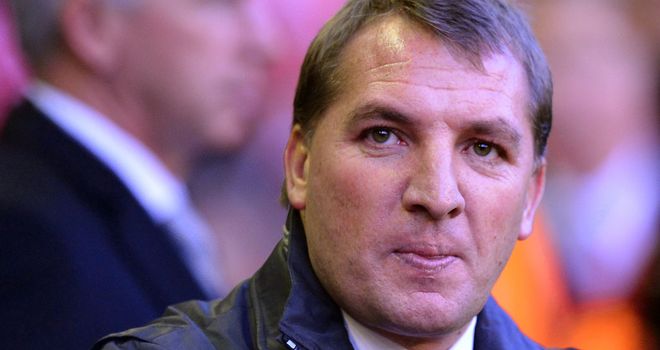 Sunday's 1-1 Premier League draw against Newcastle United has seen all the usual accusations of wasted chances and a lack of strikers directed at Liverpool, and things are far from perfect at present. But if Brendan Rodgers, who signed a three-year contract after leaving Swansea City this summer, is allowed the period he wants, or needs, to shape what he calls his 'philosophy', he can succeed.
The issue of time in football is a familiar argument. But Liverpool, it is worth remembering, were missing five, some of them among their best, first-team players due to injury against Newcastle. Lucas Leiva, Jose Reina, Glen Johnson, Martin Kelly and Fabio Borini were all absent and yet the men who did face Alan Pardew's visitors still deserved three points.
Rodgers' starting XI also included three teenagers in Raheem Sterling, 17, Andre Wisdom, 19, and Suso, 18. A team with three players yet to celebrate their 20th birthday in the modern Premier League is rare to say the least. It is a learning curve and leads to inevitable mistakes which will be filtered out over time.
Wisdom committed a foul-throw which led to Newcastle's Yohan Cabaye opening the scoring at Anfield. Sterling, for all his speedy and direct dribbles, can sometimes pick the wrong pass. Suso was guilty of giving the ball away on several occasions.
The inclusion of the teenagers has been forced on Rodgers by injuries and a failure to get what he wanted in the summer transfer window. But he is also showing faith in these youngsters above the expensive likes of Stewart Downing, Joe Cole, Jordan Henderson or even Andy Carroll, who, for all the praise he is earning since joining West Ham United on loan, has still to score in six league appearances. Rodgers trusts Sterling, Wisdom and Suso. Given a couple of years of Premier League experience, these three could be an immensely-talented trio. They also have a captain, Steven Gerrard, who is an ideal on-field role model.
Looking forward
Add to this the inclusion of the likes of Joe Allen, who is still just 22, Jonjo Shelvey, 20, and Kelly, 22, when he returns from injury, and it is clear to see Liverpool are a team who are yet to come of age. Rodgers, possibly with a word in the ear of his club's 'Moneyball'-loving principal owner, John Henry, is looking to the future at a time when he is also trying to cut the wage bill. The plan is not a short-term fix. Continued failure to qualify for the UEFA Champions League by his most-recent predecessors is one of the reasons why Rodgers is working on a limited budget.
Liverpool have taken just 11 points from 10 games, winning just two league matches, and it is among the worst starts to a season in their history. But it is also worth remembering they played Manchester City, Arsenal and Manchester United in a tough opening five games, arguably deserving to win against the two Manchester clubs.
That returns to the debate about taking chances. Their conversion rate in this season's Premier League is just 9.9 per cent. In this sense, the January transfer window will be critically important for Rodgers. Never mind a forward who can also build play, like the superbly-talented Luis Suarez, Liverpool purely need a goalscorer who has a point to prove. Any signing of Arsenal contract rebel Theo Walcott or Chelsea's Daniel Sturridge would represent a huge gamble when the likes of out-of-favour Aston Villa man Darren Bent or Schalke's Klaas-Jan Huntelaar are also being mentioned. But get it right in the winter window and overcome injury problems and things are positive for Liverpool.
There are echoes of when Gerard Houllier first took sole charge of the club in 1998 after his doomed previous partnership with Roy Evans. The Frenchman was often criticised for talking about his 'five-year plan' but he turned Liverpool around and they won the famous cup Treble of the League Cup, FA Cup and UEFA Cup, now the Europa League, in 2000/01 and also finished runners-up to Arsenal in the Premier League in 2001/02. Admittedly Houllier, affected by health issues, did leave Liverpool in 2004 after a downturn in form and he was working under different owners who perhaps had different levels of patience. But Rodgers, who will only celebrate his 40th birthday in January, has his career ahead of him.
Like Houllier, Rodgers has inherited a squad from an Anfield boot room icon, having succeeded Kenny Dalglish, and is attempting to form a different playing style shaped around up-and-coming youngsters. Houllier preferred a more defensive approach to play while Rodgers often speaks of attacking intensity but the former said of the latter in October: "Brendan plays the right way and I am pleased he has given a chance to some of the young players. Some are very good... The future looks bright."
Houllier was offered time and Rodgers should also be given the chance. Challenging for the Premier League's top four against rivals who have far more money and experience could be a few years away, while the title is a distant dream. But, with patience, Rodgers can get the club moving in an upwardly direction.