Celtic fully deserved their 2-1 victory over Barcelona say Gary Neville, Jamie Redknapp and John Collins
Gary Neville, Jamie Redknapp and John Collins salute Celtic's Champions League win over Barcelona.
Last Updated: 17/12/12 4:58pm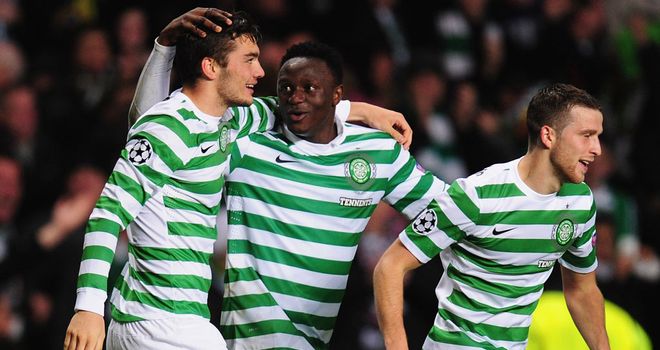 They took the lead after 21 minutes when Victor Wanyama rose with a towering header from a corner.
Neil Lennon's men then weathered some intense Barcelona pressure before teenager Tony Watt came off the bench to claim Celtic's second goal as they celebrated their 125th anniversary in style.
"This is probably is up there as one of the greatest nights of all time," said former Hoops midfielder Collins.
"To beat probably the best team on the planet is something special. Every single player played their part, they worked so hard defensively and their energy levels were incredible. The whole of Europe will be surprised with that result.
"I think Neil Lennon has to take a lot of credit - they were up against it and who did he bring on? Another striker. A lot of other managers would have said let's try and flood it with defenders but he put on Tony Watt who had fresh legs and has been scoring goals for Celtic. He was a real pest - he was right, he was left and it was a cool finish for the kid."
Fully deserved
Jamie Redknapp was also impressed with the youngster Watt and said that Celtic fully deserved their victory.
"I said to John beforehand that we had not heard a lot about Watt - well we have now! What a night for that young man, 18-years-old and he scores a winning goal against Barcelona.
"It is almost unfair to pick out individuals on a night like that because they were all heroes, they were all immense. They kept a lid on Messi and I have never seen Xavi have such a quiet game ever; it was a great performance from Celtic and fully deserved."
Team effort
Neville admited he was amazed by the result and praised an "incredible" team effort from Lennon's men.
"We were almost disrespectful before the game - using terms like 'if Celtic can get a set-piece then maybe they can lump it in' and things like that, but Barcelona cannot complain that they were beaten as that was an incredible performance that they have come up against," he said.
"The first goal was key really, it gave Celtic something to hold onto and it gave the crowd a lift. From that moment on the resilience kicked in - if Barcelona had scored first it would have been a long evening.
"It was an Herculean performance from every single one of those players."
That man Forster
The performance of Celtic goalkeeper Fraser Forster also caught the eye of Redknapp and Neville who both believe he could be back in the England squad on that performance.
"He is obviously a world class goalkeeper," reflected Redknapp.
"Newcastle let him go but he is flourishing at Celtic. A lot of goalkeepers that big normally don't have the agility or the presence to get up so quickly - but that is exactly what he is doing. He is going to go all the way, unfortunately for him he has Joe Hart in front of him."
Neville agreed, adding: "Sometimes you have keepers saving shots and you think 'would I have been disappointed if I had seen that go into the net' - but there were a couple of those where he saved them and you thought he had no right to save it.
"His reactions were fantastic; he made himself look big and got himself low - for a keeper of his size to get down low is just so tough. It was a magnificent performance from him."