Emmanuel Adebayor's 'dangerous' tackle pivotal in Spurs' 5-2 defeat to Arsenal, says Jamie Redknapp
Emmanuel Adebayor's 'dangerous' tackle proved pivotal in Spurs' 5-2 loss to Arsenal, says Jamie Redknapp.
Last Updated: 26/11/12 11:38am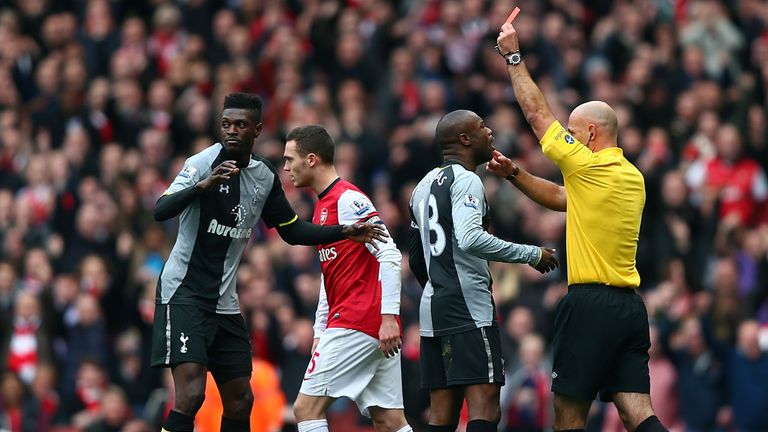 The former Gunner was sent off for a two-footed challenge on Santi Cazorla seven minutes after he earned Spurs a 10th-minute lead at the Emirates.
Spurs struggled thereafter to constrain Arsenal and goals from Per Mertesacker, Lukas Podolski and Olivier Giroud earned Arsene Wenger's side a 3-1 half-time lead before further strikes from Cazorla and Theo Walcott after the break outweighed a Gareth Bale strike.
Redknapp said that there was little in the opening exchanges to suggest that the home side would win 5-2 - a repeat of last season's result at the Emirates.
"For 16 minutes Spurs were different class - they had a great chance for [Aaron] Lennon as well that just went past the post," he said.
"But then what Emmanuel Adebayor is doing, only he knows. It's reckless, out of control, dangerous. I don't think Adebayor has a malicious bone in his body but it's a silly tackle that you cannot make on a football field in this day and age.
"In the derbies that Alan (Smith) and I would have played in he would have got a yellow card but the way the game is now, there's absolutely no doubt and I think the referee got it right.
"People might think the referee ruined the game but he didn't - unfortunately Adebayor ruined the game himself. By doing that you've cost your team-mates.
"Adebayor has been sent off for those sorts of tackles before; he's an extremely gifted player but he does things at times that you can't quite understand.
"But it's still difficult against 10 men and Arsenal have done ever so well; Spurs to a certain extent capitulated in the first half."
Confidence
Speaking to Sky Sports after the match Spurs boss Andre Villas-Boas said he was proud of his players and would not be taking Adebayor to task for the tackle that resulted in a red card.
"I'm sure he'll know the mistake that he's made," said Redknapp. "It was a slightly dangerous move from Tottenham's point of view to sign him.
"I think he was a very good loan last year but at times when he's been signed to a club he has caused problems. He is a good football, he scores goals but also he has that side to him where he can let you down."
Meanwhile, Wenger told Sky Sports that "he has a great confidence in this team" and that the result had answered critics who questioned Arsenal's ability to challenge for honours this season.
"Arsene will be delighted with that," said Redknapp. "What it's done is it's just taken the pressure off them. After they won 5-2 last year they went on a run and they won six of their last seven.
"That's the confidence they'll have now. The next time they play here there will be a little bit of belief, the crowd will be behind them and that's something that I feel they need because watching them of late they look nervous.
"I think there's still a long way to go - certainly defensively at times. I think even at 4-2 there were a couple of opportunities that Spurs had and you can see the nerves around the place. If they could maybe have got back to 4-3 anything could have happened.
"But they showed a lot of quality and you can never get tired of watching someone like Santi Cazorla play in midfield. I mean he's an absolute magician.
"When you've got 10 men it's very difficult, because that's what Arsenal did really well. They utilised having that extra man, they passed it really nicely and Cazorla was the star of the show for me.
"He's the sort of player that you love having on your team. He always seems to make the right decision; left foot, right foot - you'd struggle to get the ball off him in a telephone box!"