Clarke Carlisle Q&A
PFA chairman Clarke Carlisle talks about overcoming depression and alcohol dependency, being 'beaten up' by Didier Drogba, Newsnight, Financial Fair Play and winning more trophies than his dad.
Last Updated: 19/11/12 2:02pm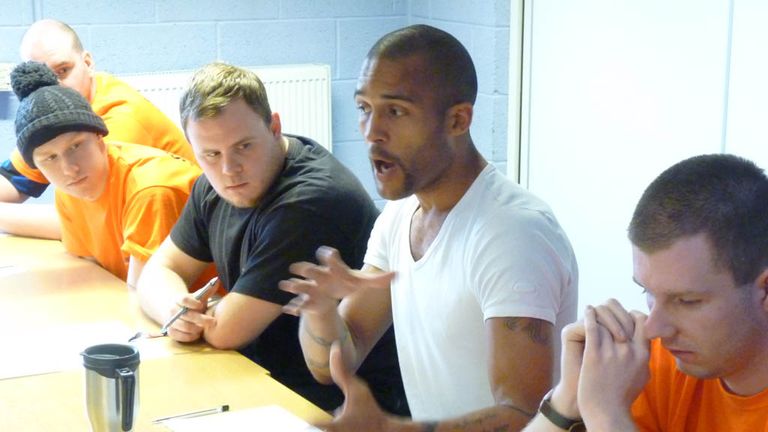 PFA chairman Clarke Carlisle visited Street League's Manchester Academy and held a question and answer session with participants on the eight-week programme.
Carlisle talks about overcoming depression and alcohol dependency, being 'beaten up' by Didier Drogba, Newsnight, Financial Fair Play and winning more trophies than his dad.
The 33-year-old started his career at Blackpool before stints with QPR, Leeds, Watford and Burnley. He is currently plying his trade in League Two with York City.
What has been your main motivation throughout your career?
My motivation has changed. Initially I just wanted to be the best footballer in the world when I was about 10 years old. My dad had a trophy cabinet and my motivation to play football was to get more trophies than my dad. I achieved that by the age of 14! Football started to take off financially at that point, and you saw these guys with their big houses and the image, and that became my motivation - I thought I want some of those things. Then when I got into football I scored a 91st-minute winner on my home debut - at 17 years of age at the back post against Carlisle. I ran to the crowd and my dad and my granddad were there. I've still got the pictures now, the veins were bulging out of my neck! That raw emotion, that taste of victory and success, that feeling is what drives me on a daily basis - I want to win. I want to win more trophies and I want my name to be something that my kids will be proud of. And that's now become my final motivation - I have got three beautiful kids. When I mess up, I feel bad but most of all I feel that I have let them down. It's about doing something that you can be proud of, knowing that I am not the best footballer in the world - I've never been the best in any of the teams I have played in - but I give my best on a daily basis.
Who is the best player you have ever played against and why?
Didier Drogba is the best player I have ever played against, without doubt. He has got everything - pace, power, acceleration, strength, good in the air, he's got tricks, scores goals.... he just beat me up for 93 minutes! I came off the pitch and I was despondent.
What's the biggest regret of your career?
I would like to tell you that I have no regrets, but that would be utter rubbish. The truth is that all the places I have been to in my life, have brought me to where I am now. I had a knee injury which kept me out for two years and robbed me of any pace I did have; I suffered from depression, alcohol dependency, I tried to commit suicide when I was 21, I have got a drink-driving conviction, I lost a play-off final, I've been relegated three times - all big downs in my life. But without experiencing those downs, and learning from them and finding out about myself, then I wouldn't be where I am now. I am chairman of the PFA and I have to talk to 2,500 fellow players throughout the year. I wouldn't be able to know what they are going through, without having been through all these downs. So I almost feel like I am qualified to help people.
If you hadn't been a footballer, what would you have done instead?
I actually did really well at school. It's one of the reasons I think that I have achieved a lot in football, even though I'm not that good, but it's also the reason why I have got into so much trouble. Whether it's schoolwork, football, drinking or fighting, I always wanted to be the best. It's only coming through life that I have learned to balance the two. I left school with 10 GCSEs, I got five As and five A stars, and I was really interested in law. I think I could have gone down that route but now, I would like to go into media - I am doing a degree at Staffordshire University in broadcasting. I have been up to the Premier League and back down and I was going to retire in the summer but, after two months without wages, I needed a job. I have got bills to pay. I wasn't always sensible with my money, and it's not easy to walk into another job. So I had to come back to football, I had to grovel to get my contract at York, and now I need to do my degree. I am doing some work experience over at the BBC, ESPN and Sky so that in a year or two's time I will be able to go into another career. Hopefully that will be in broadcasting, but if that doesn't work out I will do a PGCE and go into teaching. You need a Plan B, and a Plan C. My Plan B of working in the media is almost the same as football. I have thought about politics, yes. I am really enjoying the serious side of the TV work I am doing. I've done Question Time a couple of times, and Newsnight, and a lot of other interviews. I am doing punditry because I am being welcomed in those circles, and hopefully using that as a platform to go and do what I want to do in serious TV. I am gaining the experience in the industry to go and do what I want to do in the future.
Do you see yourself progressing into coaching or management?
I have thought about being a coach or manager, and I have dismissed it immediately! I can barely look after myself on a Saturday, so the thought of looking after 16 other guys and then having to perform to keep myself in a job. Imagine if I knew what you were all really capable of, and watched you in training all week, and then you didn't do it on a Tuesday or a Saturday.... you would get the hairdryer treatment! I don't think I could deal with that, it's taken me 33 years to look after myself. I think I will try to forge my own career.
Do you think financial fair play is a good thing for the game?
Within the industry I would say yes, it means that football clubs will be forced to run like businesses which is what should happen. For me as a player I will have to say no because I've had to take a huge paycut! In general I think it is a very good idea because football is on a precipice at the moment, it is really close to the edge and I think it would only take one big club to fall for the whole thing to come tumbling down, so anything that makes us run the game responsibly as an industry is to be welcomed.
Street League is the national charity which uses the power of football to tackle youth unemployment. 76% of graduates from the Street League Academy get a job or move into education and training. Visit www.streetleague.co.uk or follow @Street_League on Twitter to find out more.