Football Expert & Columnist
Tough trips
Niall Quinn predicts defeats for Chelsea and Manchester United in his Champions League preview...
Last Updated: 17/12/12 9:41am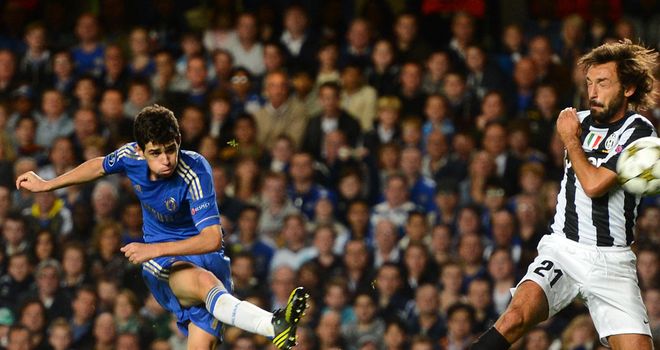 It is crunch time in the Champions League and with Manchester United the only side in the competition to have guaranteed their spot in the knock out rounds there's all to play for.
On Tuesday night Chelsea travel to Juventus for a crucial encounter in Group E, where defeat could be terminal for either side's hopes of progress, Celtic return to the scene of their greatest European triumph to take on Benfica after their famous win over Barcelona and Manchester United send an inexperienced side to Galatasaray.
United's neighbours Manchester City, meanwhile, have no such luxury on Wednesday when Real Madrid arrive and Arsenal will need a result against Montpellier on the same night to remain well-placed in Group B.
You can catch all the action on Sky Sports HD - but first read on to see how our expert Niall Quinn thinks the British sides will get on.
Juventus v Chelsea
This is a huge game for Chelsea - but also a huge game for their manager Roberto Di Matteo. In football you're only as good as your last game, not your last season, and last year's Champions League winners are not coming into this match in the best of form. They had a tough weekend losing 2-1 to West Brom, there's talk of dressing room disharmony and they have an out-of-sorts Fernando Torres up front.
This will be an uphill task for them - and without their captain John Terry it is going to be very difficult. You understand the value of a player such as Terry when you go to a place like this and go into battle without him. There aren't many teams who can go to a place like Juventus in the form Chelsea are in and get a result, so I think it's going to be very difficult.
Juventus are past masters at getting results in crucial games like this over the years - although I remember one English team who went there and turned a result around against them nine years ago and that was Manchester United in 1999.
Di Matteo will be hoping for a top class performance from his team, which they produced on several occasions last season in their run to the title, but they'll be under pressure for long periods and I'm not sure if they can hold out without Terry. I'm going for a Juventus win.
Galatasaray v Manchester United, 7.30pm, Tue, Sky Sports 4 HD
I'm in Istanbul and I like games like this where I can see the young players and the level of quality Manchester United have coming through their system over the next 18 months. It will certainly be interesting to see how players cope in a tough, tough atmosphere.
When they arrived in Turkey the Manchester United players left the airport through a different exit to avoid the hundreds of waiting Galatasaray fans wanting to welcome them back to the scene of the 1993 cauldron of hate. But they won't be able to avoid them on the field - it will be a big test of character for the young players.
There are questions being raised here in Istanbul by people connected to the other clubs in the group, Braga and Cluj, about the strength of teams but ultimately if you're named in a Champions League squad and you have the chance of playing its fine. The result isn't as important for Manchester United, but the performance is.
But the hosts are really up for this and I think United will do well to get anything from the game. Once again I'm going for a home win.
Benfica v Celtic, 7pm, Tue, Sky Sports 2 HD
This is a tough, tough match and a completely different challenge to playing Barcelona at home in front of your own crowd. The Celtic fans were incredible the other week and were almost as responsible for keeping the ball out of the net as Celtic's goalkeeper! It was an amazing night but this is vastly different. This will be a true test of their ability - and I think it's a difficult one.
I'd love to see Celtic come through, I really would. I've got a few of their results wrong this season: they went to Moscow and surprised me, they surprised me at home to Barcelona - and even surprised me away to Barcelona, where they went very close to pulling it off.
But the best thing about that win over Barcelona is they can come away and feel better about their team and feel the prize is there. I don't think they can win this one but they can hold on for a result. They've got so much momentum and belief they'll get a point out of it.
Man City v Real Madrid, 7pm, Wed, Sky Sports 2 HD
When the draw was made this looked like a plum tie, near the end of the group phase, which would decide where City are going. It's worse than we thought it may be for them, though and they have to win this one and hope things go their way in other matches. That's a tough position to be in coming into a match against Real Madrid.
Jose Mourinho is superb at going away from home and getting a result at places like this. But, as City showed with their 5-0 win over Aston Villa, the hosts are capable of winning the game and I'd love to see them put in a five star performance on Wednesday.
However, you don't know what City you're going to get at times, especially in this tournament. They were great away at Real Madrid and looked as though they had the game won before it was snatched cruelly away from them - and it's been a real struggle ever since.
What happened against Madrid really set them back; to be so close to a famous victory (from which you can really kick on) was hard and they came home flat as a pancake. I think they were still feeling sorry for themselves when Dortmund got at them and they didn't perform against Ajax for large periods of those games, and you've got to turn up for every single game in this competition.
If City had won that first game they'd be playing this game with a swagger, but they're not. There's a lot at stake and I hope they go out and put in a top class performance against Madrid and I hope they get the three points. They're a proud team as champions of the Premier League and I have them down to get at least a point.
Arsenal v Montpellier, 7.30pm, Wed, Sky Sports 4 HD
This is Arsenal's opportunity to put the whole thing to bed, qualify for the knockout phase and extend the feel-good factor at the club after their win over Tottenham at the weekend. It was a massive boost to beat Spurs, and those results can spur you on (excuse the pun!) to two or three good results on the back of it.
Montpellier looked ok when they last met and caused Arsenal problems. They're not in the Champions League because they're a poor team, they're there because they've got a bit about them. So, Arsenal just need to be a little careful.
However, with their confidence up and considering the way they played against Spurs at the weekend, I think Arsenal will have too much for Montpellier and get a comfortable home victory.