Sky Sports understands Chelsea boss Roberto Di Matteo expects to lose job
Sky Sports sources understand Roberto Di Matteo expects to lose his job as Chelsea boss after the defeat by Juventus.
Last Updated: 21/11/12 9:37am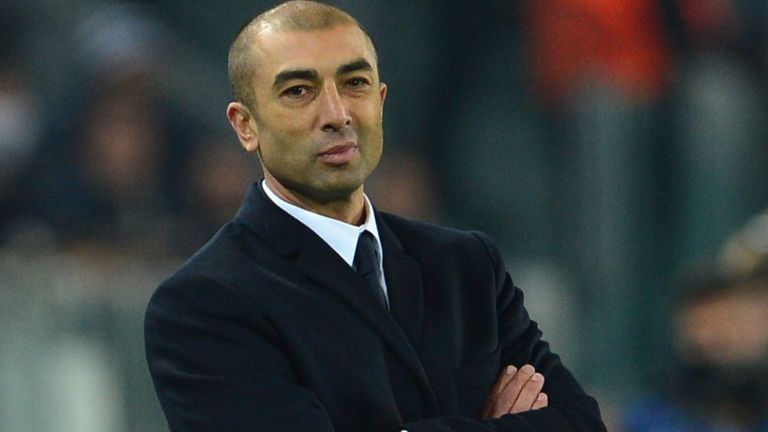 Chelsea are in danger of becoming the first holders to fail to progress beyond the group phase following Tuesday's 3-0 reverse in Turin.
It means the Blues must beat Nordsjaelland in their final group game in a fortnight's time and hope Juventus lose to the already-qualified Shakhtar Donetsk in order to reach the last 16.
Allied to a run of four Premier League games without a win, Di Matteo's position as manager at Stamford Bridge has come under increasing scrutiny just months after signing a two-year contract.
Di Matteo was handed a permanent deal after leading the Blues to Champions League and FA Cup success having replaced previous boss Andre Villas-Boas in March.
Speaking after the defeat against Juventus, Di Matteo admitted that, as manager of Chelsea, his position at Stamford Bridge will always be a topic of debate.
He said: "In a big club like this - if you have a few bad results - you are going to be under pressure but you have to live with it.
"And it's been like that from day one and it's up to me to pick the players up now."
Sky sources now understand that the Italian is bracing himself to be dumped by Chelsea, who face champions Manchester City in the Premier League this weekend.
Reports have suggested that Blues owner Roman Abramovich wants former Barcelona coach Pep Guardiola to be Di Matteo's replacement.
Guardiola left Barcelona at the end of last season and the Spaniard outlined his intention to take a 12-month sabbatical from football.
Speculation has claimed that, if Chelsea are unable to persuade Guardiola to cut his short his break, then former Liverpool boss Rafa Benitez will be handed the post until the end of the campaign.
Di Matteo risked Abramovich's wrath by dropping Fernando Torres for the game in Turin and radically overhauling his tactics - and he took full responsibility afterwards.
He said: "I'm responsible for the result. I'm responsible for the performance. It's a negative evening for us.
"If anyone has to take the blame, it's me. I selected a team I was convinced was the right team to win against Juventus, or get at least a draw, so the blame belongs to me."
He added: "I'm responsible for positive and negative results. This is what I do."
Di Matteo took more than an hour to emerge for his post-match press conference but he said that was not because he had been grilled by senior club executives.
He defended his selection decisions but was left clutching at straws when assessing Chelsea's prospects of qualifying.
He said: "Well, mathematically, it's still possible. While there's hope you still try. Who says that Juventus aren't going to lose at Shakhtar?
"We just have to make we do our job at our end, win the last group game.
"With 10 points, normally... usually, it's enough. Sometimes it's not. Sometimes it is."