Bookmakers' favourite Rafa Benitez confirms his interest in vacant Chelsea job
Rafael Benitez has confirmed his interest in the Chelsea job after he emerged as favourite to succeed Roberto Di Matteo.
By Graeme Bailey - Tweet me: @graemebailey
Last Updated: 21/11/12 5:48pm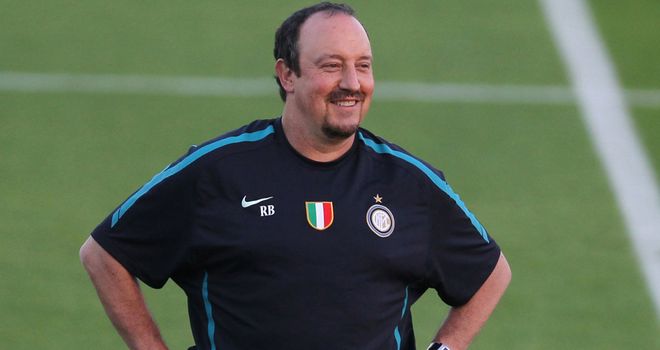 Di Matteo was relieved of his duties on Wednesday morning and Sky Sports understands Benitez is the man being targeted by Blues owner Roman Abramovich.
Benitez spoke from the UAE, where he was attending a coaching seminar, before flying to London and admitted he was waiting for a club who can win trophies.
"I have just found out [about Di Matteo]. Obviously Chelsea is a top side and they can compete for trophies so it goes in this category," he told Sport360.
Asked if he had already spoken to Chelsea, he added: "You ask directly, I cannot answer directly.
"In football a lot of people are talking so we will see what happens in the next few days. I am looking for a club that can challenge for trophies and Chelsea is one of these clubs."
Benitez is known to have spoken to Chelsea in the summer but backed away as they were only willing to offer a one-year term, with Pep Guardiola - currently on a sabbatical - tipped to take charge.
But the former Liverpool boss seems more open to the prospect, saying: "I have to talk with my agent and see what he has been doing the last couple of days.
"But I am just trying to go to a team that can win. So we will find ways to have a challenge like this."
The club reacted swiftly to the 3-0 loss to Juventus which took their hopes of reaching the last 16 out of their hands, and put them at risk of becoming the first holders to fail to reach the subsequent knockout phase.
The Blues have also failed to win any of their last four Premier League games, a run which has seen them slip from top to four points behind leaders Manchester City.
A club statement read: "Chelsea Football Club has parted company this morning with manager Roberto Di Matteo.
"The team's recent performances and results have not been good enough and the owner and the board felt that a change was necessary now to keep the club moving in the right direction as we head into a vitally important part of the season."
Pep Guardiola was installed as the early favourite in Sky Bet's next Chelsea manager betting but has drifted out with the former Liverpool boss backed into odds-on.