Roberto Mancini will be given time despite Man City's European exit, says Graeme Souness
Manchester City should - and will - keep faith with Roberto Mancini, Graeme Souness told Sky Sports.
Last Updated: 22/11/12 2:50pm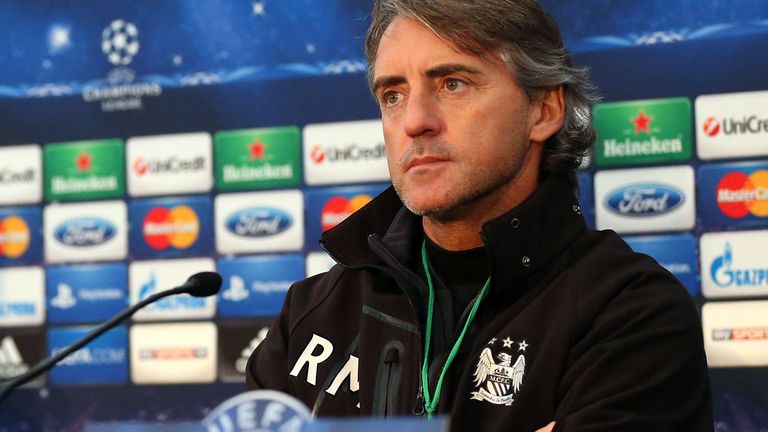 The Citizens were dumped out at the round-robin stage of Europe's premier club competition for the second successive season on Wednesday night after they could only muster a draw at home to Real Madrid, who will join Borussia Dortmund in progressing from Group G.
But Sky Sports pundit Souness says City boss Mancini will not suffer a similar fate to Roberto Di Matteo, who was axed as Chelsea manager this week with the Blues' hopes of reaching the last 16 looking increasingly remote.
"I don't think Mancini finds himself under pressure at all as City are top of the Premier League and he has won trophies (Premier League and FA Cup)," said Souness, who lifted the European Cup with Liverpool in 1978, '81 and '84.
"You've got to remember where City have come from in a very short space of time; they were drifting, weren't winning anything and hadn't won anything for a long time.
"They have had cash but money is not everything; you have the initial splurge to get a group of players in and hopefully that filters all the way through the club, but then you have to formulate a system and get the club growing.
"I believe Mancini is the right man to do that; he has failed in this competition twice now, but he is a football man, forever wanting to learn and will have learnt a great deal from this campaign.
"Plus, management has never been harder that it is right now and I would hazard a guess that the group of players at Man City would arguably be hardest squad in the Premier League to handle."
Naive
Souness believes City were handed a fiendish group, having been paired with the champions of Germany and Spain as well as Dutch titlists Ajax.
But the former Blackburn, Rangers and Newcastle manager says Mancini's penchant to switch between a back three and a back four was a major reason for his squad's undoing.
"The opposition have been excellent; Dortmund were fabulous in Manchester and we know about the qualities of Real Madrid," said Souness. "But City will look to when they were winning in Madrid 10 minutes from time and lost and when they took the lead in Ajax and lost.
"They've been naïve and, along with Dinamo Zagreb, they have had more shots against them on target than any other team. That's not the Man City of last year so they have to examine that because while they are new to the Champions League their players aren't.
"Plus, they have tampered with things when things weren't broken; you don't go through the Premier League and concede the fewest goals, score the most and end up winning it and then discard that winning formula, which is so difficult to find, so easily."
Ex-Chelsea manager Ruud Gullit added: "I think City were most disappointed with their two games against Ajax as they thought they could win both but they didn't play at all.
"Tactically it was not in order and then after the game players said they hadn't played in (the back three) system before. The change from four at the back to three at the back can be a huge difference as that's where your attacks start from and I haven't seen any progression since last year.
"They don't function like a team at the moment."
City will be back in action on Sunday when they tackle Rafael Benitez's Chelsea. Make sure you catch the match from 3.30pm on Sky Sports 1 HD and in Sky 3D.