Quotes of the week
Chelsea's managerial change and Christian Benteke's geography feature in this week's QOTW.
Last Updated: 23/11/12 1:11pm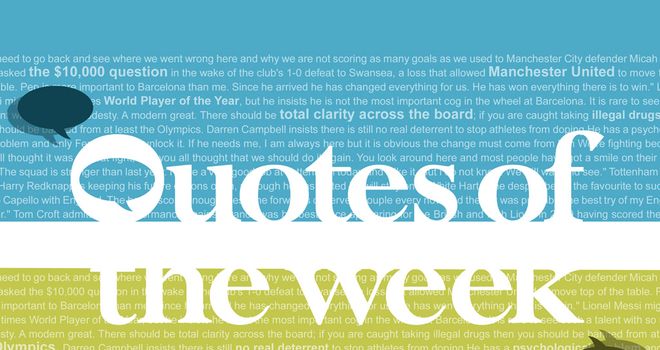 "Wow, Chelsea have sacked their manager!! I'm a bit late I know but its a madness. The stability at our club is something our manager rarely gets praise for...don't underestimate that." Rio Ferdinand is unimpressed with Roberto Di Matteo's axe.
"At Chelsea, I think another sacking is just like any other day at the office. That's my interpretation." Andre Villas-Boas obviously bears no hard feelings towards to his old club.
"I don't think it's normal when you're out of the competition at a very early stage. I speak for myself. If Real Madrid loses a final or a semi-final or a quarter-final, that's football. When you are out at the group phase, it's more difficult to accept and to understand." Jose Mourinho is perplexed by Manchester City's poor UEFA Champions League form.
"If it was Real Madrid, the press wouldn't let me return to Madrid." Then continues to stick the boot in after their exit by saying he would have been shown the door in Roberto Mancini's shoes.
"(Tottenham) controlled the game from the first minute to the last." But still managed to lose 5-2 to Arsenal, Andre Villas-Boas.
"Obviously with him and Abramovich, [friendship] is for life. But the problem with Jose is he still doesn't understand there is a time difference and he keeps sending them when I'm asleep!" Didier Drogba reminds text-happy former boss Jose Mourinho he lives in China now.
"What's next? I haven't decided yet." David Beckham keeps everyone guessing over his next move after saying he's ready for one last challenge.
"He's an East End boy and it would be a fitting end to his career." West Ham co-owner David Gold would welcome the local lad with open arms.
"I am just enjoying the feeling to be playing tennis. I start very slow and I go day by day. I will work hard in my comeback and hopefully the knee will be ready soon." Rafael Nadal confirms he's on the mend after a lengthy stint on the sidelines.
"I never got on with Rafa Benitez. He even made me remove the photographs of my happiest moments with Jose Mourinho and Marcello Lippi from my locker." Marco Materazzi isn't new Chelsea boss Rafa's biggest fan.
"I have always said the punters do not really care who's in charge, so long as the team is winning and the points are racking up. You could have Saddam Hussein in charge and if results went well they would be chanting his name." Harry Redknapp believes Chelsea fans will warm to Benitez if he makes a winning start.
"My departure from Formula One will probably be less emotional for me this time than in 2006, when we were still fighting for the championship and everything was much more intense. This time round, I will be able to pay more attention to my farewell and hopefully savour it too." Michael Schumacher is planning a more serene retirement as he quits F1 for the second time.
"Maybe it is a watershed in that possibly we can't get any lower than this." Mark Hughes clings to a silver lining as rock-bottom QPR slip to another defeat.
"When I joined Villa I didn't know where they played. I thought they were a London club! " Someone get Christian Benteke a map.
"I play every day in training and I can see how hard it is to mark him and I'm pretty sure every single defender in the Premier League will have nightmares about him." Luis Suarez is haunting his opponents' dreams, according to Martin Skrtel.