Manchester City manager Roberto Mancini is unfazed by comments made by Jose Mourinho
Manchester City manager Roberto Mancini has shrugged off an apparent dig from Real Madrid boss Jose Mourinho.
Last Updated: 24/11/12 4:14pm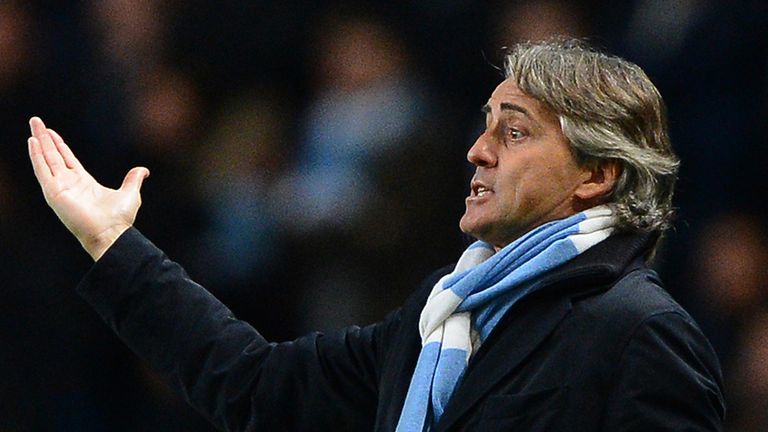 Mourinho claimed he would not have been able to return to the Spanish capital had Real suffered the same European fate as Mancini's Premier League champions.
Real ended City's hopes of reaching the knockout phase of the elite competition after drawing 1-1 at the Etihad Stadium on Wednesday.
The pair have a perceived rivalry dating back to when Mourinho succeeded Mancini as Inter Milan boss in 2008.
Mancini said: "Mourinho is not my chairman, he is not my owner. What Mourinho said is not interesting.
"Mourinho wants to talk about everything and for me it is not important."
Hurt
Mourinho had spiced up the contest the night before by saying City would be eliminated regardless of the result and, given all their talent, that would hurt them greatly.
That was also interpreted in some quarters as an attack on Mancini as it could have suggested the manager was not making the most of the players at his disposal.
Mancini has tried to avoid a war of words but did suggest that such criticism from rival managers could be fuelled by jealousy over the huge financial backing the Italian has enjoyed at the Etihad Stadium.
"I don't know - sometimes it could be," said Mancini.
"I am here but I will not stay here for 20 years. Other managers will have time to come to Manchester City but in this moment I am here and we are working well. I don't know why sometimes they talk about us."
Mancini admitted he was upset to be out of the Champions League, but insisted it had not added extra pressure onto the squad.
"I think we could be disappointed because we wanted to go and play the February stage in the Champions League, because we have good players and these players probably deserved to play in this competition," he added.
"But we don't have pressure. We know we have a chance to win if we stay together in a difficult moment like now, but we do not have pressure because we went out of the Champions League."