Waiting for Guardiola
Alex Dunn argues Manchester City would be wrong to get involved in any bidding war for Pep Guardiola over the summer. The sought-after Spaniard may have half of Europe's biggest clubs eyeing his services but Roberto Mancini deserves greater credit for the work he's done at Eastlands
By Alex Dunn - Follow me on Twitter @skysportsaldunn
Last Updated: 28/11/12 4:49pm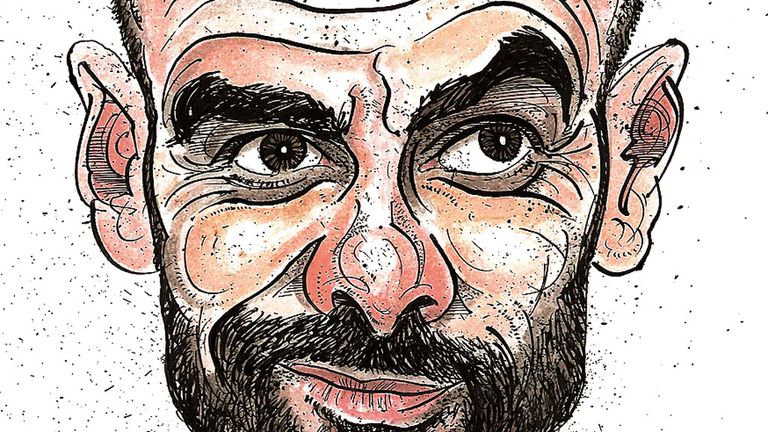 As opening nights go the West End premiere of Samuel Beckett's Waiting for Guardiola proved to be the proverbial damp squib. Rafa and Roberto were perfectly cast as Vladimir and Estragon, forlornly waiting for the title character that never arrives, but the modern interpretation relocated to Stamford Bridge on Sunday saw its audience fail to see the funny side of the quintessential tragicomedy. Off-stage left, Roberto Di Matteo will have enjoyed the prop man's handy work with the 'Rafa Out' banners.
It used to be the spectre of Jose Mourinho that haunted his successors in the corridors of Stamford Bridge, like Don Revie in a bygone era at Elland Road, but now the mantle has been passed to his old sparring partner Guardiola. Not just in the capital.
Interim: An interval of time between one event, process, or period and another.
Let's go out on a limb for just a moment and presume the "interim" period interjected into Rafael Benitez's new job description won't turn out to be long enough to see him into retirement.
In a New York hotel suite Pep Guardiola puts down the Long Island Ice Tea he's been nursing since the previous summer and acquiesces to Roman Abramovich's obsession with bringing a little Catalonia to Chelsea.
From Manhattan to Manchester, the sigh of relief from Roberto Mancini is audible both sides of the pond.
Just this morning the Daily Mirror reports 'European flop may yet sink Mancini' as crisis club Manchester City look to arrest a slide that has seen them go unbeaten in the Premier League this season, while AC Milan owner Silvio Berlusconi asks: "Who would not want Guardiola? There are English clubs that are after him. In particular City, who have directors who know him from Barcelona."
Sky Sports' Guillem Balague, author of Guardiola's biography, 'Another way of winning', is another convinced it's a matter of when not if City come calling.
"They (Chelsea) are not his only suitor, however, particularly given Manchester City's rather conspicuous appointments of Barcelona's former vice-president and former director of football over the past four months," he told Sport Magazine.
The wind of change that billowed through Manchester City with the appointment of Ferran Soriano as chief executive and Txiki Beriristain as director of football will have prompted Mancini to tighten his trademark scarf. The pair, who occupied similar roles at Barcelona, insist they have not been in contact with Guardiola since pitching up in Manchester but it's safe to presume they've still got his mobile number.
Balague continues: "Of course, now that Manchester City have Ferran Soriano and Txiki Begiristain, I think they are definitely going to try to get him at some point. Against City is the fact that there's still a lot to do to make it the kind of brand of football that he would like, but at the same time there's enough quality there to transform it pretty quickly. And the big thing in favour of City is that he's got friends in charge. That is very important for him."
With City's club shop now stocking Barcelona shirts and the Catalan outfit's one-time Spanish scout Bojan Krkic snr reportedly sounded out for a similar role at Eastlands, it doesn't take Sarah Lund to deduce Guardiola's name may have cropped up in the boardroom.
When Gaudi gets commissioned to redesign the staff canteen Mancini might have to revisit the offer of Ligue 2, a yacht and the freedom of the Principality. There are worse places to live than Monaco. If nothing else, if he gets homesick for Manchester he could probably buy City back with the tax he'd save over the duration of his contract.
The question Balague fails to ask when pondering the 'when and if' is why?
To be fair, Sheik Mansour and his board have kept their counsel over City's failure to progress past the group stages of the Champions League in their first two attempts and rather it is the press, in which we are all implicit, who have reacted so hysterically to every dropped point and training ground spat. Each and every failing at Manchester City is reported with the salacious relish last seen when Deidre was leaning over her yard wall to inform Rita of Ken's latest extra-marital activities. Norris Cole, we are one and all when it comes to City.
No need?
Having worked with Massimo Moratti for four years at Inter it's fair to say Mancini is street savvy enough to sleep with one eye open in the company of Begiristain and Soriano, but strip away the cynicism that goes hand in hand with billionaire club owners and the appointment of the former could be seen as a victory for the Italian given the tempestuous relationship he had with his previous director of football Brian Marwood.
City's failing this season in Europe has again highlighted Mancini's perceived Achilles heel of being tactically out of his depth when in the highest company - with his record of failing to guide a side to the quarter-finals in any of his six Champions League campaigns open to scrutiny - but given he is working at the club at the start of a new cycle in terms of operating in the highest echelons, should it really be a surprise that he's overseen a couple of false starts?
Mancini's predilection for three at the back is a tactical quirk yet to bear fruit but the manner in which a failed experiment has been reported gives the impression he's tried playing without a goalkeeper rather than simply fall foul of going against the 'if it ain't broke, don't fix it' mantra.
We seem to be in a period where football culture in this country has caught up with our European counterparts in that the ability to man-manage and even get results is secondary to appreciating the role of the 'false nine' as you might a vintage red. Mancini has suffered more than most in this respect and yet, across the city, Sir Alex would probably call for a doctor if he was asked about Rooney's role as a 'false ten'. Different strokes for different folks but Brian Clough's assertion that football is a simple game still rings true for this writer.
No-one can take away what Guardiola did at Barcelona. Winning 14 trophies in four seasons and creating arguably the greatest club side in history justifiably makes him the most sought-after coach in the world. Of that, there is no doubt, and yet it still seems a sad indictment of modern football that Mancini continually looks over his shoulder. It's never really mentioned, but is it not worth remembering that Guardiola created 'the best side in history' and finished second last season? As a wise man once said, Barcelona make great coaches not the other way around.
Guardiola is praised to the high heavens for getting into shape a Barcelona dressing room he inherited from Frank Rijkaard that had lost its way in going two seasons without a trophy. Balague has described it as 'decadent' and to be fair, how Pep won silverware with this lot remains one of football's great mysteries: Valdes, Zambrotta, Milito, Puyol, Abidal, Yaya Toure, Xavi, Iniesta, Messi, Eto'o, Henry.
It's not really Brian Clough taking Nottingham Forest from the old Second Division to European champions, is it?And yet money, not management, is cited as being the driving force behind Mancini first shaping the all-stars of Wright-Phillips, Santa Cruz & co bestowed on him by Mark Hughes to break City's 35-year duck in winning the FA Cup, before following it up with the Premier League title a season later.
They should be talking statues, not the sack.
"We are Manchester City, not Real Madrid or Manchester United, who used to win every year for 100 years and have big history. We are Manchester City and for 35 years we didn't win, but in two years we won three trophies. Now we want to win every year but in football it is not possible," said Mancini recently.
At Inter he delivered four back-to-back titles and a first Scudetto since 1988/89 (in 2005/06 Inter finished with 97 points, 30 wins, seven draws and only one defeat out of 38 matches) but again it's his failure in Europe that is remembered. It's made all the worse that his successor Jose Mourinho masterminded Inter's Champions League success in 2009/10 with the side Mancini had turned from perennial losers into serial winners. It would hurt were history to repeat itself.
Guardiola is not so rigid in his philosophies and approach that he would not adapt to the players that he would have at his disposal at a new club, but his record with those not steeped in the traditions of Barcelona is hardly impeachable. If you share the same DNA you'll be fine but if not...
Zlatan Ibrahimovich lasted just a season, while the less said about the €25million acquisition of Dmytro Chygrynskiy the better.
"The dressing room was way too quiet. Messi, Xavi and Iniesta always obeyed without protest," complained the Swede in his autobiography I, Zlatan.
"They were like schoolboys. I am not like that. I couldn't be myself. I didn't have a relationship with the coach. He hardly looked at me. Messi wanted to play centre forward and got his way."
The high priest of Catalonia delivering sermons to his dutiful choirboys Xavi, Iniesta and Messi is one thing but good luck getting Mario Balotelli to pay attention to the fineries of tiki-taka. He can't even get a bib on by himself, let alone a cassock.
"You've got to remember where City have come from in a very short space of time; they were drifting, weren't winning anything and hadn't won anything for a long time. Management has never been harder that it is right now and I would hazard a guess that the group of players at Man City would arguably be hardest squad in the Premier League to handle," said Graeme Souness after City's draw with Real Madrid earlier this month.
Everything is in place to make Manchester City the English Barcelona - from the senior management to the ambitious new Academy plans - and in this respect Guardiola sat in the dugout would complete the jigsaw.
The suave, debonair Guardiola with his excellent command of English and largely impeccable CV holds obvious appeal to all of Europe's biggest clubs - lest not forget he's already fielded flirtatious looks from Bayern Munich and AC Milan as well as his English suitors - and when his sabbatical in New York ends he'll not be short of offers.
The question then is not whether he is a better coach than Mancini but rather whether he has earned the right to find out at Manchester City just yet.
Let's just say if anyone at City tries to find out they may quickly discover Mancs are even more creative and colourful with their sign-making skills than Cockneys.
As for Rafa, his wait for Guardiola shouldn't last too long...