Clint Dempsey has revealed his reasons for leaving Fulham in the summer
Former Fulham player Clint Dempsey has revealed why he left Craven Cottage for a £6million switch to Tottenham.
Last Updated: 29/11/12 2:02pm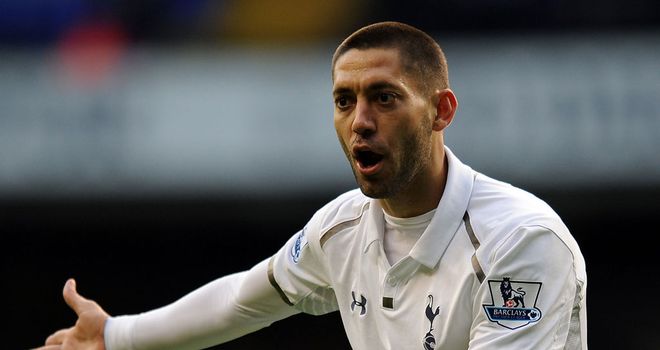 USA international Dempsey, who scored over 50 goals at Fulham, began to feel unappreciated and undervalued at the club after being left out of the squad for a pre-season tour of Switzerland.
After spending over five years at Craven Cottage, he is hoping for a good reception on his return this weekend, but will understand if one is not forthcoming.
He said: It's unfortunate how things happened in the end but you look forward to going back and how you're received, you're received.
"But no matter what, I'll always look back with good memories and be grateful for the club and the fans for the way they took care of me.
"If you always felt valued and appreciated enough, I don't think you'd ever leave, but it came to a point for me where I didn't feel valued and appreciated, not by the fans, but by other situations. That's just the way things went."
Mousa Dembele will also be returning to Craven Cottage for the first time since he left for Spurs and Fulham have two former Spurs favourites in Martin Jol and striker Dimitar Berbatov.
Berbatov scored 49 times in his two seasons at Tottenham while Jol delivered two top-five finishes before being sacked in 2007.
Jan Vertonghen, who signed for Spurs this summer, knows Jol well having worked with him at Ajax and has warned Spurs they must not get complacent and has predicted a tough test this weekend.
"I liked working with him and he gave me a lot of confidence," Vertonghen said.
"He is a good trainer. I was always doubting whether I was a left-back, a central midfielder, or a centre-back. He just told me I was a centre-back and he let me play there for two seasons and I started playing well.
"We've had two good wins but Fulham are a well-organised team."