Thomas Vermaelen and Arsene Wenger believe Arsenal have room for improvement
Thomas Vermaelen believes Arsenal have a strong mentality but accepts there is still room for improvement.
Last Updated: 29/11/12 4:33pm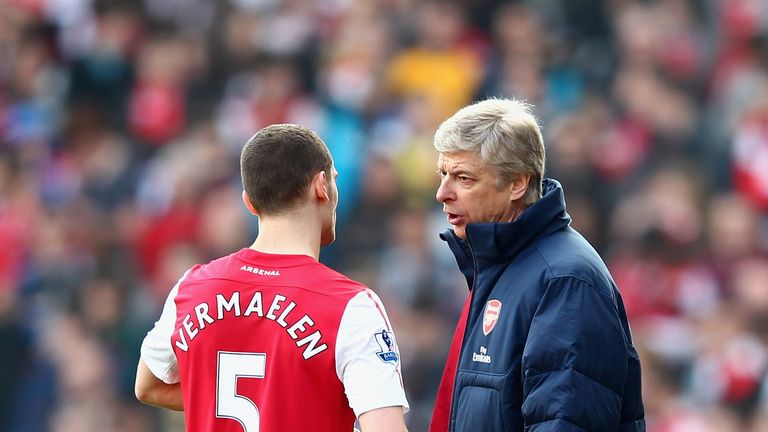 The Gunners took the lead in the opening moments through Theo Walcott but were pegged back in the first half as Marouane Fellaini levelled for the hosts.
Belgium international Vermaelen felt the north London club were made to pay for conceding possession and gave their opponents too many opportunities to level.
He said: "Mentality-wise, there is nothing wrong with the team.
"Everybody works hard and there is no-one who doesn't work for the team and that will give you results, from that point of view I am very happy.
"In the first minute (against Everton) we scored a good goal, and after that we dominated, but gave them chances because we were a little bit sloppy with the ball, so that was a bit disappointing."
Manager Arsene Wenger echoed the defender's comments following increased criticism having recording just one victory in their previous five Premier League outings.
Wenger said: "If you look at the Premier League at the moment we have played 14 games, eight away and now we have played at the two Liverpool clubs and the two Manchester clubs.
"If we play well at home and get the results at home we have a chance to come back, that is our job now."
Walcott had set the Gunners on their way with a well-taken effort after just 52 seconds in what was only his fourth league start of the season.
"Those are the sort of positions that this season and in the last few seasons I have been quite deadly in," Walcott said.
"When given a little sniff I am able to take it now. My general play is getting better as well. The assists are coming now, which is fantastic, and I am enjoying my football."