Liverpool boss Brendan Rodgers aims for second place finish in Premier League
Liverpool manager Brendan Rodgers has set his sights on second-placed Manchester City.
Last Updated: 14/12/12 8:32pm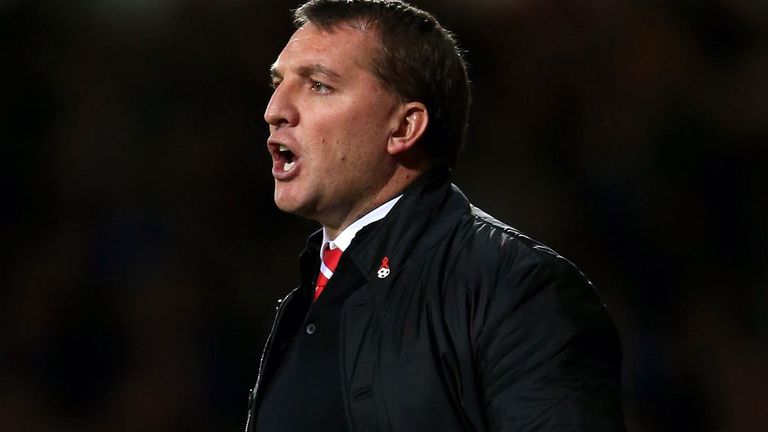 Following their worst start to a campaign in over a century, the Reds now sit just four points behind city rivals, fourth-placed Everton, with their record over the last 11 games bettered only by the league's top two.
Rodgers saw his Liverpool players criticised early in his Anfield reign and believes they should now set their sights further than just securing Champions League qualification.
"They have been hammered left, right and centre by numbers of people," said the Northern Irishman.
"When you are a club that is the size of Liverpool then that criticism comes.
"It is well documented, which is incredible really, but when you have won the titles and championships you have before that will come your way.
"You can see in their performances it hasn't affected them and, if anything, we have grown from that.
"Everyone has their opinion on Liverpool and I understand that because of the standards set by this club in the 1970s and 1980s.
"But for a club that has been very poor and disastrous by all accounts from other people we lie four points off top four.
"For me the ambition is to grow higher. We are 11 points off second and that can all turn around very quickly so you need to get consistency - and that is what we have at the minute."
Many of the players criticised - Stewart Downing, Jordan Henderson, Jose Enrique and in particular Joe Cole - were signed by Rodgers' predecessors Kenny Dalglish and Roy Hodgson.
Liverpool's former director of football Damien Comolli, who helped bring most of those players to the club, has said they have all been judged too early.
"I don't know what Damien said and it's none of my business," added the Reds boss, who was pleased to see Cole score in Sunday's 3-2 win at West Ham.
"It was important for Joe to contribute. This season has been very difficult for him because he has been injured for the majority of it.
"The responsibility has always been with the players and if Joe continues to work how he has been when he gets the opportunity he has to take it.
"He works very hard at his game and when the chances come I know in his own mind he wants to take them and be effective for the team.
"That is the challenge for all the players. It is a challenge for us all to improve and we want to keep rising up the table."
Don't miss any live and exclusive football coverage this festive season. Click here to visit Sky Sports' Festive Calendar