Teddy Sheringham visited Fantasy Football Club to reflect on a brilliant career
Teddy Sheringham visited Fantasy Football Club to reflect on his Treble-winning career.
Last Updated: 17/12/12 9:40am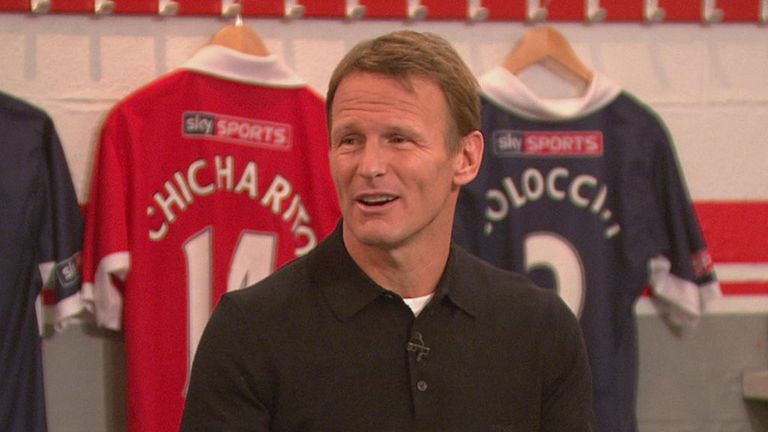 The former Millwall, Forest, Spurs, United, Portsmouth, West Ham and Colchester forward sashayed down Memory Lane with Fenners and Merse - starting at day one for the Lions.
He told Fantasy Football Club: "When you play for Millwall, the fans give you a little bit of time as a youngster. You come on the scene and might score a couple of goals and do a couple of good things.
"Then, you keep making the same mistakes as you do as a youngster, and the crowd absolutely hammer you! Then, hopefully you come through that and you go on to better things.
"Sometimes it grinds you down but as long as you come throught that little period then you're set.
"I was a West Ham fan as a kid - from a youngster until I was about 14, but then I played for Tottenham schoolboys and used to get free tickets so I became a Tottenham fan. Then at 16, I was at Millwall so I didn't really know who I was - I was a mixed up kid!"
Honours
It was following a £3.5m move to Manchester in 1997 that Sheringham began to fill up his trophy cabinet - the England star sharing goalscoring duties with the likes of Ole Gunnar Solskjaer and Dwight Yorke to bag his first major trophy at the age of 33.
It was the early introduction of Sheringham which inspired the Red Devils to the second leg of their Treble trip when he netted in the FA Cup victory over Newcastle, and he came on to similar effect during the infamous Champions League final in the Nou Camp.
On his time at Old Trafford, Sheringham said: "I worked with Sir Alex and I'd say his biggest strength is that he knows the players and knows who to put with who. It's no real tactical awareness that he gives the players - he puts them together and let's them get on with it themselves.
"I never really had disagreements with him. He fined me a week's wages once for playing golf on a Thursday afternoon. We'd just beaten Aston Villa 2-0 and he came in and said 'Well played... Did you play golf on Thursday?' - I said 'Yes' - and that was it. An expensive round of golf!
"Growing up as a kid, you dream about scoring in an FA Cup final. I scored the first goal, made the second goal, got man-of-the-match and thought I had a great chance of starting (in the Champions League) final in the Nou Camp. It wasn't until the Wednesday morning that he told me he was leaving me out.
"We went 1-0 down early and at half-time, he said to me that if it stayed 1-0, I'd be going on after 10 or 15 minutes. So I wanted it to stay 1-0! I wanted to play a part.
"His half-time team talk in that Champions League was the best team talk I've ever heard. It was along the lines of 'just make sure you give you your all because at the end of the game you'll have to walk past that trophy and you won't be able touch it.'"