Former Arsenal goalkeeper John Lukic believes Arsene Wenger should stay
Ex-Arsenal goalkeeper John Lukic believes Arsene Wenger is still the man to lead the struggling Gunners.
Last Updated: 17/12/12 12:11pm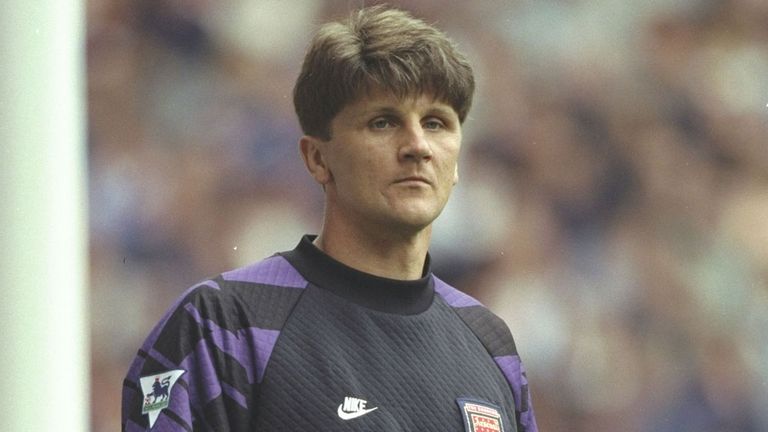 The legendary stopper dropped into the Soccer AM studios to look back on his career and offered his opinion on the trials and tribulations of the under-fire Frenchman.
Several pundits and former players have stated their belief that Wenger's time is up after the embarrassing penalty shoot-out Capital One Cup defeat at Bradford in midweek - but Lukic is more sympathetic.
He said: "I personally think Arsene should stay. He'll have a plan. Whether he can get the players he wants in is another matter.
"It's a double-edged sword, trying to make signings in January, because players will want to know whether or not they are signing for a club that's going to be in the Champions League.
"I think Arsenal are inconsistent, rather than rubbish. It's the nature of the team at the moment. When Wenger arrived, he had a strong foundation of a football team.
"To use the analogy of a Christmas tree, he had a tree and he put the decorations on it. Now, unfortunately, he's got the decorations but there's no tree.
"It's hard to replace the players that he had. They aren't readily available. I'm sure they'll find consistency but unfortunately the Arsenal fans are very impatient."
Overreaction
Lukic admits the loss at Bradford was a poor result for the north Londoners - but emphasised the fact that it's not the first Cup giant-killing and it won't be the last.
He added: "It wasn't a good result by any stretch of the imagination but I was in an Arsenal team in the 1980s that went to York City one wintry January night and got beaten 1-0. It has happened before.
"You wouldn't expect Arsenal to get beaten at Bradford and that's the beauty of football. Or, if you're an Arsenal fan, then it's not so good. The League Two side had nothing to lose.
"You can practice penalties as long as you want but it doesn't replicate the arena you're in at the time with the pressure and the importance. Yes, you can get the technique right.
"As a goalkeeper, it's a psychological job. The thing that annoys me is that if the goalkeeper saves a penalty, it's a bad penalty, but if he goes the other way and it goes in, it's a good penalty regardless of whether it goes in the corner or not. The goalie never gets any credit!"