Gary Neville says Marouane Fellaini suspension is right
Gary Neville feels that the Football Association got Marouane Fellaini's ban correct.
Last Updated: 17/12/12 9:00pm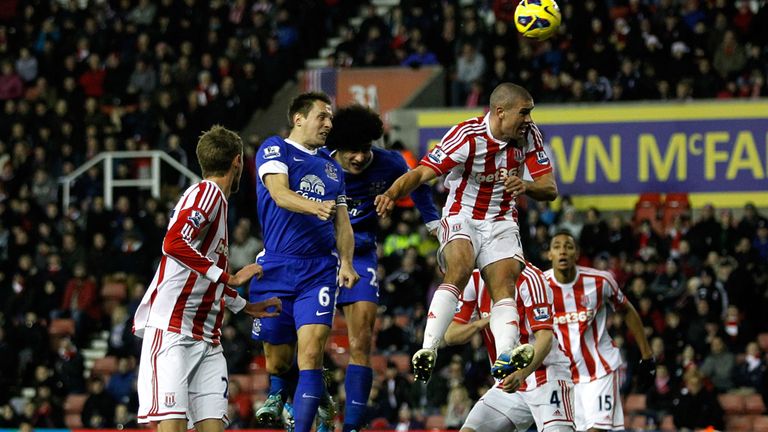 The Belgian international head-butted Ryan Shawcross during Everton's 1-1 draw with Stoke, and clashed with the England defender on at least three further occasions.
He apologised soon after the game and his manager David Moyes admitted he should be banned, and after referee Mark Halsey filed his report - Fellaini was charged.
Fellaini did not appeal and the FA handed him a three-match ban for violent conduct - although some have claimed he should have been handed a long-term ban.
But speaking on Monday Night Football, Neville feels the punishment was right.
"For me, It think it has been called correctly - it was a battle all afternoon, I think Mark Halsey has seen it," Neville explained.
"They're battling with each other, fighting and it happens - but he was out of order and I am not surprised he has accepted his ban as he has gone too far. A really poor one and he got three games and he deserved it.
"To me, when I played you played against the likes of Marcus Gayle and John Hartson - you mark John Hartson on a corner and you just have to keep coming back, and that is the thing that Ryan Shawcross keeps coming back and I resent the way in the last 24 hours it has been made out that Stoke are the sinners and Shawcross is at fault - this goes on all over the pitch every single game and it is just the way it is and Fellaini has over stepped the mark, but the other bits are just football."
Neville has a huge amount for Stoke, adding: "They are willing to give a bit out but they take it as well. They are a team that have respect and honour. They get on with it.
"Stoke are the best defensive team in the league, they are more alert, work harder and they organise each other - they push each other, work each other and talk to each other.
"A lot of footballers work hard, but there is nobody who works harder than this lot."
Gary's take on some of the other talking points
Gary on whether Adel Taarabt can keep up his form
History says he probably won't do that every week, but he will win you games, he did that for Neil Warnock, he got them out the Championship he will score great goals and he is worth a punt but he will need people around him who will work hard.
Pre-manager change I thought this QPR team would stay up, there is too much quality all they need to do is apply themselves.
Gary on the impact of Christian Benteke
I did the game against West Brom earlier in the season, it was Super Sunday and I remember looking down and checking his age, because you may as well have been playing with a set of railings up top because it was bouncing off him at all angles but I thought I would not go too hard on him as he was a young player and it looked unconventional and uncomfortable.
It took a lot of guts [not to drop him], popular opinion would be to bring back older, more experienced figure, but he [Paul Lambert] has got belief in his younger players, belief in Benteke and things have changed now. All of a sudden there is a level of belief and confidence and Saturday he was outstanding.
You talk about people settling in, he is settling now and you have to give Paul Lambert huge credit for that.