Quotes of the year
We gather together a collection of verbal grenades thrown by football's finest in what has been a vintage year for soundbites. 2012: The year Joey spoke French without bothering to learn it, Rafa returned and Bert had the last word...well almost.
Last Updated: 21/12/12 8:31am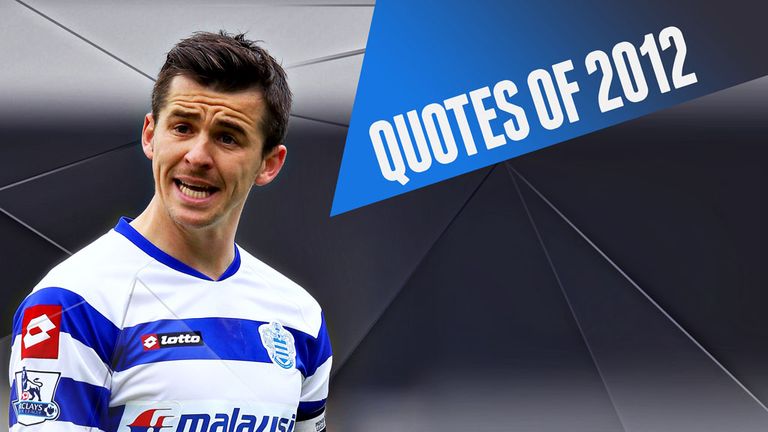 "Steve Kean will be tearing his hair out." Graham Taylor. Think that ship may already have sailed.
"We couldn't defend a fish supper." Sam Allardyce mixes his metaphors to great effect.
"A boy from Croxteth should not use hair product." Jamie Carragher is less than impressed by Wayne Rooney's new thatch.
"My first choice would be Brian Clough, but he's dead." A radio phone-in contributor reflects on the vacant England manager's job.
"He is an incredible player, gigantic. He's such a nice and modest professional and I hope he gets one or two more goals in 2012 and that he can then hold onto the record for the next 40 years. He's fantastic. He only has one defect and that is that he doesn't play for Bayern Munich!" Gerd Muller hands over his goalscoring record to Lionel Messi.
"He's got such a great leap. It's like an NFL basketball player." Martin Keown shows his expertise is not restricted to football.
"It was obvious that we gave everything on the pitch, we gave it our best shot. I can honestly say that my soul was left on that pitch, and I think I need a few people to carry me off the pitch because I was literally dead."
Ivan Rakitic
is
literally
gutted at Croatia's exit.
Back of the net!
"Kyle Walker is the least aptly named Premier League player. I've never seen him walk." Clive Tyldesley completes his metamorphosis into Alan Partridge.
"After moving to the Premier League, I've realised that I need to limber up and strengthen my body trunk." Shinji Kagawa suffers a case of lost in translation.
"Some of the greatest players that I've ever played with, people who everybody looks up to, we've seen do it. I dived a few times. The country's changing. Twenty years ago, a piece of bread got brought into a restaurant, you got a lump of butter with it. Now you get olives, oil and vinegar." Gary Neville does his Peter Kay routine.
"What do you want to know lads? Top of the league. Well done City. I love (Mancini), he's so cool, he's almost as cool as me. Fergie's been on the whiskey. Viva La Belgium!" Liam Gallagher drops in on the Manchester derby post-match presser.
"I hope ppl read this and no am rude and u deserve every abuse I give u fatty go and run on the treadmill like I told u." Emmanuel Frimpong goes to war with disgruntled Arsenal fan Piers Morgan on Twitter.
"Right, off to the gym. Going to pretend my trainer is @Frimpong26AFC and give him a good hammering with the gloves." Tubs Morgan hits the locker room.
"We're always being told how hard it is to get kids to switch off their computer games and play in the fresh air - yet this makes it a bit harder to do that." Harry puts down his Wii to rally against government plans to levy VAT on five-a-side football teams who rent artificial pitches.
"I am a moderately practising Muslim. I don't eat pork, but I'll drink alcohol at times - and I love chasing girls!" Hatem ben Arfa takes a pick and mix attitude to his faith.
"When I joined Villa I didn't know where they played. I thought they were a London club!" Someone get Christian Benteke a map.
Ooh matron
"I would prefer my daughter to be pregnant than for us to get relegated." Real Betis coach Pepe Mel issues an interesting rally call to his beleaguered players.
"Afternoon sex #DECENT." Thanks for that, Henri Lansbury.
"When you've lost, you're more hot-blooded. It got heated, but we all cooled down after a good shower." Ooh la la...Laurent Blanc with too much information.
"Why for the life of me have the likes of Pirlo not played in England? Is he homophobic?" Can somebody get Phil Brown a dictionary, preferably one with pictures.
"Queers in the national team? That's their business. But I hope not." Now if Phil was talking about Antonio Cassano, he may have had a point...
Your honour...
"I have a big problem. I can't write... I can't work a computer, I don't know what an email is, I've never sent a fax and I've never sent a text message. I've never wrote a letter in my life. I write like a two-year-old and I can't spell. I couldn't even fill a team sheet in." Harry Redknapp gives evidence in his court case.
"We'd prefer it if you stood." Chief Magistrate Howard Riddle at the trial of John Terry.
"I'd like to sit down." Ashley Cole.
"I will carry out the suspension with the resignation of someone who hasn't done anything wrong and who feels extremely upset by the events." Luis Suarez is full of contrition after being found guilty of racially abusing Patrice Evra.
"If they want to show their support for their team-mate, what's wrong with that? It was a fabulous statement to make visually of their support for a guy who is endeared in the dressing room, one of their closest friends in the dressing room, and all of his friends in the dressing room can speak up adequately and perfectly well for him." Kenny Dalglish defends the T-shirts his players wore to show their support for the striker.
"I want to take this opportunity to apologise to everyone for the language I used in the game against Queens Park Rangers last October." JT has the last word.
Hypocrite, moi?
"Ivanovic's one in the first half is laughable and the lad Oscar, who's a fabulous player. This is England. We're playing in England, we're not playing in Europe. And we can't watch people just fall over and not talk about it. That's the disappointing thing." Tony Pulis leads the crusade against cheating in football. Bravo Tony!
"I haven't see it, but if Peter's got away with it then brilliant." Pulis after Peter Crouch twice handballed on the way to scoring against Manchester City a week earlier.
"I think you're very severe and I think you're bang out of order for blaming Luis Suarez for anything that happened here today. I think predominantly both sets of fans behaved really well. They had a bit of banter between each other - no problem. Right, how many bookings was there?" Dalglish rages at Sky Sports' Geoff Shreeves.
"When I went on TV after yesterday's game I hadn't see what had happened, but I did not conduct myself in a way befitting of a Liverpool manager during that interview and I'd like to apologise for that." A contrite Dalglish reconsiders his behaviour.
Snoop
"When I first started watching soccer, going to Europe for the first time, he was the one who was the most dynamic to me. I loved the way he played. He played with a lot of style, he was good and he had the different hairstyles. His hair was pretty." It's only Snoop Dog expressing his love for Brazil's Ronaldo.
"I'm not strong, nor fast, nor skilful, I'm a player from the street. Without my team-mates, without space, I am nothing." We suspect Xavi wouldn't fit in with England's Golden Generation.
"It's time for a big party with the cup with the big ears." Roberto Di Matteo lands Europe's top prize, then the Chelsea job full-time, then the sack...
"I am naturally very pleased to be discharged from hospital and would like to take this opportunity to pay tribute to every single member of staff at The London Chest Hospital who have played a part in my care. Their dedication, professionalism and expertise is simply amazing and I will forever be in their debt. I also wish to say thank you to all the many well-wishers who have sent thousands of messages of support. Now I am out of hospital, I am looking forward to continuing my recovery and spending precious time with my family." Fabrice Muamba is discharged from hospital less than a month after collapsing on the pitch at White Hart Lane.
"With the weight of the new evidence in this report, it is right for me today as Prime Minister to make a proper apology to the families of the 96 for all they have suffered over the past 23 years. On behalf of the Government - and indeed our country - I am profoundly sorry for this double injustice that has been left uncorrected for so long." David Cameron comes clean on arguably the most shocking cover-up in British history.
Farewells
"I wanted to put an end to all the speculation and confirm that I am leaving Chelsea. I would have stayed if we hadn't won the Champions League. That was my challenge, what I wanted to achieve." Didier Drogba knows when to leave a party at just the right time.
"Four years is an eternity as Barca coach. With time everything runs out of steam. I am drained and I need to take a step back and replenish." Pep Guardiola calls time on four magnificent years at Barcelona.
"If for him enjoying life means withdrawing from football for a while then so be it and I send him a hug." Jose Mourinho sends his old sparring partner his kind regards.
"We are grateful for all of Damien's efforts on behalf of Liverpool and wish him all the best for the future." Liverpool owner John Henry thanks Damien Comolli for his recommendation to sign Andy Carroll for £35million before politely showing him the door.
"The most important people at this football club have always been the fans and that will always be the case. They are suffering at the moment and I am one myself. I have supported the club all my life and I know how they are feeling." Ally McCoist reflects on a dark day for Rangers as they exit the Scottish Premier League.
Three Lions roaring/cowering
"I have 40 days and 40 nights in front of me and I am going to be working long hours. But no one said the England job would be easy or that I'd look forward to some sunny, pleasant days ahead." Good job Mr Hodgson knows the England job isn't going to be a walk in the park...
"I don't think it will ever happen now. Roy has four years, and I hope he sees it out and has great success at the Euros. I didn't wake up on Monday morning and think: 'What's happened to my life, I'm not the England manager'. It's saved me making a decision, because I'm very happy at Tottenham." Harry Redknapp pulls his best 'I didn't even want it anyway' face.
"I don't regard statistics, especially possession statistics, as being particularly important as to say which is a good team and which is a bad team." Good job Roy, good job...
Nothing like a good old moan
"Someone needs to get assassinated for us to get a penalty, I think." Not like King Kenny to be a bit miserable.
"Negativity has been very much in the forefront recently, which is strange because we have lost one in 12. What happens is I look at the performance of every player and say to everyone... 'you're talking b******s'. I don't listen to that drivel." Sam Allardyce loving life in the early days at West Ham.
"There's been many times when I've felt lost, I wasn't sure what to do. I felt like I didn't know where I belonged. I've felt like they treated me in a way that I didn't expect. Not in the way that was spoken of when they signed me. We've had a lot of talks and we'll talk about my future." Fernando Torres was still in his shin-pads after the Champions League final when he began to lament his lot.
"It's not about money. It's not all about money. Obviously money comes into the scenario - it always does." Grant Holt's agent Lee Payne. Hark at Jessie J.
Spats
"You always get twists and turns, it's how you react that's important. I remember a few years ago when Liverpool beat us 4-1 at Old Trafford. That genius (Rafa) Benitez said they had planned to beat us by playing long balls behind us. Remember that? Clown." Sir Alex Ferguson really doesn't like Rafa Benitez. Fact.
"I think the players, and even the supporters, all have to change their mentality. It's a nonsense players after games speaking about how great the supporters are. The supporters want to see the team do a lot better and not giving daft goals away. Praising the supporters for the sake of it. Let's change that attitude towards Irish supporters. Listen, they want to see the team winning. Let's not kid ourselves. We're a small country, and we're up against it, but let's not just go along for the sing-song now and again." Roy Keane enjoys the craic...
"He has been a great player and had great success. I don't know if he achieved the same results as coach or manager." Republic of Ireland boss Giovanni Trapattoni brings up Keane's own managerial record.
"I always thought John Bishop was the biggest comedian in the North West but Dave Whelan seems to have taken that mantle over the last couple of weeks." Liverpool managing director Ian Ayre jests with the Wigan chairman.
"If Dalglish doesn't sack Suarez, the Home Secretary should deport him." George Galloway. Meow.
"It seems like Ferguson is the president of England. When he speaks badly about a player, nobody says he has to apologise but when someone comes out with a joke, you have to say sorry. I don't say sorry." Carlos Tevez is full of contrition following his 'RIP Fergie' antics.
The ego(s) have landed
"You're just a **** Andy Carroll." England's fans bait Sweden's Zlatan Ibrahimovic - then are promptly silenced as he scores four goals including his stunning overhead kick.
"Now I think the people in Paris will have something else to see besides the Mona Lisa." Super-agent Mino Raiola gifts his client Zlatan to the people of Paris.
"I'll have to learn about them but, for sure, they know who I am." You can always count on Zlatan for a quote.
"10." Zlatan again, in typically humble style, when asked to give his international career a rating out of 10.
"I've waited so long for it and for it to finally be here wipes away all those bad memories. Year after year, we've had some, but that completely wipes it away." John Terry wins the European Cup for Chelsea.
"On an individual level I give my season a 10/10, but collectively we are a 9/10 because we want to win more - the Champions League for example." Cristiano Ronaldo in typically self-effacing form when assessing his and Real Madrid's season.
Joey
"Lost his job and the guy is blaming everyone but himself! Embarrassing, time to look in the mirror mate. Last thing we need right. Big week. Looking forward to the game against Wigan tomo. 1st time in a while we actually have a plan and seem organised." Joey Barton full of sympathy after Neil Warnock's axing at QPR.
He goes on..."Not a big fan of people that try to make scapegoats out of others. If u live by the sword, u die by it. If I talked about Neil, he'd do well to get another job. Twitter cost him his job???? I can think of a million other things #shutitwarnock." #fortheloveofgodjoeywindyourneckin."
"Well I think that proves a lot. What an absolute farce. Twelve games for violent conduct and only four for that. FA should be embarrassed. Shambles. I was expecting at least a public execution after a year. Twelve games!!! By the FA's perverse reckoning, I'd have got less of a ban for racially abusing the Man City players than tickling them as I did. In what circumstance can that be right?" Joey gives his own take on the John Terry saga.
"Disappointed with fans booing, we're meant to be in it together. They won't break me, guaranteed. I've been through much worse. Enough of the negative **** anyway. What a ******* result, great spirit shown by the boys and loyal fans tonight. Not the bells that booed. Form is temporary, class is permanent." Joey after being booed off when substituted against Liverpool.
"No monetary b*******. No media b*******. Just pure, old school, mortgages and livelihoods on the line, balls-out football." Joey in no way patronises his new Fleetwood team-mates.
"Haha Matt Holland best not of been using my name in vain on a sh*tty radio talkshow. Remember playing against him, well when I say playing... Sh*t players talking sh*t the bain of my life. Go and live life away from football, stop being so bitter, twisted and sad. Its boring. Tell him to pipe down. If he was relevant, I'd probably give him a bit. Trying to keep his face in, has to talk about someone." Joey paints his kettle black.
"I have worked out that I probably love about 12 people in the world, I like about 35, I don't mind about 100, the rest of u, well can jog on." We're already jogging Joey, we're already jogging.
Mario
"A psychologist for me? I believe psychologists are important. Sometimes they can be very useful, but I don't need one of them. Every day there is an exaggeration about me and I would like it to stop. I want to be judged for what I do on the field." Mario gets up from the couch.
"Is it a welcome distraction? Maybe, as long as it is at the right time. You can always rely on Mario to set some fireworks off to get the headlines. He is just very confident in his own ability. He has lots of that. He is fun to have around the place." James Milner gets out the Catherine Wheels.
"If someone throws a banana at me in the street, I will go to prison because I will kill him. Racism is unacceptable to me, I cannot bear it. I hope there will not be a problem at the Euros because if it does happen I would straight away leave the pitch and go home. We are in 2012, it can't happen." Mario airs his views amid fears of potential racism in Ukraine and Poland.
"No, I don't trust Mario. No-one trusts Mario. He is a top player. In the last eight games he could be important for us. But trust him? Never." Roberto Mancini backs Mr Balotelli to the hilt.
"Balotelli hasn't achieved anything in his career yet." Alan Shearer reflects on the eight trophies Balotelli has won at 21, compared to the solitary one he bagged in the whole of his career.
"Their conversation wasn't exactly scintillating but they obviously found some common ground. They hope to hang out again in the next few days." A 'source' tells The Daily Mirror of a meeting of minds in Ibiza as Mario hooks up with Dean Gaffney. #bantz
From Manchester with love...
"This is an incredible moment. We wanted this title and we deserve to win this title. This is for all our supporters, the club, the chairman and the owner. This is the perfect finale for a crazy season. We dominated this season for 28 games but, when we beat a team like United twice in one season, we deserve this." Roberto Mancini is crowned the king of Manchester.
"On behalf of Manchester United I congratulate Manchester City on winning the Premier League. It's not an easy league to win and anyone who wins it deserves it because it is a long haul." Sir Alex takes finishing second in good grace...
Before having the final word: "They [City] can go on as much as they like. That's what you would expect, but the history of our club stands us aside. We don't need to worry about that. I think we have a rich history, better than anyone, and it will take them a century to get to our level of history."