Jamie Redknapp says that Alex Oxlade-Chamberlain has a massive future for Arsenal and England
Jamie Redknapp says that Alex Oxlade-Chamberlain has a massive future for Arsenal and England.
Last Updated: 22/12/12 3:59pm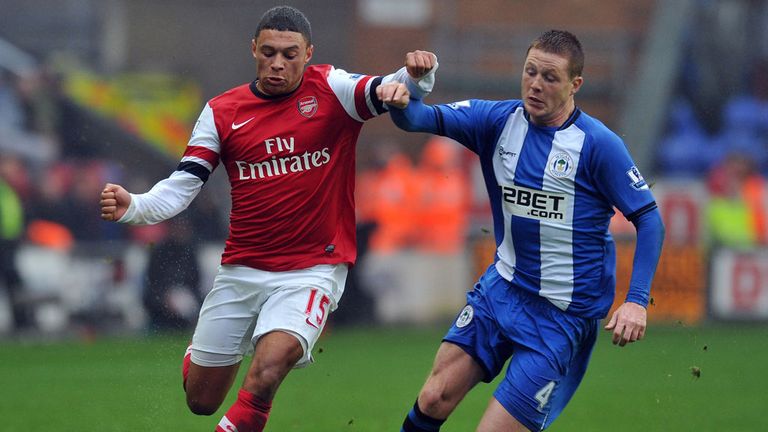 Oxlade-Chamberlain - who joined Jack Wilshere, Kieran Gibbs, Aaron Ramsey, and Carl Jenkinson in committing their futures to the Gunners earlier this week - turned in a man-of-the-match display to help Arsenal beat Wigan 1-0 away from home, courtesy of a second-half Mikel Arteta penalty.
And although winger Theo Walcott has yet to agree a new deal, Redknapp told Sky Sports that it can only be right that Arsenal have taken steps to ensure that Oxlade-Chamberlain remains at the Emirates.
"He's 19 years of age and he's got everything going for him. He's at the right club, with Arsenal," said Redknapp.
"Five players signed this week but from an Arsenal point of view the two that you most wanted to sign were Oxlade-Chamberlain and Jack Wilshere.
"He's only scored one goal in his last 31 games and for a player of his quality with his pace - who strikes the ball really well on his left or right foot - he should be adding more goals to his game.
"He had a good battle with Jean Beausejour because he isn't primarily a defensive player and for that reason he cost his team the goal.
"But I like Oxlade-Chamberlain: he's brave, he works extremely hard for his team and he's not afraid to do his defensive duties. He gets back, he tracks runners and he's got good quality in wide areas. He's got a massive future not only for Arsenal, but for England.
"He wants to play in central midfield - it seems a lot of players aren't happy perhaps with where they play at Arsenal - but these contracts are really, really good news because it has been a scandal at Arsenal. How can they keep letting their players go to the last year of their contract?
"It happens almost every year now so thankfully somebody's had the sense to go 'right, let's tie down all of these very talented young players we've got' because it is about time. Arsenal fans must be tearing their hair out because every year it's not 'who's coming in?' it's 'who's leaving?'
"It's hard to build a team when you have those problems week in, week out, year in, year out."
Positive
Manager Arsene Wenger selected the same team that beat Reading 5-2 on Monday, giving Walcott another opportunity to impress up front and the winger won the penalty that decided the match when he was brought down in the box by Beausejour.
Redknapp believes that the move - and Walcott's movement - proved that Walcott must not get hung up on the idea of playing as a central striker.
"I don't think we should get too bogged down with where he plays - up front, right or left," he said.
"It shouldn't be an issue for him because he can play in any of those front three positions.
"He will score goals. I felt at times he didn't hold the ball up as well as he could have done. When you play up front, especially away from home, you've got to be big, you've got to be strong and keep the ball alive and I don't think he did that well enough.
"There were some really positive signs from Theo Walcott in his all-round game. In the modern game, especially when teams play a formation with three in the middle, he should be happy playing anywhere - he shouldn't be getting bogged down and thinking 'I'm a front man now'.
"If Wenger plays him wider when Giroud's fit it's not a problem. There are so many different options. He shouldn't worry about it too much. He's just got to play now because one way or another he can't lose: he's in the shop window.
"His representatives will know every option he's got available, so in the summer he'll probably have offers from most of the big clubs in England and maybe some in Europe as well. He'll also be thinking 'I can sign up for Arsenal'. That's why he's keeping his options open.
"I think he should stay at Arsenal - I really do - especially if Wenger's keeping people like Jack Wilshere and Oxlade-Chamberlain. But he's also got to do the right thing for him. He's got to look at it and ask 'are Arsenal going in the right direction? Is the fact that they keep selling their best players - Nasri, Fabregas, Van Persie - important to him?
"It's not his fault that Arsenal let him go to a year of his contract - that is Arsenal's fault. You shouldn't let that happen. You don't let quality players go to a year of their contract. Would that happen at Manchester United? Never.
"When Wayne Rooney had all his problems with Alex Ferguson over 'will he, won't he' sign, he had two years left on his contract, not six months. So Arsenal haven't really got anyone else to blame but themselves for letting this predicament happen."
Trapped
Wigan manager Roberto Martinez felt Walcott went down too easily for the penalty but Redknapp had no doubt that referee Jon Moss was right to award the spot-kick.
"Beausejour goes to press Walcott but he just sleeps for a split second," he explained. "He's walking as Theo runs and all of a sudden the reaction time is too late. Theo has got his shoulder in front of him and if there's any contact, then Theo is going to go down.
"There's no doubt it's a penalty because Theo's leg gets trapped; he catches Beausejour's backside as it happens but it was definitely a penalty. It just shows that Beausejour is not a defender. He's predominantly a winger who is playing in a wing-back position at times.
"He got in a position where he didn't react - he didn't sense danger like good defenders do."
However, Redknapp did agree with Martinez that Wigan were hard done by in the dying minutes of the game when they might have had a brace of spot-kicks themselves.
"Wigan should have had two penalties," he said. "When I'm looking at defenders defending I want to see bravery because it hurts sometimes when you the ball hits you - it's not nice being hit in the face, arm, chest, wherever.
"But you can't move your arm to the ball but two of their defenders in Kieran Gibbs (90) and Thomas Vermaelen (90+1) both commit handball in my opinion. I think the referees got both of those wrong. Arsenal are extremely lucky there."
Sanitise
Redknapp also criticised referee Moss for booking Wilshere on 41 minutes for a strong challenge on Shaun Maloney.
"It's a joke - an absolute joke. This does my head in. Wilshere makes a fantastic tackle - it's a 50-50 challenge. He goes to win the ball.
"What happens is the players influence the referee - four of them all converge on the referee; they are obviously trying to get him booked or even sent off.
"If we continue to sanitise the game it's finished. We all want to see lovely technicians on the ball but you also want to see 50-50 tackles. That might not be true in some parts of Europe - they want to see the 'Ole' football but in this Premier League we want to see that passion.
"Unfortunately if we are getting to the stage where referees are going to give bookings for challenges like that it's going to be a sorry game.
"I'm sorry but the referees have got to be so careful because we could end up with six or seven players aside on the pitch at this rate."