Lost cause?
Recent results at Aston Villa do not seem to be a blip, says Daniel Storey, who believes Randy Lerner might be ready to cut his losses after repeated requests for investment.
By Daniel Storey
Last Updated: 01/01/13 9:46pm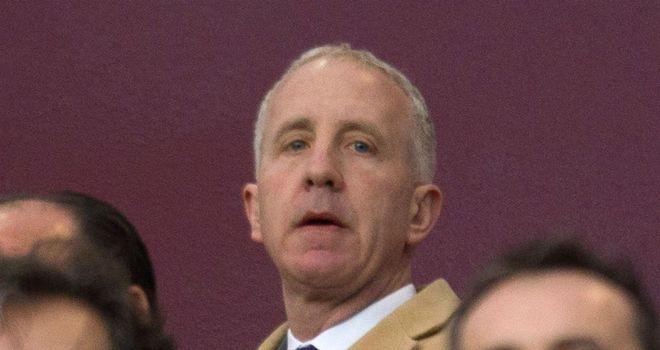 Losing by eight goals to Chelsea at Stamford Bridge is concerning, but when a side with an embarrassment of riches, energy and vigour clicks into gear, results such as these are possible.
Losing by four goals at home to Spurs is also worrying, but the pace, skill and positioning displayed by Gareth Bale was sufficient to beat many teams higher up the Premier League.
Losing by three goals at home to Wigan Athletic, however, is unacceptable for a club hoping to remain in the Premier League, and the time for excuses stops.
Ahead of the 2-2 draw at Swansea on New Year's Day, Aston Villa had conceded 15 goals in 270 minutes of football, exactly the same total as scored by the club in their 20 league games this season. Most troubling is that while this run of defeats has itself been dramatic, this isn't a slight downturn in form but moreover the lowest ebb of a longer-term debility. There are times when you feel certain clubs almost have an inherent malaise, and Villa seem on a steady, if unspectacular, decline. Performances such as the 3-1 win at Anfield were impressive, but merely papered over the cracks; of teams involved for the whole year, only QPR picked up fewer Premier League points than Aston Villa in 2012, and no-one won fewer matches.
The tenure of Alex McLeish was insufferable for supporters, but in the first 20 matches of last season, Villa scored seven more goals and conceded three fewer. They had scored more home goals and had more home victories. Even in the last twenty games of last season, seen by fans as the complete denigration of the club by McLeish, Villa scored as many goals as they have thus far under Lambert. Only Hartlepool (played five games more) have a worse goal difference in England, and no team has scored fewer goals at home.
Overhaul
Paul Lambert will always be given more time by fans, and understandably so, because Villa's supporters realise that their club requires an overhaul that may take years rather than months, but fans do not make the big decisions at a football club, and patience is a rarely offered virtue in such an arena. Villa may be playing more attractive football than under McLeish, but the importance of aesthetics must decrease in direct proportion to the gravity of the situation.
The manager is credited with catering for the emergence of youth, but does the label of 'youngest Aston Villa team in Premier League history' have any real relevance when results are as present? The idea is to win games, is it not? Whilst Villa's commitment to the development of young, largely homegrown players is commendable, the Premier League is not the stage on which to experiment; not when relegation looms large once again. And whilst Lambert can praise the players for their 'spirit, attitude, and energy', none of these three abstract concepts are currently generating results.
When you examine the finances of the situation, things begin to look bleaker still. Lambert may be credited for his youth policy, but of clubs currently outside the top three only Southampton had a higher net spend on transfer fees than Villa last summer. Over the last five years, only Manchester City, Chelsea and Stoke have a higher net spend than Villa, but the club have little to show for the £159million expenditure on transfers other than their sorry current state of affairs.
Christian Benteke looks a fantastic player, but could the £6million spent on Karim El Ahmadi and Ron Vlaar have been utilised better? And whilst Matthew Lowton, Ashley Westwood and Joe Bennett look bright prospects for the future, should that £7.5million not have been invested in the experience clearly necessary within an already youthful squad? As midfielder Brett Holman recently stated: "You look at who was on the bench, there's a few reserve players there. If the manager feels the need to bring in some players, that's up to him. It could help if you have a couple of players who have played 200-300 league games."
We understand the game well enough to know that the buck invariably stops with the manager, and Lambert desperately requires a change of fortunes on the field. For Villa, however, this may just be the start of the slide. For if Aston Villa require investment in January in order to recruit valuable experience, owner Randy Lerner will again be forced to dip his hand into his pocket. Having already invested £200million into the club since his takeover in 2006, Lerner may well be growing weary of requests for investment from managers, and the American would be within his rights to question where his £23million went just months ago.
Whilst other clubs allow young players to sit on the bench and go out on loan, choosing to use their experienced performers, under Paul Lambert Aston Villa are almost the exact opposite. The club do have injuries, but Darren Bent, Richard Dunne, Stephen Ireland and Charles N'Zogbia (£36million) were seasoned internationals kept on the periphery even before injury, and with Alan Hutton and Jean Makoun (£10 million) also out on loan, Lerner would be well within his rights to demand a trimming of the squad before reinforcements are brought in. Even if money was made available, will desirable, experienced players want to join the club, or will they be in danger of operating QPR's 'Football Manager 2005 scouting' approach to player recruitment?
Blame
In truth, one could not blame Lerner if he now felt that Aston Villa had become a lost cause for him. £200million spent, consistent grumblings from supporters that he has not performed adequately and a club on the fall, constantly requiring increased investment just to stave off the very apparent fear of relegation. Would you choose to hang around? The owner must look at clubs such as Everton and Spurs, working on hugely lower net spends and wonder quite where it all went wrong. Perhaps some of his managerial appointments have left much to be desired, but Lerner must surely have taken advice on such matters, and his appointment of Lambert was seen as hugely positive by fans and media.
For fans wanting the owner out, this would be a rude awakening. Throughout the period in which an owner looks for a sale, expenditure will be minimised, causing a stagnation that can only lead to decline. And even when the club is taken over, current rules fail to protect the sanctity and safety of the club. The absence of Lerner could well make the heart grow fonder.
These truly are uncertain times at Villa Park. As ever in football, redemption is possible and Lerner may well allow the manager to spend if there is a guarantee that experience is crucial. Villa have three winnable games in three competitions against Ipswich, Bradford and Southampton. But for now, Paul Lambert is left in the unenviable situation of needing a quick fix to a solution that looks deep-rooted. Bolstering the squad in January may be key, but for that Randy Lerner must choose again to roll the dice. It could possibly be the last time he chooses to do so.