In defence of Suarez
Liverpool striker Luis Suarez is back in the spotlight after his controversial goal against Mansfield, but Rob Parrish argues that the Uruguay international should not be castigated for what happened in Sunday's FA Cup third round clash.
By Rob Parrish - Follow me on Twitter @skysportsrobp
Last Updated: 08/01/13 4:39pm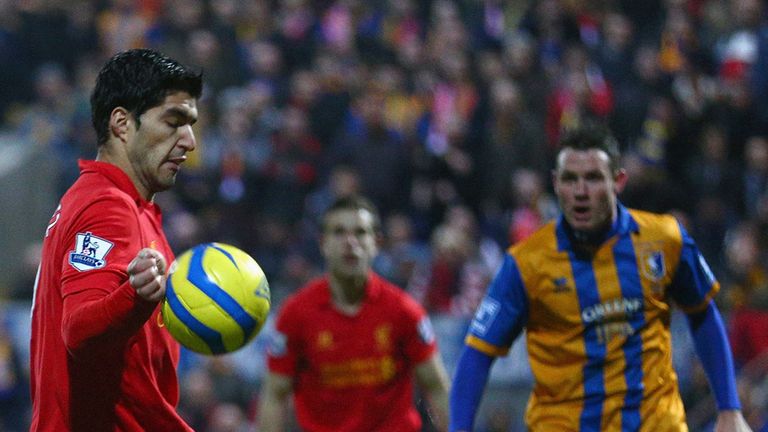 Another Monday morning, another media storm surrounding Luis Suarez.
The Liverpool striker has been pilloried from numerous quarters after scoring what proved to be the decisive goal in Sunday's FA Cup third round victory over non-league Mansfield at Field Mill with the aid of a significant deflection off his arm.
Some were swift to rush to judgement, with ESPN commentator Jon Champion stating in the heat of the moment: "That, I'm afraid, is the work of a cheat," while Mansfield chief executive Carolyn Radford said: "It feels a bit like it was stolen from us. Whether it was deliberate or not, it should be sorted out."
Others, including Mansfield manager Paul Cox, were more measured as he admitted: "I don't want to say anything bad about him because he is a fabulous talent, and if the shoe was on the other foot then we would have taken it," while goalkeeper Alan Marriott added: "It happens. I don't think you can call him a cheat. I know a lot of people have done in the past. But every man, from a Sunday League football team to the Premier League, is going to do that and if it gives you an advantage and you can get away with it, then unfortunately that's football."
The incident has divided opinion, but perhaps many of those rushing to berate the Liverpool striker could do with reacquainting themselves with FIFA's rules of the game, which state:
Handling the ball involves a deliberate act of a player making contact with the ball with his hand or arm. The referee must take the following into consideration:
• the movement of the hand towards the ball (not the ball towards the hand)
• the distance between the opponent and the ball (unexpected ball)
• the position of the hand does not necessarily mean that there is an infringement
The key word here is 'deliberate'. Not even the most myopic Liverpool supporter would attempt to claim that the ball did not strike Suarez's hand. But is there 'movement of the hand towards the ball'? Not conclusively.
This is why referee Andre Marriner was absolutely correct to allow the goal to stand, and why Suarez does not deserve the current round of condemnation. This is not a Diego Maradona or Thierry Henry moment.
The Uruguay international, as anyone with a passing interest in football will be aware, is no stranger to controversy, some of which is of his own volition, some of which he has already been penalised for.
His handball on the line against Ghana in the World Cup quarter-final of 2010 in the dying seconds of extra time took the notion of good sportsmanship and delivered a firm kick to the nether regions. The same year saw the then-Ajax striker handed a seven-match ban for biting PSV Eindhoven's Otman Bakkal. A further lengthy, and perhaps most infamous, suspension was meted out when the Football Association found Suarez guilty of racially abusing Manchester United's Patrice Evra in 2011. That's more than enough, without even mentioning the word diving.
Given his past indiscretions, there have been suggestions that Suarez should have intervened, held his hands up (sorry) to what had occurred and then basked in the positive Public Relations glory of his own Paolo Di Canio moment.
But why on earth should he? There is no obvious or deliberate intent to handle the ball, the referee and his assistant were well placed to make a judgement and even the opposition have admitted they would have accepted similar good fortune had the situation been reversed. The Monday headlines then would probably read 'Lucky Mansfield' rather than 'Cheat Suarez'.
From Stoke striker Peter Crouch's 'double-dribble' against Manchester City earlier this season to Bolton goalkeeper Adam Bogdan clawing the ball back from behind his own line against QPR last term, comparable incidents occur on a regular basis up and down the land. Sometimes Lady Luck will be on your side, sometimes not. Deal with it and move on.
And as for those who suggest the Liverpool striker was taunting the home fans by kissing the offending area where the ball had struck him after blasting the ball home from close range, you might want to do a quick search on his previous goal celebrations from this season.
At present, there are far too many in the game - be they officials, players, managers, commentators, pundits or supporters - of the baffling belief that an indiscretion has occurred whenever there is contact between the ball and a player's hand. We've all seen penalties awarded in ridiculous circumstances when an unwitting defender has the temerity to be stood around 30cm away when a ball is blasted at high speed against their arm.
Perhaps some re-education is required at all levels so that those who insist on demanding that a spot-kick or free-kick be awarded regardless of the circumstances gain a greater awareness of the rules, and perhaps the time has come for certain individuals not to be castigated purely because of their sins of the past.